Meet Ann from Ann Arbor, Michigan
Ann is an inspector from Ann Arbor who wrote to us back in January to say her community needs a new basketball court. The kids play all year long, even in the snow, and even with no nets. It's a low income neighborhood and her wish for the community is a newly surfaced court, new baskets (with nets!), and most importantly a fence which they currently don't have at all. This will keep kids from having to run into the streets after the ball. Ann wants to see their faces light up, saying, "This would be like they won a million dollars." Ann's dream is coming true and will benefit the entire community of 29 families.
Diary Starts Here
Dec. 15, 2008
If you look back at the October 3rd posting, you'll see that Ann said the kids would use the court even in winter. Well, guess what? It's winter and they just shove the snow off the court and keep on playing.
Oct. 9, 2008
Ann, and Hikone Center Director Aaron Pressel, held a Ribbon Cutting ceremony today for the new basketball court. Aaron also presented Ann with a Jenny's Heroes plaque, and the neighborhood kids were treated to a big pizza party. Here are some pictures.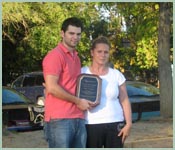 click the image to see a slideshow
Oct. 3, 2008
It's done!!! I can't believe the last posting was in July! The basketball court is finally done! The project started back in March, in fact Ann was only our 5th hero! It took a while but it got done right and Ann says the local kids were so excited it was like they won a million dollars. Ann says they will use the court even in winter. "Thank you again from the bottom of my heart," she said, "you guys have made my dream come true." Ann, we share in your excitement and we're so proud of you for making this happen. And thanks for the pictures.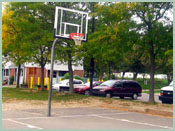 click the image to see a slideshow
July 7, 2008
Finally!! The basketball court finally got started today.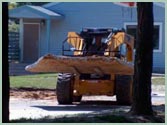 click the image to see a slideshow
July 1, 2008
I'm just the messenger... the basketball court installation is delayed due to rain. They will start on July 11th... I hope.
June 29, 2008
Well, it looks looks work on the basketball court has finally started this weekend. It's taking longer than expected and the kids there can't wait. Ann says they are so excited and ask about it every day. She says she still gets stopped on the street by people asking if she was the lady from the paper about the basketball court from Jenny Jones. Well, it's underway. Ann will be sending photos soon.
March 18th, 2008
I called Ann today and she's getting recognized on the street! She was in great spirits and told me they were having a meeting tonight at the center to discuss the new baksetball court.
March 14th, 2008
My phone call to Ann was well organized and we assumed things would go without a hitch. Who am I kidding? Oh, the plan was nicely in place...

• We checked to make sure Ann would be home
• I was going to call her at 12 noon
• The center's director, Aaron, was going to be there
• The Ann Arbor News was going to call her at 12:30
• The Ann Arbor News photographer was coming shortly after to take Ann's photo

I had a few minutes before placing the call so I decided to check our emails. Nothing special, just Ann who had emailed early this morning to say she forgot she had a doctor's appointment and wouldn't be home until after 3:00. Gadzooks! I didn't know what to do first. I called Aaron and told him we are on hold. Then we had to reach the newspaper reporter, hoping she could reschedule and that it wasn't too late for her deadline. As it turned out, we managed to reschedule her newspaper interview and photos. We needed to post all of our new heroes, so we went ahead and posted the new group, including Ann, figuring she's either at the doctor's office or in her car and wouldn't see it. This was the first time we announced a hero before she even knew she'd been selected.

When I finally spoke to Ann, she was so excited. It turns out she was a big fan of my talk show. While we were talking, we went on the website together and she saw her picture there for the first time. And guess what? She had five kids! And a fiance! And they invited me to the wedding!
An email from Ann today
"Hi Damon and Jenny,

I just wanted to say thank you with all my heart, I am still in shock. The Kids around here are so excited. It really made my year. Thank You Thank You, You guys are so wonderful, I guess I am still in shock in lost for words. Sorry. But I will stay intouch, and keep this moment with me forever.

Ann"

3/14/08: Jenny wrote... "Ann, your community must be just as proud of you as we are. This is a great thing you have done. Congratulations!"
3/14/08: Damon wrote... "Hi Anne. The new basketball court will put a smile on a lot of kids' faces, and you can be proud that it will serve your community for many years to come."
3/14/08: Joan wrote... "Wow, Ann-- what an amazing feat! What perfect timing! How incredible thatyou thought to give a basketball court to the Hikone community! Thank you Ann, thank you Jenny and thank you Damon!"
3/14/08: Travis wrote... "Hi Ann-Your unselfish thoughts towards others will go along way in getting kids off the streets and into productive games to play. I wish you the best for your unselfish desire to help others."
3/15/08: Robin wrote... "Ann, I am so happy for you! Congradulations for all your hard work around the neighborhood."
3/15/08: Anthony wrote... "Hey Ann!, because of You now alot of Playa's will be able to show off their skills."
3/15/08: Teresa wrote... "Congrats Ann. It is incredible that with all you have been through recently you were thinking about others. You are a wonderful inspiration to others."
3/16/08: Betty Jean wrote... "Hey Ann I'm so proud of you thank you"
3/16/08: Heather wrote... "HI Ann, I am so happy for you. That was very nice of you to help the kids out. Thank you Love Heather"
3/16/08: Terri wrote... "Hi Ann, you are truly a hero to the kids in your community. You have hooked them up big-time! Congrats..."
3/17/08: Brian wrote... "Hey,Baby I've always said we can do anything if just put your mind to it!! After all we have been through recently and thinking of others before yourself is nothing short of courages. Thats why I love you."
3/17/08: Kelly wrote... "You rock Sister! The communtiy is very lucky to have you around. I hope they give you the support you deserve. Enjoy the experience."
3/19/08: Kim wrote... "Ann, you are such a wonderful person, always thinking of others. Congrats !!!! It goes to show what a difference caring people can make in the world. I am very blessed to have such a wonderful BEST Friend .
Love you!!!"