Thank you, everyone
When I first started Jenny's Heroes in 2008, it was only going to be for one year and my plan was to give away a million dollars. But by 2009, the weakened economy had created even more need so I decided to continue for a second year. Then a third. And now four years later, after one hundred Heroes from all fifty states, this program has finally come to an end... but I haven't. I've been rewarded beyond words at how much good these selfless and giving people have done and I plan to search for new ways to share my good fortune with others.

(For anyone who wants to see how it all came about, below is the entire diary I kept from the very first day through to the very last Hero.)
January 24, 2008 (1:00 am)
Hi, everybody, it's me, Jenny. This is going to be a very exciting day for me. Jenny's Heroes is finally a reality. It was three months ago when I first had the idea and it's taken this long to reach our "opening day." At first, it was going to be a contest for my website (www.jennyjones.com) with a $25,000 prize for someone to improve their community, but then I wanted to do more, to really make a difference. I knew a million dollars could do a lot of good and I decided to make that commitment through my foundation. So for the last three months, there were a bunch of legal and tax issues to work out, then the website had to get built, and here we are. I can hardly wait to see how many applications come in and what some of the ideas will be. This is where I'll be sharing all of that information on a regular basis so please check back. Well, I guess that's about it. Jenny's Heroes is open for business.
I've listed some names below of those who believed in my idea from day one, and have worked since then to help create Jenny's Heroes:
My sincerest gratitude to...
Matthew Burke
Robert Avedissian &
Damon Carr
January 24, 2008 (Lunchtime)
I was up at 4:00 am this morning. How could I sleep? I had to know if anyone would respond to my Heroes Program. Well, at 4 am, there were about 30 applications, by 4:30 there were 65, and by 10 am, I had over 500 applications! And they're still coming. As I'm typing this, it's already over 600. There are no words to describe my excitement. In reading them over, it's clear that this million dollars is going to do a lot of good. I'm hearing from teachers, stay-at-home moms, sales persons, retirees, pretty much every walk of life and every part of the country. How wonderful to see how many people want to help others. Plus, we had a beautiful rainbow here in Los Angeles this morning. I took it as a sign that this is a special day. I am reaffirmed that this was a good idea and now I know that this is what I was meant to do.
January 25, 2008 (Lunchtime)
It's hard to keep up. There are now over 1300 applications and they're still coming. I went through about 300 yesterday and will spend the entire weekend reviewing as many as I can. I already have about 85 that I'm holding for review and from those we will narrow down to a handful for serious consideration. It's heartening to see how many people want to do good things, but frustrating that I can't help them all. Requests are coming in from every part of the country from the tiniest towns of 3,000 to the biggest cities. There are a lot of good, caring, giving men and women in this country. So many people want to help their neighbors, schools, churches, and communities, it's truly inspiring. Maybe I can find a way to publish some of the needs I was not able to handle for someone else to help out. I'll see, but for now I need to keep up with the rising number of emails (just got 3 more - oops, make that 4). The first recipient will be announced just two weeks from today so I need to get going. p.s. If you're applying, please be as specific as possible. Thanks, and bye for now.
January 26, 2008 (Lunchtime)
1500 applications so far.
January 28, 2008 (Dinnertime)
It's getting close to 2,000 applications already. I spent the entire weekend at the computer and have been through most of them. It was pouring cats and dogs so I didn't miss being outside. We expect to start contacting a handful of people being considered by Wednesday to get more information. It's extremely difficult to narrow this long list but it has to be done, at least for now. I had an idea today to add another layer to Jenny's Heroes. I'm determined to find some donors willing to help with the ones I can't do. Soon I hope to post many of the requests on this website in the hopes that some generous visitors might lend a hand. So if you're not contacted this week, there is still hope. I just wish I could sleep but this is just too exciting. By the way, I'll be on the radio Thursday morning: Fisher & Seth (Tampa); Beth & Chet (Rochester); Bill & Amanda (Cincinnati); Paul & Sarah (Charlotte); Dave Durian (Baltimore); JP & Lana (Houston); Waggs & Elliot (Columbus); Mancow (national); Jeff Kidd (Macon); Fitz & Mary (Seattle); Johnny & Carrie (Kansas City); Jeff, Jeremy & Lindsay (San Luis Obispo); JT (Birmingham). Also, catch me on the KTLA Morning Show (Los Angeles) on Wednesday. (sorry for any typos but it's been a long day).
January 29, 2008 (Afternoon)
With the number of applications increasing it's clear that we won't be able to help everyone. So we are starting up "Jenny's Allies" today. It's a place where people can offer to help the ones that we can't. Please see the list of items needed in the Jenny's Allies section.
January 30, 2008 (Dinnertime)
We got our first ally today! A woman saw me on the KTLA Morning Show and emailed offering beauty regimens to women looking to get into the work force. How exciting that someone else cares about people in need. We haven't started to contact people today as planned but we will start tomorrow. Just a reminder that I'll be on the radio tomorrow morning starting at 9 am eastern time in this order until 11: Fisher & Seth (Tampa); Beth & Chet (Rochester); Bill & Amanda (Cincinnati); Paul & Sarah (Charlotte); Dave Durian (Baltimore); JP & Lana (Houston); Waggs & Elliot (Columbus); Mancow (national); Jeff Kidd (Macon); Fitz & Mary (Seattle); Johnny & Carrie (Kansas City); Jeff, Jeremy & Lindsay (San Luis Obispo); JT (Birmingham).
January 31, 2008 (Dinnertime)
Another ally wrote in today and he's 10 years old. He's offering a collection of his books to the school in Orlando that we posted on the "Jenny's Allies" page. With his mom's permission, I'll post his touching letter here on this page. I did the radio tour this morning but Rochester and Seattle canceled so I hope no one was confused. But all the other stations helped me get the word out and I appreciate that. We now have over 2,000 applications and we're trying hard to keep up. My assistant, Damon, started to research the ones we are considering. We only have a week to announce the first recipient and then a week later, the next one, so there's lot to do. It's a lot of work but I'm savoring every moment.
February 1, 2008 (Dinnertime)
Only seven days until our first recipient is posted. It's very exciting. We have contacted people in Alabama, California, Delaware, Georgia, Kentucky, Michigan, Pennsylvania, Virginia, and Wisconsin and it looks like our first recipient will likely be from one of these states. But then just a week later, we will have anther one. And then another. That's when the fun really starts. I'm still managing to review all the applications myself and it's a joyful job.
February 3, 2008 (Evening)
I finally got caught up and have read all the applications that came in. I know there will be more by morning but I think it will be easier to keep up now that I'm better organized. I put them into categories, and then do my best to choose ones that best fit our guidelines. My back was sore from sitting at the computer for longer than I'm used to, so I've been doing it standing up, too. I have one of those mac screens that swivels and tilts, so I tilt it up and work standing up part of the time. I'm excited that we're just days away from our first recipient but a little scared, too, because they'll just keep coming every week after that. It's just a little fear of the unknown but that's overshadowed by my excitement and joy. I'll be on the radio again Tuesday morning. Here is the schedule:
9:00 am EST - Miami, FL - WMXJ - Bruce and Donna
9:10 am EST - Atlanta, GA - WVFJ - Monk and Kelly
9:20 am EST - Milwaukee, WI - WIFC - Dave and Stacey
9:30 am EST - Grand Rapids, MI - WLAV - Kevin Matthews
9:40 am EST - Kansas City, MO - KQRC - Johnny and Carrie
9:50 am EST - Buffalo, NY - WGRF - Larry, Rob and Kris
February 4, 2008 (Lunchtime)
Where is everybody? We sent out at least a dozen emails to our "first draft" potential recipients and have only heard back from two so far. There's a lot of detail work involved and Friday is coming fast.
February 5, 2008 (Bedtime)
I was up at 5:30 am to go on the radio live in Miami at 6 am, which was 9 am there. I spent an hour doing radio, talking about Jenny's Heroes. Naturally, we got quite a few more applications (total is over 2200 now) but still manageable. We finally heard back from a few more people but not everyone we contacted has emailed back. I think some people are a bit suspicious, wondering, "What's the catch?' There is no catch. This is just about trying to do as much good as possible with this money. And I can see that it will happen. If you have sent an application in and have not been contacted, please know that since this program will run all year, we are holding all the applications for continual review. Once we know for sure that we can't provide a particular request, we will let you know but we will also post some of those needs on our new, almost-ready, Jenny's Allies page. So please be patient, we are doing our best to keep up. My biggest fear is that someone will be upset with me for not receiving a grant or for being dissatisfied with this process. Hey, if you're in the Los Angeles area, I'll be on the air live on Thursday morning with Mark Wallengren on KOST-103 fm radio.
February 6, 2008 (Lunchtime)
I'm so nervous. We're just two days away from announcing our first winner! Now that the launch is underway, we will only be receiving applications during the first week of every month. That's a good thing so we can really get caught up, but because I'll be on the radio here in Los Angeles tomorrow morning (KOST 103 - around 8 am) we're going to extend an extra day, through Feb. 8th. So midnight on Friday night will be the new cutoff, and after that, we'll go back to the planned schedule. It's all on the calendar. Also, we're redesigning our main page which will be up on Friday. The new page will allow anyone to send a congratulations note to our hero of the week. This is so exciting!
February 7, 2008 (Dinnertime)
So much to do. So little time. The day started with my visit to KOST103FM radio on the air with Mark Wallengren in the morning. Here we are in the studio. He was such a gracious host and by the time I got home, we had over a hundred new applications. It's now close to 2500! Things are really picking up and it's still very challenging but I believe we will catch up in the next couple of weeks and be able to respond to more people. Thank you, everyone, for your patience. We are learning as we go and are doing our very best. Tomorrow is a big day. Our first recipient will finally be announced and I hope everyone sends him/her a note of congratulations. Our new website will also be up tomorrow morning and there will be new videos coming very soon. What a joy it will be to watch this million dollars ripple across the country. If things work out, Canada will be next.
February 8, 2008 (Morning)
What an exciting day! We are finally underway and our first hero is here! I just got off the phone with Travis Wiersma, giving him the news that he's been selected. He was so nervous he said he could barely breathe. He's been invited to appear on his local evening news today at 5 pm (WMTV) and the Wisconsin State Journal is doing a story for the Sunday paper. As if that's not enough, Travis and I will both be on the radio Monday morning at 7:35 with Fletch & Dana in the Morning (94.9 WOLX). I may be more excited than he is. And what a nice man he turned out to be. I hope everyone sends him as note of congratulations. Now on to our next hero. Our process so far is to contact those being considered by email for more information, then phone calls for even more detail and for background check permission, and then a final decision and phone call. Just to be clear, no one will be announced on this website without having been contacted first. Congratulations again to Travis!
February 10, 2008 (Morning)
I woke up feeling so good this morning. So far, this program is off to a fantastic start. The first choice, Travis Wiersma, was the perfect choice to start us off. He is the perfect example of what my vision was all about which is helping your community, impacting a number of people, having long lasting benefits, and also important to me is we can see exactly where the money is going. Travis was thrust into the limelight and did us proud. I hope to have video of his television appearance on his page next week. And how wonderful that people are continuing to send him messages of congratulations. I couldn't feel any more affirmed about Jenny's Heroes. Well, I finally got through all the applications that have come in, around 2500, and the application process is closed until March 1st. Otherwise, we could never get caught up. There are three more heroes to come this month and on the last Friday, we may split the $25,000 between 3 or 4 people who have made smaller requests. I wish I could express how difficult it is to make these decisions. It's been emotionally draining to see how much need there is and to know that I can't even come close to helping all who have asked. I take these decisions very seriously and I'm hoping that some allies will come forward to help those that we are posting. Speaking of allies, my assistant Damon is a godsend! I don't know how I could have done this without him. Here he is working on three computers, never missing a beat.
February 11, 2008 (Morning)
My alarm woke me up at 5 am and so I could be on the radio with Travis Wiersma, on Fletch and Dana's morning show in Madison. It was early for both of us but it was great to share Travis's story with his community. Today we are contacting more people in search of the best choice for this Friday's hero. We still have not heard back from a few people we contacted almost two weeks ago, but maybe they didn't want to get invovlved after all. No problem, Damon and I are continuing with this labor of love. This has become a full time job for me but it's the best one I've ever had.
February 13, 2008 (Dinnertime)
CHANGE OF PLANS! We've decided not to restrict the application period to just the first week of every month. It was just too many hours at the computer. So we are now open to receive at any time which should be much more manageable. We'll still take the first week of the month to review and will continue to announce recipients on the following Fridays, just like on the calendar. I didn't expect our process to be so last minute, but it seems by the time we contact the applicants, hear back, get more details, investigate what's needed, get pricing, check backgrounds, all of a sudden we're last minute. This new system should help us stay caught up, and probably get more sleep... The next hero we have in mind has a wonderful cause he wants to provide for, with very little chance they could get assistance from any other source. That will be posted Friday morning.
February 15, 2008 (Early Morning)
It's Friday morning and I just got off the phone with Teddy Robinette, our second Hero! He and his wife of 35 years, Ruby, live in a very rural part of Kentucky, Turkey Creek to be exact. Teddy is a retired coal miner who wanted the money spent on the Turkey Creek Volunteer Fire Department who were in dire need of some life-saving equipment. We asked Teddy to be by the phone this morning at 10 am (7 am for me). Before I called, a news crew showed up at his house so I guess he knew something was up. Then while I was talking to him and Ruby, a newspaper reporter showed up to interview him. There was lots of excitement at the Robinette house today. He'll have another newspaper interview later today. I can't even describe my joy in making a phone call like this. Teddy's desire to help his community could mean more lives saved and the volunteer fire fighters will be better equiped to serve the 1,000+ people who live in the area. Speaking of heroes, we just got the footage of Travis Wiersma on his local news which will be posted on his page today, along with a wonderful letter from the school he helped telling us how Travis Wiersma's gift just got even bigger. It will be on Travis' page today.
February 19, 2008 (Bedtime)
I apologize for not updating for so long but boy, it's just been busy. The good news is that our allies are really coming through. I wasn't sure if anyone would go to the trouble but listen to this: A wonderful woman named Leeanne saw the posting for glucose monitors needed by someone in Texas trying to save diabetics' lives and she is sending a hundred of them! As soon as we receive her photo, we'll post her whole story in our Allies section. There's more. We received a request for more information on playground equipment listed in the postings. As soon as I know more, I'll write it here. The reason this is so exciting for me is that I was feeling so sad for all the requests that we couldn't possibly fulfill and now the goodwill is spreading and help is on the way! It's a joyful thing. I haven't had time to count the applications as thoroughly as before, but it's around 3,000 this week. The logistics of keeping all the communications organized is challenging. Damon is the go-between for all of our allies and recipients as well as researching every potential recipient, and communicating with each of them. I review applications, do my own research, post all of the listing in the allies section, do promotion and interviews, we both do website changes & additions, and he and I meet almost every hour trying to keep each other up to speed. We're also working on creating a plaque to send each of our heroes. We still have not made the final decision on Friday's recipient but we will tomorrow morning. There are still lots more posting coming to the Allies page for others to help, as soon as I get some time. My thanks to everyone who sent, and continue to send, notes of congratulations to our heroes.
February 20, 2008 (Bedtime)
I just added a bunch more requests to the Allies list. Good night.
February 23, 2008 (Evening)
I expected to be in New York by now but there's been a change of plans. The Early Show on CBS where I was scheduled to appear on Tuesday with our next hero will be rescheduled. We will still announce the next hero on Tuesday as planned on this website.
February 25, 2008 (Dinnertime)
Our excitement always builds when it's time to announce another recipient. I will be making that phone call tomorrow morning and can't wait to share the good news. And there is other news. Unfortunately, we have to suspend our Allies program. There simply is not enough time for either one of us to do the research and communication needed with each inquiry. The number of applications continues to increase day by day and it's simply all Damon and I can do to keep up with the weekly grants and details, as well as all the website additions. I would love to bring it (Allies) back later in the year if it is manageable, but in the meantime we will keep the door open for any large, single donations by a corporation or a company. I'm excited about the new photo gallery that's coming. We'll have lots of pictures to share very soon and everyone will be able to see the final results that all of our heroes have made possible. We'll also post James and Leeane's photos there. Well that's it for now. Be sure to send a note to our next hero.
February 26, 2008 (Lunchtime)
I called the Slatington Police Station at 8 this morning which was 11 am there. There was a news crew there from the TV station, a photographer, a newspaper reporter, and the police chief was also standing by. It was such a joy to tell Officer Daniel Buglio that he would be able to make this huge contribution to the community. After my call, they all headed to the library and surprised the librarians with the good news that they are about to receive a brand new computer-research lab. Daniel promises to take lots of photos to share with us. Please take a minute to send Daniel Buglio a note of congratulations. And now, on to our next hero which will be announced Friday. It's non-stop around here.
February 29, 2008 (Afternoon)
What an exciting day! We were able to surprise our next recipient since she lives in the Los Angeles area so here's how it went down: Damon and I drove to Ventura County and did a clandestine drive-by just to see where the house was. Then we drove to a nearby Rite-Aid to meet up with a reporter and photographer from the Ventura County Star who are covering the story. We caravaned back to the house, parked down the street so we couldn't be seen, reviewed our plan and then walked to the house. I was so nervous. The plan was to call Jackie from outside and tell her to open the door and I'd be right there. I hit "send" on the phone but it didn't work. After a brief moment of panic, afraid they would see me, I hit it again and it went through. It rang once, twice, three times and I thought it must be the wrong number or maybe they weren't home. We had secretly contacted her husband yeterday and he said he'd make sure Jackie was home. Well finally, Jackie answered and I told her to open the door and I think Arnie was more surprised than Jackie, but the whole family was there and I gave them all the news, that Jackie was getting $25,000 to spend on gifts for the Childrens Hopital where her infant daughter's life was saved. They invited us all in and we had a chance to talk about the things we'd be doing, we took more photos, and they we all looked at Jackie's photo and story on this website. What a great experience. Jackie told me how much it means to her to be able to do this, and then I started crying. That's what this is about for me - sharing the joy of giving with others. And I must mention how beautiful Jackie and Arnie's three children are.
Damon is off until Tuesday so we won't post today's video until then. Sorry, but I'm not skilled enough to do it. I have a feeling Jackie's page is going to get very full. It's always nice when people send notes of congratulations so please share your thoughts with Jackie. We are taking the next week to review our applications so the next hero will be announced on March 14th.
March 1, 2008 (Evening)
In checking our newest hero, Jackie's page, I see she is blessed with many friends. I have a feeling that list of friends will soon grow larger. She just emailed me to say she will pay a personal visit to the Childrens Hospital next week, with her daughter, to see for herself what's needed the most. It would have been easy for her to stick with her first list but she's taking the time to drive almost an hour each way to the hospital to make sure her gift will be exactly what they need. This just validates my choice of this caring, giving woman as one of our Heroes. We (Jackie, her daughter Hannah, and myself) will be on the radio at 8:30 Monday morning with "Bo in the Morning" on B95.1 in Ventura County.
March 3, 2008 (Evening)
We received a fax today from Madison Area Technical College in Wisconsin and all of the new nursing equipment has been ordered. By purchasing in volume, Susan Worth, the Nursing Assistant Program Director, was able to get a discount of $1,362.40 so she was able to buy even more equipment than planned. The total came to $24,999.60 and the check is on the way. Susan says the staff is really excited about the new equipment coming. Here are just some of the items they are receiving:
*Electric beds
*Blood pressure units
*Digital thermometers
*Privacy curtains
*Digital scale with BMI calculation
*Computer operated training manikins.
*Software to operate the manikins. Besides nursing students, the training manikins will also be used by respiratory therapy, medical assistant, dental assistant, paramedic & emergency medical technician students. Susan promises to take photos when everything arrives and will share them with us. Damon and I are also excited to see the final list and to know their equipment will soon be on the way. And it's all because of Travis Wiersma, our very first hero. We will have an update soon on the fire fighting equipment in Turkey Creek. I think some has already been delivered but I'll check tomorrow. And Daniel in Slatington is still putting together his list of computers with the library ladies. More updates will come soon.
March 5, 2008 (Dinnertime)
It's an exciting time because as we are choosing our next recipients, invoices are coming in for the current heroes' purchases. We've already sent cheques (I'm from Canada and that's how we spell it) for the fire fighting equipment in Turkey Creek. The chief called to say the new equipment is expected next week and he will take pictures to share with us. We also heard from Daniel in Pennsylvania who says he spent 3 1/2 hours at Best Buy today picking out computers and accessories for the library. That cheque will go out tomorrow. He faxed us the two-page list of items he picked out for the library. Here's what he got:
~14 computers
~14 wide screen monitors
~4 laser printers
~1 color laser jet printer
~Microsoft Office software
~anti-virus software
~print cartridges
~toner
~cables
~Geek Squad installation
I got goose bumps when I saw this list knowing what this will mean to the community. A funny note: Daniel faxed us the invoice, requesting a cheque payable to "Best But" - an accidental typo? I think not. :-)
It's really a thrill to see the first of our heroes' gifts about to be delivered. And everyone will be taking photos which we will, of course, post on each hero's page.
March 9, 2008 (Evening)
We heard from Jackie who went to the Childrens Hospital on Friday with her daughter, Hannah, and they were given the red carpet treatment. They got a tour of the hospital and even toured the helipad which few people get to see. They also visited Dr. Hofstra, the one who treated Hannah, and discussed some of the needs at the hospital so we're expecting Jackie's gift list to change a bit. Jackie is sending us photos of the VIP visit which will be posted on her page asap. This coming Friday we will be announcing the next heroes, yes it's heroes with an "s" so it's going to be a busy week. Applications continue to come in every day and I'm still able to read them all myself. I had time this past week to review some of the first ones that came in and they are still being considered.
March 12, 2008 (Lunchtime)
It's getting harder but Damon and I are still managing to keep up. We heard from the fire chief in Turkey Creek and they are already using their new laptop for training. They had an awards ceremony for Teddy, awarding him a bronze statue of a firefighter and he was also proclaimed "Outstanding Citizen." Then he was given a Life Member Card for the Turkey Creek Volunteer Fire Department. And news came in from the nursing program in Madison. We hear that some of the equipment has already arrived, including manikins and "other body parts" (yikes!) for training. Pictures will be coming soon to be posted on Travis's page.
March 14, 2008 (Early)
What a crazy morning it was yesterday! I was calling our next hero, Christy in Suffolk, Virginia while whe was at work and just before my call I found out that her local TV news crew wanted to be there. So I decided to call the company where she works and pretend I needed a quote so I could talk to a co-worker to help coordinate the TV crew. But Christy answered the phone! So I said, "Who could I speak to for a quote?" She said, "Commercial or residential?" What? I wasn't prepared for the 3rd degree. I said residential and she said, "We don't do residential." I panicked and pretended I got another call and "accidently" disconnected her. Okay, it's time for plan B. I called the news crew who was already parked outside, out of view. While we were discussing what to do, he saw someone leaving out the front door, an employee, who showed him the best way to go in and surprise Christy. We agreed that I would call him one minute before my call. I did, he went in, I called, and Christy cried. She was so happy and so am I. The first call she's going to make is to the coach of her son's wrestling team.
Then it was time to call Stacie Knight in Gainesville who was also at work. There was also a TV crew that wanted to be there when I made the call so I had to get someone there to help. I called her boss, Kelly, who already knew about Stacie's application and was very excited about my call. There was only one problem. Stacie wasn't there. She was filling in for someone at another location. What? This can't be! We have a news crew on the way! I needed time to think and said I'd call Kelly back. I decided the best thing to do was send the crew to the other location and I called Kelly back. Before I could tell her my plan, she told me Stacie just got back. One would think things would have gone smoothly from here. Not exacly. I told Kelly I would call her again to touch base, but when I did, there was no answer. Why is this happening? I finally got her and she had been in the elevator with the reporter but now they were ready and in place. Finally, things were going my way. Or so I thought. I called Kelly to say I was ready to make the call, but the reporter left to get tape out of her car. Give me a break here! A few minutes later, we were set to go. They walked in just as I called Stacie with the good news. Stacie said she was stunned and very happy, and was going to send an email to all the girls in the league.
Now this morning, it was time to call the second two "sports" heroes. First up was Joyce in Louisville. She was also at work at a high school where she is an instructor. Luckily, we had the assistant principal, Matt Kingsley, in on our secret. So Matt and I coordinated that he would call Joyce into the main office for a phone call and I would already be on the phone waiting for her to walk in. While he and Joyce were walking over there, I called ahead and so I'd already be on the phone. Matt told me that a woman named Mary would answer the phone, or it might be Lorissa, but not to worry because they would know what was going on. But when I called, somebody else answered the phone and I said, "Hi, this is Jenny Jones calling from California for Joyce." She said, "I'm sorry there are no personal calls allowed in the office. I'll have to take a message." Com'on! Why am I being punished like this?! Why couldn't this be easy? Just then, Joyce walked in and took the phone. Finally, I got to give her the news that she'd be helping her little league football team. There's no question that she's a hero to the kids on the team, but she also told me that she was a foster mom and now has adopted four special needs children, ages 12, 11, 11, and 9. Now that makes her an even bigger super-hero. God bless you, Joyce.
Finally, it was Ann's turn to receive some good news and after everything else, this would go without a hitch. Who am I kidding? Oh, the plan was nicely in place...
--we checked to make sure Ann would be home
--I was going to call her at 12 noon
--the center's director, Aaron, was going to be there
--the Ann Arbor News was going to call her at 12:30
--the Ann Arbor News photographer was coming shortly after to take Ann's photo
I had a few minutes before placing the call so I decided to check our emails. Nothing special, just Ann who had emailed early this morning to say she forgot she had a doctor's appointment and wouldn't be home until after 3:00. Gadzooks! I didn't know what to do first. I called Aaron and told him we are on hold. Then we had to reach the newspaper reporter, hoping she could reschedule and that it wasn't too late for her deadline. As it turned out, we managed to reschedule her newspaper interview and photos and I will call Ann at 3:00 (I hope she's back by then). Meantime, we needed to post all of our new heroes, so we went ahead and posted the new group, including Ann but we figure she's either at the doctor's or in her car and won't see it. For the first time, we have announced a hero before she even knows she 's been selected.
I hope everyone will take a minute to send our new heroes a note of congratulations.
March 15, 2008 (Morning)
We have some great news about Travis Wiersma. Yesterday, Madison Area Technical College held their Health Division meeting and Travis was presented with a recognition plaque by their Dean of Health, Dr. Sido. Susan Worth introduced Travis and talked about his contribution to their programs. The Vice President of Instruction, Terry Webb, presented the plaque and Travis recieved a standing ovation from the faculty & staff of about 150 people. What a gratifying experience this must have been for Travis. We will post pictures of the event on Travis's page on Monday.
March 15, 2008 (Afternoon)
Emails of congratulations have been coming in all day and it's my favorite part of everyone's page. My thanks to everyone for acknowledging these generous people, and please encourage friends and co-workers to also send a note. Thanks for letting our heroes know how much they are appreciated.
March 16, 2008 (Afternoon)
Teddy and Ruby are expecting their second grandchild in November! Teddy is our second hero from Turkey Creek, Kentucky. Check out his page.
March 17, 2008 (Evening)
Jackie has been working hard putting her massive gift package together for the Children's Hospital. She's already been to the hospital, met with the Starlight Foundation, ordered books from Amazon, bargain shopped at Best Buy, and she even has flight suits already. It won't be long before it's all ready to be delivered to the hospital. If you look up "pro-active" in the dictionary, you just might see Jackie's picture. We think that's terrific!
March 18, 2008 (Afternoon)
I had a chance to call our sports ladies today just to catch up. Guess what? They're getting recognized on the street! Christy said she's been stopped on the street by people saying, "Aren't you the one who was crying on TV?" Stacie and Ann also said they're getting recognized by strangers on the street. Joyce told me the football coaches have already been in touch with sporting goods stores about buying equipment. I also spoke to Daniel Buglio and he's just three weeks away from having all the computer equipment installed in the Slatington Library. Daniel's been working hard to get the library's new system together. He's been to Office Depot looking for desks and chairs, but there's still lots to do. He admitted it was more complicated than he expected but said he'd stick with it no matter how long it takes and would not let the ladies at the library down. They are ecstatic at the library, especially since their local school district has cut out their own library funding. Daniel says he's received thank you notes mailed to the police station from strangers, just saying how much they appreciate what he is doing. Believe it or not, Daniel says he almost didn't send in the application. He was about to shut down his computer after a long day, but changed his mind and decided to write in. We are so glad he did.
March 20, 2008 (Morning)
Things are busier than ever with eight different projects in the works and a ninth about to be added. I received a really nice personal thank you from Coach Tripp of the wrestling team in Suffolk, telling me how much this would mean to him and the team. It made me feel really good. He emailed me through the "Jenny" website. And then Daniel told me that he received a letter of commendation from the mayor of Slatington and the City Council, thanking him for the computer/research lab that's about to get installed in the library.
March 20, 2008 (Dinnertime)
Too busy to remember that it's Easter weekend? I guess so. We are postponing our next hero until next week.
March 24, 2008 (Afternoon)
I hope everyone had a good Easter weekend. I certainly had a good day today. I got to make a phone call to Tammy Sawyers in North Chicago, Illinois to let her know she could start shopping for her $25,000 remodel of two community rooms in the North Chicago Housing Authority where she is the executive director. The two hi-rise buildings in this public housing project serve mostly elderly and disabled residents and it's where they gather to have coffee, watch TV, play games and enjoy fellowship. The staff and other social service agencies also use the rooms to host weekly bingo games and events for the seniors. Tammy is planning to get new furniture for the sitting areas, new flooring, new kitchen appliances, a new TV, and window treatments. Tammy came up with a great idea on how best to spend this money. She will hold a meeting with all of the residents from both buildings, and let them tell her what they need most. What a thoughtful thing to do. This way, the community rooms will have exactly what's needed. Tammy will be sending some before and after pictures of both community rooms, and we also look forward to some photos of the residents. Meantime, please take a minute to send our new hero a note of congratulations.
March 25, 2008 (Evening)
Tammy has had a busy day. I spoke to her this afternoon and she said the phone's been ringing all day with well-wishers. And Tammy might just hold a record for the number of congratulations received! She's already scheduled her meeting with the residents for this Friday so it looks like things will get done quickly. Plus, the Lake County News Sun ran a fantastic story today. You can see it on Tammy's page. And Jackie, who is giving to the Children's Hospital, has been shopping around for the best prices on her gifts. We always appreciate bargain shopping with this money. Who doesn't? Chief Cline from Turkey Creek emailed us to say the rest of the firefighters' equipment is coming in any day now. So it looks like Turkey Creek will be the first grant to be finalized, delivered and paid for. You can see it on Teddy Rubinette's page. Damon is constantly working on our photo gallery so feel free to take a look. There are tons of pictures.
March 27, 2008 (Evening)
We jut added a new feature to the site which is a place for people to tell us how they have personally benefited by one of our heroes' gifts. It may take a while since most of our heroes are still shopping, but we will post them on a special page once we start receiving. It will do my heart good to hear some stories of people whose lives were impacted by one of our heroes. We also redid the calendar to allow us some flexibility on when to announce recipients. The next one is coming in the next few days.
March 28, 2008 (Morning)
Our police officer hero, Daniel, tells us that the computer lab is scheduled to be installed in the Slatington library around the 3rd week of April. Also, Daniel's Police Chief got a call from the Principal of the Northern Lehigh School District and they want to present Daniel with an award at a special assembly. The whole town is starting to get excited and so are we!
March 28, 2008 (Afternoon)
It's hard to type with tears in my eyes but I am so touched by a photo that I just received from Tammy in North Chicago. It's on her page - a photo of Tammy and fellow staff members holding a sign they made for me. Honestly, there is no way to decribe how much this touched me. It was accompanied by the letter below...
"Hi Jenny & Damon,
WOW! what an exciting week. I have sat down several times to write and thank you both; however, with the constant phone calls and people stopping by with well wishes I seem to always be interrupted. On behalf of the Board of Commissioners, residents, staff, and North Chicago community, I would like to express my heart felt gratitude for your generous gift. While the renovation of the community rooms may seem to be a small thing to many, it is truly appreciated by NCHA. This grant will not only allow us to renovate a community but in so doing, it will also change the lives of the seniors in the buildings. I have never seen the residents so excited or work together so diligently. I know this is only the beginning of both buildings forming cohesive relationships for the betterment of all. Again, thank you Jenny! You are truly a hero.
Tammy Sawyers"
March 31, 2008 (Morning)
Maybe one day things will go smoothly when it's time to call our newest hero! We planned to call Lani McLane, the community dentist in Bozeman, Montana last Thursday. But when we called her office on Wednesday, we found out she would not be in. Okay, on to Plan B. We switched it to today. Monday, and with help from Caitlin in the dental office, we were able to get a reporter from the Bozeman Chronicle and a crew from NBC News to be there when I made the call. What a great thing Dr. McLane will be doing for so many children. It's a pleasure to call her one of "Jenny's Heroes."
April 1, 2008 (Afternoon)
We heard from our newest hero, Lani, today who says she's very grateful for this opportunity and she's already working on her plan to provide dental sealant to the local children. She was on the NBC news in Bozeman last night and we posted a great story that ran today in her local paper. Lani also said, "The NBC news crew was so excited about the idea of providing sealants to children in need that they asked to be notified when we would start as they would love to be on hand to film it...all great news!"
April 2nd, 2008 (Dinnertime)
Things are moving along with Joyce Johnson's football team in Louisville. Here's an update she sent today on her purchase of uniforms: "So far, we have selected helmets for the Senior squad. They will be gold and match the high school. I also selected the uniform pants. I always wanted the shiney kind and now we have them. We'll be selecting the shoulder pads soon..."
April 4, 2008 (Lunchtime)
We're getting ready to reveal our newest feature: "Mini-Grant" Heroes. These are requests that come in asking for $5,000 or less and we are announcing our first group of four. In fact, two of them have been in the works for several weeks (Susan and Debbie) and the other two (Beverly and Alana) just got the good news today. Beverly's husband, Brian, was a big help in setting up our surprise phone call. Since a newspaper reporter wanted to be there, he invited the reporter in saying she was with the fire department. I heard Beverly was getting a little suspicious but then I called to give her the good news. I'm not sure if she was laughing or crying but she was definitely excited, and surprised. The reporter, Sarah, drove an hour and a half to get there and said there were no house numbers but a neighbor helped locate Brenda's house. Brenda will use her $2,000 to buy robes and music equipment for her church drama team.
Then I called Alana at work in Baltimore. Her co-worker, Karen, works at the same law firm and made sure Alana was at her desk. Karen's daughter,, Shelley, was standing by with a camera so this mom and daughter team was a big help. Well let me tell you, when Alana got the news, she was screaming into the phone. I had to pull the phone away from my ear. It was such a fun call for me to make. I called Alana later on and she told me that the Pastor's wife was "floored" at the news. I also learned that 30 members of the church prayed for 30 days for a blessing and that this was it. Alana will use her $5,000 to set up a school at her church.
We also heard from Christy in Suffolk, Virginia who tells us they will be ordering their wrestling gear next week and the boys on the team are very happy. She also received a call from the principal, thanking her for everything she has done and for thinking of the school and team. He said they were going to recognize her at the spring athletic awards ceremony. Christy says, "I'm still pinching myself!"
April 8, 2008 (Afternoon)
It's time for some updates. First of all, we're almost 1/5 of the way there (to a million). We've committed almost $200,000 in grants so far. I say committed because we still don't have invoices for everything being purchased but they are continuing to come in. And here are more updates on our current heroes:
Teddy Rubinette (retired coal miner from Turkey Creek, KY) -Teddy just emailed this morning to let us know that all the equipment has arrived at the volunteer fire department. Teddy is our first hero to have his project completed. You can see a photo of the new equipment on Teddy's page. Here's Teddy's email.... "dear jenny this is teddy robinette I'm writing to let you know that we took
delivery of the equipment you purchased for the turkey creek volunteer fire
department today and wish to thank you again for making my dream come true
also on behalf of the fire department and the entire community THANK YOU!"
Daniel Buglio (police officer in Slatington, PA) - Daniel may be our hardest working hero. He took on a big responsibility installing the video/research lab at the library and he's managing the entire project himself. He has already purchased the computers, furniture, and installation services so it won't be long before it's up and running. By the way, Daniel has two jobs: police officer and forensic investigator so we appreciate the hands on work he is doing for his community.
Jackie (bakery/deli shift leader from Ventura County, CA) - Jackie has spent a lot of time on her project because it's so personal for her. She has already purchased computers, flight suits & helmets, notebooks, blankets, books, and video games for the Children's Hospital. All of her purchases were customized by Jackie and we truly appreciate the time she has put in, as well as coordinating with the hospital to make sure they get exactly what they need.
Lani McLane (community dentist in Bozeman, MT) - Lani is moving quickly to get her free sealant program started for 1,000 low income children in her community. Equipment has already been ordered and her first trip is already scheduled for May 12th at two local elementary schools. She has done this before and is really organized. She promised to take lots of pictures of the children she'll be treating for us to share.
April 9, 2008 (Morning)
There's no better way to start the day than with making a phone call to someone like James D. Robinson, who I found out this morning is better known as "Doogie." His grant will be used to purchase 1,500 smoke detectors which his team will install for free in homes in his community. With a little help from Doogie's co-worker, Joe E. Nobles, Sr., who is Moody, Alabama's Fire Marshal/Captain, we were able to get the local papers and news cameras to the station just in time for my phone call to James. We timed it just perfectly - James had a mouthful of food when I called. James told me about the lives lost in their community, saying that one of the people who died in a fire was a close friend, so this means a lot to him and the department. He estimated that once the smoke alarms are installed, 1,500 to 2,000 people will be protected. This is a truly outstanding project and I hope everyone lets James know what a hero he truly is.
April 10, 2008
Our newest hero, James D. Robinson, sure got a lot of great messages today and it's clear that he's appreciated and respected in his community. Speaking of being appreciated, our police officer, Daniel Buglio, was honored yesterday by the students at the Slatington Elementary School. They put on a special program and made him a beautiful banner which you can see in Daniel's photos. Not only that, the students raised $275 for the Slatington Library. It's a terrific ripple effect of Daniels' generosity.
April 14, 2008
We received a nice update today from Stacie Knight in Gainesville, Florida, who is buying softball equipment. She tells us things are going great. They have started passing out the new gear to all the teams, and are now working on the bull pens for the fields.. All of the girls are getting back from Spring break and they expect all the age groups will have games this weekend. She says it's exciting to see the girls in the catching gear, helmets, and using all of the new gear. We'll have photos soon.
April 17, 2008
Things are busier than ever because every time we add a new hero, there's more follow-up work to do with invoices for things we're buying and sometimes Damon makes purchases online. Then there's constant website updates with each hero's page but we love doing it. It's more and more exciting to see how many good things are happening and how much joy is being spread because of our heroes. And there are many more to come. To me, these people are not just selected and we move on, they are life-long relationships and some day, I hope to pay a visit to each one.
April 18, 2008
We have a new hero today and what a meaningful this day was. Lorri Williams had contacted us from Landusky, Montana, requesting $25,000 to build a playground in memory of Deputy Joshua Rutherford. Joshua was an American Indian who was killed in 2003, responding to a domestic disturbance call in Harlem, Montana, which borders the Fort Belknap Indian Reservation. We contacted the Harlem mayor, Jeremy Kinyon, to help us make the surprise phone call to Lorri. With Jeremy's help, it became much more than just a surprise call from a donor. Jeremy went to visit Maxine, the fallen officer's mother, to give her the good news in advance and to invite her to be there for today's surprise phone call. He did not want to shock her too much so it was better to let her know in advance. So Maxine was there but that's not all. Joshua's sons Thomas and Joshua, Jr., ages 16 and 11 respectively were there. In fact Joshua, Jr. drove 200 miles from Billings with his grandmother just to be there today. Lorri was also joined by two city aldermen, John Chandler and Dale Cornell, as well as Lorri's co-worker, Robin. Also there was the boys' grandmother, whose name is Bea Kill Eagle as well as Joshua's aunt, Jill Plumage. Marilyn, a Fort Belknap Council Person came, as well as Gros Ventre Tribe Spiritual Leader, Fred Gone.
I spoke to everyone on the phone and at the end, Lorri put me on the speaker phone so I could listen as Fred led a prayer and burned some sweetgrass, which has a purification element. He spoke mostly in his native Gros Ventre language and it truly touched my heart. I cried and savored the moment, knowing that I was doing something really good.
April 21, 2008
We just placed the order for the playground in Harlem, Montana and were told that it would be ready in 5 to 6 weeks. That's sooner than any of us expected. I was so excited I tried to call Lorri with the good news but her line was busy so I called Jeremy at the bank. He was surprised too and went to tell Lorri Williams right away. He said there would be a dedication ceremony once it's installed with Joshua's family members attending. There are also plans for a memorial plaque to be placed in the park.
And the smoke detectors are paid for and on the way to Moody, Alabama. Fire Chief James "Doogie" Robinson says it's been a whirlwind since we called and they're looking forward to proceeding with the free installations once the units arrive.
April 22, 2008
It's the kind of news we love to hear. Remember Teddy Robinette, the retired coal miner from Turkey Creek who provided his volunteer fire department with new equipment? His wife Ruby just emailed me the following news:
"The fire dept had a forest fire near some residents and the deck gun was a real asset. They were able to put the fires out from 200 yards without having to stretch hoses and jeopordize the safety of personell by fighting the fire from up close. The fire dept is very impressed with the operation of the deck gun. It has already saved thousands in property loss alone. The residents also are astounded at the reach and volume of water delivered by the new deck gun. THANKS AGAIN. Ruby & Ted."
April 23, 2008
Our newest hero, Lorri Williams, sent an update on all the excitement in Harlem with the new playground coming in. "Damon, Thanks so much for all you have done, and are doing to make this project happen. I've been getting prices on the ground covering for the playground today. Don Coffman, one of the city employees measured and marked the park this afternoon for the safety zone around the structure. Things are moving along a lot more quickly than I ever thought possible. People in town are so excited about the project. All three radio stations in the area have been announcing the project the last two days. I think this is the best thing that has happened in Harlem for a number of years. It is so exciting. I still tear up every time I think about how Jenny surprised me last Friday. I'll keep you informed of our progress on this end.
Thanks,
Lorri"
April 25, 2008
We got a great update from Daniel Buglio, the police officer who's providing the computer/research lab in the Slatington library. All the equipment is in! They have received all the computer tables and chairs. Daniel and some library members will be putting the chairs together. Last week, Daniel and another Officer picked up all the computer towers at Best Buy and brought them back to the Police Station, where everything is being stored. They're making one more trip to pick up all the monitors, printers, scanners and everything else. The staff and the library have rearranged some books around and cleared a big open area for the new computers. Also, an electrician was contacted to install outlets in that area for the computers and equipment. Next week, Daniel, the Best Buy rep, and the "Geek Squad" will be spending all day at the library to install everything and get the computer lab up and running.
"Everyone is excited! This is awesome!" says Daniel. "A dream is coming true! I can never thank you enough for everything you did. The reality of this is finally setting in and the Borough residents are thrilled!" So are we, Daniel!
April 29, 2008
I got to call our newest hero this morning, Jeannette Batton, a CHP Officer from Perris, California who requested $25,000 to help a battered women's shelter in Riverside. What a fun phone call it was. Pastor Sherry Sweetman, the Executive Director of the shelter, helped get Jeannette ("BJ") over there this morning and she made sure that the caretaker, Terry DeBord, would be there. We also had a newspaper reporter show up so it was hard to keep my phone call a secret. But as soon as I called, they put me on the speaker phone and it was so good to hear their laughter. "I've been had!" said Jeannette, never expecting a phone call from me. Terry said, "You pulled a good one," expecting the police to show up since something was clearly going on. Jeannette and Terry were very excited about all the things the shelter would be receiving: a new 6-foot security fence, cameras with a 16-channel digital video recorder, six commercial washing machines, three moveable broilers, a new stove, and a swamp cooler for the kitchen. And to make the day even more special, right after my call, they received another donation of $1,000 from a woman who had a birthday party and in lieu of gifts, asked for donations for the shelter. What a great idea! What a great day!
May 1, 2008
Things are moving quickly at the shelter. The fence company was there yesterday, the gates are being built, the temp fence is going in, the old one gets torn out, the poles go in and then the new wire goes up. Wow, Terry means business!
May 5, 2008
Here's an update from Terry who runs the shelter:
"FANTASTIC! the new washers are in and working, the stoves are all in and working. They are beautiful! The new chain link in the front is up, the gates will be installed tomorrow there. The work on the back has been started, the cleanup crew is clearing the brush, and the temp is being placed there. The next and final project is the security cameras and DVD.
Thanks again for such a wonderful experience. This has truly made life nicer and has taken a big burden from me and my son. I have taken something that was was broken, thrown away, or scrapped and made it work for all the years I have been here. Now I can move on with ease to other things to help the shelter. The bad shape of the shelter when I came to do a volunteer project was one of the reasons I made the decision to stay here. The rewards were not money but seeing people's lives change. I have never been more blessed and had a true feeling of worth than in the years I have spent here. (there's more from Terry on her page)
Now, an update about Lani McClane, our destist in Bozeman. A bit of bad luck - the portable sealant equipment is on backorder so Lani had to re-schedule their first sealant day from May 12 to a day in early June. It was a bit of a setback, but they are still very excited to get going on this program. They have two schools lined up that have a high percentage of children on free and reduced lunches (41 and 32%), and the whole school staff is thrilled that they were chosen!
May 6, 2008
Some sad news to report. We just got this email from Terry at the shelter...
"I am saddened to inform you of the passing of Pastor's mother early this morning. She was pleased with the foundation's donation to the shelter. She was a great supporter to the shelter from the day the planning started."
Our thoughts and prayers are with Pastor Sherry Sweetman, the shelter's Executive Director.
May 7, 2008
Great News! The computer/research lab at the library is in! Daniel Buglio, our cop in Slatingon wrote to say things went really well. There are still a few small bugs to work out but he says it's really great. "Believe it or not, everything worked out with no issues!" he said.
And more good news from Terry at the shelter: "The gates are in, the last load of brush is in the dump and WOW, it looks so wonderful," said Terry. "I know it will be secure for all those who seek refuge here." She is more excited than anything with the fence and security system, and loving all the calls she's been getting complimenting the new look. One of their neighbors now wants to get involved in volunteering there. The kitchen with its new appliances is looking great and the security system is next.
Even more good news from Fire Chief James D. Robinson in Moody, Alabama. The smoke alarms finally arrived! Chief Robinson said it was a little bit intimidating to look at the two large plastic-wrapped pallets of alarms. There's a lot of work to be done. They will finish training the installers on May 18th, and the plan is to do a door-to-door installation blitz on May 31. The installers will work in more than 10 neighborhoods that day to install as many alarms as possible, all for free to the community. The chief says, "While one life saved will justify all of our efforts, this project will provide a blanket of protection over dozens of families for the next 10 years."
And news from me: we are working on some design changes on this website which are coming soon. And I've changed the way I do each hero's updates. I'm flipping the order so the newest update will always be first. It's the same way I do my personal diary on jennyjones.com. I think it's better.
May 8, 2008
This morning I called our newest hero, Julie Alston, who's as social worker in Charleston, West Virginia. She and her husband are doing a fantastic thing - building a new center for homeless veterans. She asked for $25,000 to furnish the center which we are thrilled to be able to do, from beds, night stands, sofas, kitchen & game tables, chairs, to bunk beds and more. Julie's husband, Alex, helped us surprise Julie at their office (they are co-CEO's of the project) and there was supposed to be a news crew there but we got bumped for someone else... guess who? Hillary Clinton was in town! I guess if your story has to get bumped, it should be for a presidential candidate. The Veterans Transitional Living Center won't open until this fall, but whenever it's ready, the furniture will be there.
May 11, 2008
It's going to be an exciting week. We are delivering $25,000 worth of toys, games, DVDs, electronics, flight suits and more to Childrens Hospital here in Los Angeles. Since I live here too, I'll get to be there when Jackie brings a truck load of presents. We'll post lots of pictures of our big day, this Thursday. Check out Jackie's page to read the touching story of how her newborn daughter's life was saved at Childrens Hospital.
May 12, 2008
Here's another update from 'Officer Daniel Buglio' who's been working on the computer lab for almost three months and is finally seeing the fruits of his efforts... "Hi Damon & Jenny. Well, the computer lab is set up! It looks awesome. I stopped at the library over the weekend and they said after school, most computers are being used. It really looks like a state of the art operation! I will send you some pictures of the library staff and the Geek Squad setting some things up. Of course, I was helping too, but I was also taking the photos. I provided Donuts and coffee to the staff and Geek Squad for the morning and pizza and soda for lunch. It was about a 10 hour day, it was awesome." I am so proud of Daniel for seeing this huge project through. And treating the whole gang to breakfast and lunch! What a class act he is. I can't wait for the pictures!
May 13, 2008
News from Bozeman, Montana: We heard from Cailtin in Lani McClane's dental office who says they have already received some of their equipment (such as the masks, gloves, and sealant material), and more is still arriving. They have re-scheduled their free sealant day to June 2nd for the children of two Bozeman elementary schools: Whittier and Monforton. And in Slatington, Pennsylvania, we hear they are planning a ribbon-cutting ceremony soon for the new computer lab that Daniel Buglio installed.
May 14, 2008
Damon rented a truck this morning, then he and Denis drove to Jackie's house to pick up all the gifts for Childrens Hospital. They also stopped at Best Buy to pick up some TVs since there was no room in Jackie's home to store them. It's a big truckload of stuff! But what happened was they drove from our house to the truck rental, left the car there, got the truck, and headed out. On the way back, they were supposed to swing by the rental place to get the car and bring both the truck and the car back to the house. They forgot and left the car there! So they just left in another car to go get the first car. It was pretty funny. We're all getting ready for the big delivery tomorrow.
May 15, 2008
This was a very special day. We finally delivered all of Jackie's gifts to Childrens Hospital! They set up a table outside in the Healing Garden and we piled up a bunch of the gifts on it, then they invited some of the staff and a few of the young patients to join us. I talked a bit about Jackie and how personal this was for her. Her daughter's life was saved at this hospital and she could have simply asked for a donation to be made in her behalf but instead, she chose to provide exactly what they needed. She went to the hospital first and asked what they needed the most. Then she went shopping. Jackie personally selected every single item that was given to this outstanding organization, from every single book and DVD to the big screen TVs and flight suits. Here's what Jackie delivered to Childrens Hospital today:
~9 Helicopter Flight Suits and Helmets
~2 HD Big Screen TVs
~4 Lap Top Computers
~6 Portable DVD Players
~A 5-Disc DVD Player
~80 DVDs
~25 Computer Games
~80 Books
~A Wii Fun Center
~100 Memory Notebooks
~100 Embroidered Blankets
~Various Toys & Stuffed Animals
~$1,000 to cover TV installations
Jackie was thoughful enough to make sure we covered the cost of installing the new TVs. She selected the words to embroider on all the blankets. And with the flight suits, she only purchased four of them, the other five she got donated from an old high school friend. What are the odds? Her friend Andy Cooper was a C-130E flight engineer w/the 146th Tactical Airlift Wing. Hey Andy, thank you so much!!
We are so proud of Jackie for all the gifts she delivered today to Childrens Hospital. They will bring joy to many children and their parents for years to come. Jackie, Mazel Tov on your Mitzvah!
May 18, 2008
I'm really looking forward to Tuesday. Madison Area Technical College in Wisonsin is going to be honoring Travis Wiersma, our very first hero, and I will be joining in via internet hookup. Damon is setting it up and I should be able to see the event and hopefully, some of the new nurses' training equipment they received thanks to Travis. I'll be able to speak to Travis and everyone there. I've never done that before so it's going to be great. I wish I could just go on the road and stop at every Hero's city to see what they have accomplished but I can't leave my day-to-day work selecting all these outstanding heroes. Maybe some day.
May 19, 2008
Tomorrow's the big day for Travis Wiersma, our first hero, as the reception in his honor will take place at 3 pm. And finally, an update from Stacie Knight, our March 14th hero from Gainesville who is providing equipment & field improvements for her daughter's softball team: They had a bit of a delay for the field improvements since the park is city owned but now it looks like the bull pens will be completed within the next month. They are also sprucing up the concession stand, bathrooms, and dug outs and are planning a "painting" day with the parents. They are now establishing their "All-star" teams with all the age groups and will start practicing for the District and State tournaments. The girls are really enjoying the new equipment and Stacie says because it all fits, she is "most certain it has helped prevent injuries. All of these improvements and gear are going to be used for years to come. So many are going to be able to enjoy the benefits." Stacie promised to send pictures soon.
May 20, 2008
This was just the best day ever! They had a Nursing Assistant Grand Re-Opening Reception at MATC and ribbon cutting ceremony and guess who was the guest of honor? Travis Wiersma! He's our very first hero who gave them all that new training equipment. And guess who was there by video hook-up? Me! It was so high-tech. Damon worked with Sue Worth in Madison and hooked us up through his computer, so I could sit at the keyboard and see them on half of the screen and myself on the other half. Everyone was there: Dr. Barhorst (MATC President), Dr. Sido (Dean of Health), Sue Worth (Nursing Assistant Program Director), Travis, and even his mom.
We were able to talk to each other and they even gave me a virtual tour of some of the new equipment. Sue said that the manikins even cry out if you stab them too hard. As for the ribbon cutting, they draped the ribbon between two new sinks (Sue LOVES the new sinks) and Travis's mom actually cut the ribbon. She must be so very proud of her son. I know we all are. And that's not all. They also brought out a beautiful cake to celebrate the occasion. It was so much fun. At the end, everyone sang an early Happy Birthday to me. It was so nice to feel like I was there thanks to Sue who put this whole day together. I also made a special card for Travis that spelled out what his name really stands for:
Truly Remarkable Awesome Very Inspiring Sitizen (okay it's "Citizen" but the first way sounded good!)
May 21, 2008
We just announced our newest hero this morning, Eric Deke, who is a rural mail carrier from Buckner, Missouri. His request of $25,000 is to provide new toys, movies, video games, board games, washable laptops, and portable Nintendo Wii Fun Centers for the cancer patients at Children's Mercy Hospital in Kansas City, Missouri where his 4-year-old daughter, Aspen, is a patient. Aspen has ph+all leukemia so Eric has spent a good deal of time at the hospital. His gift will benefit over 1600 children being treated there.
Making that call to Eric was no easy task. A couple of days ago, we contacted Kelly, who we thought was the postmaster where he worked and she agreed to help us surprise him. But when I called her this morning to make sure Eric was close by, she said she's not the postmaster, and that someone named Cheryl was, and she knew all about the surprise. So I called Cheryl (who was an hour away from Kelly) and Cheryl told me she had to leave, but a supervisor named Leanne knew all about it, and I should call her. When I called Leanne, someone named Cheryl answered but it was another Cheryl. It turns out they have four. By now Damon and I were panicking. The newspaper reporter was supposed to contact Kelly but she was no longer the contact, so I called his cell phone, got voice mail, and left a message for him to call Leanne. In the end, the reporter went to the right place, Eric was there, and I made the call. Just when we think we've anticipated any kinks in our plan, Damon and I hit a new one. It was pretty funny, and of course it all ended well.
LATE BREAKING UPDATE: David Cook, who tonight won the American Idol competition, is from Blue Springs, Missouri, where Eric works his route! What a small world...
May 22, 2008
Here's a progress report from Harlem, Montana where a playground is about to installed in memory of American Indian Deputy Joshua Rutherford. I spoke to Robin, Lorri Williams' co-worker, this morning who told me the parts arrived yesterday and as soon as the rain stops, volunteers are ready to install it. Robin's husband already dug the hole which will be filled with pea gravel before the installation. It will be ready just in time for summer. How exciting!
May 23, 2008
We just heard from our newest hero, Eric Deke's wife, Amanda, who sent us some more family photos along with a nice note from the hospital, part of which we'd like to share...
"Jenny & Damon,
Thank you from the entire Hemotology and Oncology Department at Childrens Mercy Hospital in Kansas City. I can't tell you how excited everyone is. All the parents are super hyped too. I posted Jenny's Heroes site on our daughter's caring bridge page so everyone who visits us can see it too. The caring bridge site has been an unbelievable connection to families all over the country and even the world. Its like a big chain and more and more families are linked together because of it. There are kids here at our hospital that I might not have ever met, but because they were on one of our friends sites I have been blessed to become friends with them and their families. Thank you again for everything.
Sincerely,
Amanda Deke"
May 28, 2008
It's not often I get to meet one of our heroes in person but today was the day. High school teacher, Debbie Stikeleather, one of our "mini-heroes" who requested books for her class, took her students to the Los Angeles Zoo today. She had already invited me to come to the school in Anaheim, which I was not able to do, but she wondered if I might be able to meet everyone at the zoo since it's much closer. It was a chance to meet all of her reading students and I said I'd be there. So Damon and I headed for the zoo this morning and shortly after we arrived, three yellow school buses pulled up. I recognized Debbie right away from her picture, and then I climbed into each bus and what an awesome experience it was! I met over a hundred students, many of them holding the books they had received, thanking me for the chance to read. How about that? Kids who were thanking me because they could read more books! It's moments like this that make Jenny's Heroes so worthwhile. The class presented me with a huge Thank You card loaded with signatures.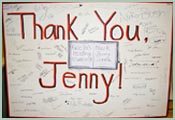 click the image to see larger view
The best thing was receiving an envelope full of personal letters written by the students, each one saying thank you and telling me which books were their favorites and why. I read the letters on the way home and almost cried from joy. These books made a difference. Debbie Stikeleather made a difference. She selected books these kids can relate to and it worked. In talking to her it's clear she loves her job and I hope her students know how lucky they are to have a teacher who motivates them and cares so much about their future... a future that's even brighter now, thanks to Mrs. Stikeleather. (photos of the zoo get-together are on Debbie's page)
May 29, 2008
I have updates to share: Fire Chief James Robinson, who is installing free smoke detectors in his community of Moody, Alabama, is ready to go. The installer training is complete and the fire fighters who volunteered came from eighteen different departments. Each 3 to 4-person team has been given a ladder, cordless drill, and toolbox with supplies to carry out the installations. Also helping out are volunteers from civic and church groups as well as the Boy Scouts. They will be conducting an "installation blitz" on Saturday, May 31st and with a little help from the weather, they will likely install almost all of the 1,600 alarms - FREE - to needy residents. How inspirational to see what can be accomlished when giving and caring people come together. CHP Officer Jeannette Batton, is helping Terry DeBord at the shelter in Riverside, California and Terry tells us that their new security system is being installed, and that she received a new Sony day/night vision camera from her grandson, and then her grand daughter did the same. They were her Mother's Day gift! And their new swamp cooler was put to the test during the recent heatwave. "WOW, with two stoves going and 106 out side," says Terry, "it was MUCH nicer to cook a meal."
June 1, 2008
It's Sunday night and I spent most of the weekend reviewing the hundreds of applications I've been saving since January as possible recipients. There were just so many I was hoping to do, but I simply had to narrow them down. I am now holding about a hundred that I desperately want to do but I know even that number is not possible. It's hard to describe how difficult it is to deny some of the people who may have nowhere else to turn if not me, but I can only do what I can. And in that hundred I'm currently holding is the next hero which I hope to announce this week. Damon and I are a little behind but we'll catch up soon.
June 2, 2008
We've been busy planning a big grand opening of Daniel Buglio's new computer lab. He's the police officer from Pennsylvania and the computers he donated to the Slatington library will serve the entire community of 3,500 people. On June 10th, we're planning a ribbon cutting ceremony with Daniel, the mayor, and even the guys from Geek Squad who did the installation. Damon is handling the invitation details and I'm ordering the catering which will be ring baloney with cheese. I had never heard of it but they tell me that it's very popular there and is served on special occasions. I googled a photo of it and it looks like kielbasa, and I'm Polish, so you know that works for me. After the ribbon cutting, there will be an open house for everyone in the community to come and see the new computers. They can meet their hero, Daniel, in person and even get computer lessons from the Geek Squad team. We'll have photos and video of the whole event to share.
In other news, Christy Witcher in Suffolk, Virginia tells us that the white and red singlates and the jackets came in last week for the wrestling team and they all look great! The team loves them and can't wait to wear them when the season starts up. And Jackie from Ventura county let us know that the flight suits finally arrived at Childrens Hospital in Los Angeles and the staff of their Emergency Transport Services said to express their thanks for the gift that will help keep them safe during flight! Our current hero from Buckner, Missouri, Eric Deke has been busy bargain shopping for his gifts for Childrens Mercy Hospital in Kansas City. He's decided to get a Nintendo Wii for every room on the cancer floor - that's 25 rooms! He says Best Buy in Independence, Missouri has been super to work with and is even giving him free movies, and that Nebraska Furniture Mart has been really helpful too.
June 4, 2008
Well, our first free dental sealant day was a big hit. Lani McLane, our community dentist in Bozeman, Montana, and her team visited two elementary schools. First was Whittier Elementary where they saw 15 fourth grade students. They then went to Monforton Elementary and treated 29 third, fourth, and fifth grade students. They applied a total of 55 sealants on back molars to 42 children! Here's Lani's email...
"The support from the community for this program has been amazing and we are so excited that after a lot of hard work, we were finally able to start this program! We were happy to see this many kids and with the help of school nurses and administrators, we were able to have a very successful first free sealant day! The kids were very excited to have us check out their teeth and help protect them from cavities...it was a day full of smiles!
In other news, it's been raining for the last two weeks up in Harlem, Montana, according to hero Lorri Williams, and that's why the playground that's going to be built in memory of slain American Indian Deputy Joshua Rutherford is still sitting in storage. The parts are all there and the hole has been dug for the playground but right now, "it looks more like a lake." So Lorri doesn't expect the installation to happen much before July. She will keep us posted.
June 6, 2008
We just got word that the free smoke detector installation in Moody, Alabama last Saturday was a huge success. Chief James D. Robinson says they installed 1,400 of the 1,600 units in just one day. He'll be sending pictures soon which we can't wait to see... and share. And the proposal and plans are finally in for the basketball court that Ann Clouse is providing for her community in Ann Arbor, Michigan and we're told it may be ready by the end of June. It promises to be a busy week coming up with the ribbon cutting ceremony of Daniel Buglio's computer lab in the Slatington Library as well as our next hero, which we'll be announcing on Monday.
June 9, 2008
Our newest hero, John McBride, is a middle school teacher in Yuma, Arizona. I called him at his school today with the news that he will have the money to purchase new racing bikes for his team of at-risk kids. The phone call took place in the principal's office where everyone gathered, including other teachers, the principal herself, the TV news and local newspaper reporters, the local government channel, and then John himself who came in with some of his bike riders. John was thrilled to get the news. When I asked why he only requested $20,000 John said, "I was afraid if I asked for too much I wouldn't get it." So I made it $25,000 on the spot because he said the more bikes he can get, the more kids can ride. I spoke to John later in the day and he said he found a better deal on the bikes and can buy more than he originally hoped so now he can have 20 riders on the team. He's doing a life-changing thing for all of these kids so please email John a note if you can.
June 10, 2008
It was a big day in Slatington, Pennsylvania today. The official ribbon-cutting grand opening ceremony took place in the Slatington Library. Our hero, Daniel Buglio, was honored by the mayor, library board members, chamber of commerce and city council members, as well as school representatives, for providing them with a brand new state-of-the-art computer lab. The local press was there and I participated by speaker phone and let everyone know how much work Daniel put into this project. He was presented with a plaque, they cut the ribbon, and then stayed on for a big Open House for the entire community.
June 11, 2008
I have lots of news to share. First of all, our newest hero, John McBride, is still recovering from his whirlwind day on Monday. His phone rang off the hook and he even heard from an old friend who served with him in the Marines 17 years ago! John celebrated his good news by taking his kids out to a steak dinner and to the local bike shop. He's also taking the support kids to the tool store. This is the team that maintains and rebuilds bikes, in fact they got so good at it that the bike shop will let them work there over the summer. With our grant money, John will be buying fifteen new bikes which is more than the six he originally planned. And a ripple effect has already started: Two more teachers have offered to join the team, volunteering their time, and the school district has approved them as an official after school program so now they will have liability insurance and some new space to use as a workshop. How exciting! By the way, John is recovering from shoulder surgery and at the same time, his 94-year old grandmother broke her hip. John's injury was from a biking accident and grandma's happened when she jumped a block fence to visit her 80 year old boyfriend!
Here's a progress report from Stacie Knight in Gainesville, Florida, who is providing her girls' softball team with new equipment. Stacie tells us they have started their All-star practices and plan on participating in the District and State tournaments in Florida over the next month. They are having a banner made with all the girls' names and sponsors. Our grant left enough money to get new uniforms too! Stacie said, "I was able to catch some of the little 8's games this season, and to see them with their new 'little' helmets, catching gear, and bats was so amazing. So darn adorable!!!" And after some delays on the new bullpens, they are finally breaking ground on them next week. (there's more on Stacie's page)
And another progress report from Julie Alston in Charleston, West Virginia, whose grant will be furnishing their new shelter for homeless veterans. Construction has begun and plumbing is being laid in anticipation of the floor being poured the week of June 16th. Progress is moving along at a very rapid pace thanks to good weather and very hard work. Julie hopes to open the center this fall.
June 12, 2008
Our newest hero, John McBride, sent this email to express what this grant means to him...
"I cannot say what a difference Jenny's generous contribution has made. Already two kids who I was losing now want to clean up their act and come back! The kids are celebrating and training hard. We have already ordered 15 bikes and riding gear for a dozen riders. I need to also thank the other teachers, Mrs. Cinthia Madrueno and Ms. Jennifer Deer, they are the heart and brains of the program. Also thank you to our local bike shop, Mr. B's Bikes of Yuma for helping us stretch our dollars and fill some very big orders! Ireally believe that this donation will have a ripple effect. We are already able to apply for matching funds and could easily serve twice as many students within the next few months. Thank you Jenny!!"
And here's a progress report from Lorri Williams in Harlem, Montana on the new playground: It's still raining! Lorri sent me this update: "Just wanted to let you know we're still really wet up here. It rained all day yesterday. It snowed out at our ranch last night, which is 50 miles south of Harlem, in the Little Rocky Mountains. The forecast says it is suppose to warm up this weekend. We are going to need a few real warm days to dry things out. The sign I ordered for the park should be arriving any day. I'll let you know when we can get started putting up the new playground."
June 17, 2008
It is with much sadness that I share the news of the passing of one of our wonderful heroes. Beverly Warriax from Maxton, North Carolina died on June 6th, having suffered a heart attack. Beverly was one of our mini-heroes, in fact her grant was the smallest we had ever done. She only requested $2,000 for choir robes for her church and she was so excited when I called her with the news. But the sad news that came this week was a surprise to everyone. I just received a note from Beverly's best friend, April, letting me know that Beverly was sitting on her front porch with her daughter when she had the heart attack. I spoke to Beverly's husband, Bryan, who says he and the family were all caught off guard and are dealing with it the best they can, one day at a time. Bryan asked for our prayers. Beverly is survived by her husband, Bryan; daughters, McKenzie Brewington and Candice Deese; father, Lawrence Deese; mother, Polly Deese; brother, Lawrence Deese; and sister, Ellen Locklear.
June 19, 2008
Shelly Lane became our 21st hero this morning when I called her with the news that she would receive the grant she requested. As the children's librarian for the county, Shelly is clearly passionate about her work and has already tripled the number of people coming to the children's library! One mother walks her children 3 miles every week just to attend Shelly's reading class. Robeson County covers over 900 square miles and has the lowest literacy rate in all of North Carolina. Of its 125,000 residents, 25,000 are children so can you imagine how many of these children will benefit from Shelly's gift? The library's branches are scattered throughout the county and Shelly will be updating all the branches. Shelly is clearly a woman who is already making a difference and is about to do even more.
And here's an update from John McBride, our teacher in Arizona. "The kids can hardly contain their excitement! I keep telling them we will have everything together by the end of the month, but they still ask EVERY DAY if anything has come in! You must realize that for these kids they do not get much in the way of gifts so this is like a thousand Christmas' wrapped into one!! The support crew is busy building bike racks to hold 20 bikes. The four new riders are riding every morning and doing an hour of spin class working on conditioning. The temps are hitting 113F here so we try to have the road riding done by 9am, then move our training indoors. The kids are also discussing what races we will compete in for the 2009 season." All the bikes are on order and John just ordered new helmets, gloves, socks, and other gear. I'm with the kids: "When are the bikes coming!!!??? Are they there yet?" I can't wait!
June 20, 2008
It's letters like this that make it all worthwhile. It's from yesterday's hero, Shelly Lane...
"Dear Jenny-
I am still walking on air after receiving your wonderful gift. I really still can't believe it is true. I am truly thankful for what this will mean to our children. The phone has not stopped ringing with congrats from well wishers. One of the best things that happened today was when several of "my" teenagers ran into the library and shouted--Yeah for Miss Shelly--we love you! They then all circled around me and gave me a big group hug--They have already put in their suggestions on how I should fix "their" library and of course, they brought me a huge book list! Although my boss tells me not to work on the weekends--I will be working this one--I want to make sure that I am careful about making the best choices possible for our community. Thanks again and I will talk to you soon.
Shelly"
June 21, 2008
Eric Deke, our mail carrier from Missouri, has been working hard on his shopping for the Childrens Hospital so it looks like he's close to being ready to deliver. He plans on buying 19 to 21 wii's today along with all of the accessories that go along with them. And he finally heard back from the pinball guy and will be getting the cost of repairing that special pinball machine soon. After his first big purchase, Eric will then budget out how much to spend on movies, toys, and games. All the toys that Eric will be replacing will be donated to the local Ronald McDonald House and the What So Ever Community Center which is a shelter for homeless families. What a great idea.
June 23, 2008
We have an update from Joyce Johnson in Louisville who is buying uniforms and equipment for her kids' Little League football team. The uniforms haven't come in yet but they did get the practice equipment. They have signups on July 12th & 19th and will probably start practice on the 21st. "I can't wait to see the kids' faces," says Joyce. "They will pass out when the see the new tackle dummies. The ones we had were so full of duct tape the Miteymites stuck to them like velcro." Joyce has gotten a lot of positive feed back from the community and says, "I still can't believe this is happening."
And good news from Lorri Williams in Harlem, Montana. The playground is going up today! The rain finally stopped and they were able to level the playground area last week. Lorri is very excited and promises to take lots of pictures. Can't wait.
June 24, 2008
It looks like I spoke too soon. The playground was SUPPOSED to get started yesterday in Harlem, Montana but I called this morning and they didn't start, plus it's raining again. Too bad. Whenever it's ready, we plan to send a video crew to the official opening ceremony where Joshua's mother is planning to have a "feed" which is a traditional American Indian ceremony with meat and pot luck food. Moving very quickly is Yuma teacher John McBride who just ordered shoes, water bottle cages, and computers for his bike racing team. Believe it or not, Jackie's gifts are still not all delivered to Childrens Hospital yet. One of the coolest ones she purchased is the Nintendo Wii Fun Center and she says it will be ready for delivery in just about a month. From what I've heard about them, it will be worth the wait.
June 25, 2008
Things are going great with Eric Deke's shopping for Children's Mercy Hospital. Best Buy will let him have 14 more wii's which is huge because they are hard to come by. Best Buy is also going to donate the time of several employees to help install all of them. "I cant say enough about how great they have been," says Eric. Next, he will buy board games, toys, art supplies, and a camera for the floor for special memories that happen on the floor. He's also buying some laundry detergent for the washing machines on the floor for extended stay parents, then movies and some wii points to download old nintendo games on the wiis. It will be a busy month trying to fit all the shopping in between Aspen's admissions to the hospital, but Eric says it's really been fun.
June 27, 2008
Happy Anniversary to our fourth hero, Jackie! She and her husband, Arnie, are celebrating their 15th wedding anniversary today. Congratulations!
June 29, 2008
Remember waaay back to March 14th when Ann Clouse was getting a new basketball court for her community in Ann Arbor? Well, it looks looks the work has finally started this weekend. It's taking longer than expected and the kids there can't wait. Ann says they are so excited and ask about it every day. She says she still gets stopped on the street by people asking if she was the lady from the paper about the basketball court from Jenny Jones. Well, it's underway. Ann will be sending photos soon.
June 30, 2008
It's always an exciting day when we have a new hero. Tony Blue is from Detroit and requested $25,000 for his pop-warner football team. I was able to surprise him today with a lot of help from James Parker, his long-time friend from high school. James got 4 coaches and 5 players to all meet at the car dealership where he works. They were all there when Tony and his wife came in. Tony was excited to hear the news and so was the whole group who all said "thank you" together so I could hear over the phone. That was really fun! I said hi to Tony's wife, Jenny, and to the team's athletic director, Derek Smith, who invited me to a game. James told me that he and Tony played football together in high school and both their dads were coaches, so it has always been their dream to make sure that all kids have the same opportunities that they did. It looks like that's exactly what they're doing. Tony said more kids than they expected want to participate, so I think that means his program is really needed in the community.
July 1, 2008
Well, Tony Blue has already ordered football uniforms and helmets. It's good to see progress somewhere because the rain foiled us again. That basketball court that Ann Clouse is having built in Ann Arbor never did get started as planned, and neither did the playground in Montana. Lorri Williams just wrote to say they are also behind because of the rain, and now the long weekend. Oh well. Next week will come soon enough.
July 5, 2008
Happy 4th to everyone! We finally heard from Fire Chief James Robinson in Moody, Alabama who says the free installation of the smoke detectors is complete with the alarms making it into just over 350 homes. And more good news: they are beginning to receive donations to pay for even more smoke alarms for the needy. We love to see a ripple effect like that. John McBride tells us that the new racing bikes will arrive on Monday. The kids are working hard to revamp the room for their biking team, building bike racks and putting up biking posters and painting. John's hoping to hold some bike clinics and tryouts by the end of the summer.
July 7, 2008
I have tons of updates. Mail carrier Eric Deke is almost done! He purchased the rest of the Nintendo Wiis from Best Buy and he's still waiting to hear about the pinball repair. He's trying to coordinate a shopping day with Childrens Mercy in Kansas City and then they're planning a party on the floor to deliver and open and install everything. It should be exciting! Joyce Johnson finally received the football equipment and the kids in Louisville will be able to use it soon. They have sign-ups on July 12th & 19th and practice starts on the 21st. "I hope we get everything back by then," says Joyce. "The waiting is killing me. I want to see those 'shiny pants!'". And in West Virginia, Julie Alston's construction of the veterans center is moving along quickly. The slab is completely finished and the framing is up for the walls. Julie says it's exciting to see things move so fast. And finally, that basketball court that Ann Clouse is building in Ann Arbor has been started! Yay!!
July 9, 2008
Today was Mini-Grant day and I called two of our four recipients. Sarah Miller was at work at the domestic violence shelter in Conyers, Georgia when I called to say she'd be able to purchase the new playground. Sarah and the shelter's executive director, Vickie, were really excited for the children. The playground will be going into a courtyard area and will be used by children up to around 10 years old. Later on, I called U.S./. Navy Chief Petty Officer Billy Phillips to congratulate him on receiving his grant. He was on a baseball field with his team of 11 and 12 year olds who were about to play a game (they almost got rained out). The whole team gave me a loud "Thank you!" cheer for all the new equipment they'll be getting. In speaking to Billy, I found out that he is married with 2 children, a 17-year-old son and a 15-year-old daughter. Billy has already been deployed to the Persian Gulf and may go there again.
July 10, 2008
Two more mini-grant recipients got added today. My first call was to Shella Miller who works at Colvin Hoover House in Newark, Ohio, where they assist people with mental retardation and developmental disabilities. I surprised Shella with the news that she'll receive the $6,000 grant she requested for new appliances and beds. Her mom, Phyllis, was there when I called. The center is named after Phyllis, a long-time supporter. My second call was to Robyn Gerell who administrates the Wolf Creek Volunteer Fire Department in Wolf Creek, Oregon. I called Robyn with the news that she'll receive the grant of $10,000 which she requested for a new Jaws of Life. Robyn is excited about setting up training sessions for the new equipment.
Our librarian from Robeson county in North Caroliona, Shelly Lane, received a really nice note from a stranger who happened to see her story on this web site. Her name is Valerie and her 6 and 9-year old daughters have offered to send Shelly a box of books they don't read any more. You can read the note in Shelly's messages. Isn't is great to see little kids like that with such big hearts? This is a terrific ripple effect. Thank you, Valerie!
July 12, 2008
John McBride got his bikes! He says they are beautiful - black with white and silver trim, light-weight and with indexed shifting (that means no more dropped chains). The kids love them and couldn't wait to get on the road. They've already put 100 miles on them. Thanks to John's wheeling and dealing, his initial shopping list has more than doubled! He will have enough clothes and shoes to last for at least three years and should be able to mount between 15-20 kids!
July 14, 2008
Things are zipping along with the veteran's center being built by Julie Alston in Charleston, West Virginia. They already have walls and they'll be ready for the new bunk beds soon. Tony Blue has ordered almost all of his football equipment for the Motor City Chargers and Lorri Williams tells us that the playground set-up is underway in Harlem, Montana and they have decided to hold the dedication ceremony on August 16th which is slain officer Joshua Rutherford's birthday.
July 15, 2008
It was a special day today in Turkey Creek, Kentucky. Teddy Robinette, our retired coal miner who gave his local volunteer fire fighters some badly needed equipment, was honored today with a "Hometown Hero" award by WSAZ-TV out of Huntington, West Virginia. It was a surprise ceremony attended by Teddy and his wife, Ruby (who was in on the surprise), Chief Jim Stepp, Captain Matthew Cline, and Assistant Chief Tim Cline, as well as the local news and newspaper. I called Teddy to congratulate him and he told me that the new equipment has already been used several times for fires and car accidents. Teddy is staying busy with their 22-month old grandson, with another grandson due in November!
July 16, 2008
Damon and I took the day off today and drove to Riverside to finally meet one of our heroes, (newly retired) CHP Officer Jeannette Batton, whose $25,000 grant provided a battered women's shelter there with a new security fence and various appliances. What a great trip this was! It took over an hour to get there and we were met by Terry De Bord who runs the shelter. We hugged and it felt like I was seeing an old friend since we already have a relationship through "Heroes." Pastor Sherry Sweetman and Terry's son, Stanley were also there and they showed us around. It was fun to see the stoves and washing machines that we purchased. We met some volunteers and Terry showed us some of the donations she received after the publicity from our grant, including a truck and various items in it. Her kitchen is being redone as a learning project for contractors and she even has an offer of free dental work in response to the renewed attention given to the shelter. Jeannette then drove up and she looked like a movie star with her blond hair and pretty face. It was so great to meet her face-to-face. Then we all headed out to lunch and I was to follow Terry's car to the restaurant. But she got lost! She made a U-turn. I made a U-turn. Back where we came from. Nope. Then another U-turn and back to where we were in the first place... I think. I must have passed Jones Street about four times! I'm not sure how we got there but we all had a terrific lunch of good food and good conversation. Then Damon and I headed back, talking all the way about what a great day this was and how much we admire Jeannette and Terry for how much they are giving back to her community.
July 19, 2008
It's mid-July and we're not even half-way to a million dollars. But it's okay because I have a plan for something special pretty soon that will catch us up. I'm so proud of all the heroes, 26 so far. It's awe-inspiring to think how many people will (and have already) benefited from their generosity and big hearts. I remember when I could name each hero in exact order starting with Travis but not any more. I remember all the names but mostly I get the order wrong. I wonder how I'll do in December!
July 21, 2008
Picture a receipt that's 14 feet long! That's how long the receipts are end-to-end for the toys and games recently purchased by Eric Deke, our rural mail carrier from Buckner, Missouri. Besides the 35 Nintendo Wii's that he managed to get, Eric just bought 500 toys & games and 500 movies for Children's Mercy Hospital in Kansas City. When I saw all the receipts come in I got a ruler and measured 169 inches! He's storing everything in his basement until it goes into a van next week and straight to the hospital. Now that's going to be exciting.
And Lorri Williams in Montana sent us some great news. The playground is finally underway! The base structure is together and it will take about 4 more hours this weekend to finish putting the rest of it together. Then the post holes will get cemented the following Monday or Tuesday, and then they will finish it with the gravel. The assembly is all being done by volunteers but they were delayed by rain so it's great to know it's just days away.
July 23, 2008
Our Robeson County, North Carolina librarian, Shelly Lane, says she has received book donations throughout the county from people who saw her story on our website! That's the kind of ripple effect I always hope for and it's awesome! And her summer reading program is a huge success with 2-300 children at a program. You go, Shelly!
We just heard from Joyce Johnson in Louisville who purchased football gear for the Shawnee Youth Golden Eagles. Yesterday was their 1st official practice date and Joyce was totally awestruck. They usually start with 30 kids per level and they had close to forty! "Of course," says Joyce, "some will decide that it's too hot or football is not their sport but to start out with these many kids is a good sign." Every one is excited. Joyce said the best part of this was, "Our president was putting the face masks on the helmets and he called to tell me that he loved me. He said 'I'm standing here looking at all this equipment and tears start rolling down my face.' I guess that says it all." Hearing this from Joyce made my day, and it's why I love giving these grants.
And what a wonderful and loving husband Christy Witcher has! He surprised her by saving all of the newspaper articles about her gift to the wrestling team in Suffolk and having them matted and framed. When she went upstairs to the playroom/office it was hanging above their desk! She was so touched she cried. "I kept saying to him that I have felt like I won the lottery and wished I could save the whole moment in time," said Christy, "and he did for me!!!!!"
July 25, 2008
I called our newest hero, Jean Jurek from Coon Rapids, Minnesota, to surprise her with the news about her $25,000 grant and she was so excited, she couldn't give me the ages of her children! It was so funny because then I asked to speak to her husband, John, and he couldn't remember either! I could hear everyone in the room celebrating the good news and then Jean finally gave me the info: she and John have three children, Sarah 23, Rianna 17, and Aaron 13. My surprise phone call was orchestrated by Teresa Dill, the Nursing Assistant Program Director at Anoka Technical College, who arranged to have Jean's family there. Jean's gift of upgraded training equipment for the school is to honor the memory of her best friend and co-worker, Sue Hanson, who taught at the school and was head of the Nursing Assistant Program when she was killed in an accident in 2005. I spoke to Sue's daughter, Missy, who was also there today and she told me how much this gift meant to her for her mother's memory.
Teresa told me that Jean has worked tirelessly to honor Sue, even putting a cookbook together to raise money and because of her efforts, they were able to provide scholarship money to students in need. I felt so good making this call, knowing that Jean will be helping the school and everything this gift provides will honor the memory of her best friend.
July 28, 2008
The only downside to this work I am doing is I don't get to be there and meet the heroes in person, or to see with my own eyes what is being accomplished. That's why we always ask for photos. Some day, I hope to get to every single hero's hometown but in the meantime, pictures will have to do. When I saw the photos and card that just came in from retired coal miner, Teddy Robinette in Turkey Creek, it reminded me why doing this is the best thing ever. It's a big thank you card signed by all the firefighters and the ladies of the auxiliary and they sent pictures of everyone. It meant so much to me to receive the card and to know that they took these pictures especially for me.
July 29, 2008
We had an earthquake today and my hands are still shaking. It was very scary. I hyperventilated for a while and could hardly breathe. There is no warning and nothing you can do except get under a desk. Luckily, it appears there were no serious injuries. I received an email from middle school teacher John McBride about a Saturday bike ride he took with his racing team down highway 95. It reads more like a movie script and I hope everyone will read it. It illustrates his passion for helping others, and it shows you just how much one person can do... how many lives he can touch...how powerful a role model he can be. Click here to read his email.
August 3, 2008
It's fun to keep up with all of our heroes' projects and so far, only ten have completed their plans. The next person to finish will be mail carrier Eric Deke and what a big finish this will be. Eric will be delivering his truckful of gifts and toys to Children's Mercy Hospital in Kansas City on Tuesday. Robyn Gerell tells us that the Wolf Creek Volunteer Firefighters have decided on the Jaws of LIfe and it's already on order. Jean Jurek told me that they might be moving the nursing assistant lab to a larger room to accommodate all the new teaching equipment. Librarian Shelly Lane has finally ordered all her new library books and she says that author Karma Wilson, who wrote the "Bear Snores On" series sent her a bunch of her books--they are very cute. Shelly thinks she must have heard about the library's needs on this web site. It's that ripple effect again. Thank you, Karma!
August 4, 2008
Our newest hero is a nun and high school principal in Miami. Sister Marisa Ducote requested $25,000 to install forty projectors in her classrooms and it was a joy to call her today with the good news. I went to Catholic school myself and joked with Sister Marisa that her request put lot of pressure on me after what I put the nuns through back in school! :) But seriously, these projectors will greatly enhance the learning process at Archbishop Coleman F. Carroll High School.
August 5, 2008
Today was a very special day for Eric Deke, his wife Amanda, and their entire family as well as for Children's Mercy Hospital in Kansas City, Missouri. The Dekes have been shopping for two months for all the gifts they delivered today to the hematology and oncology department where their daughter, Aspen, is a patient. The truckload of goodies, including 35 Nintendo Wii's, was delivered by truck and then everything was unpacked and sanitized by volunteers. It was an all day event so everyone was treated to giant 3-foot wide pizzas that feed 50 people each!
But things didn't go quite the way they planned. The truck came late while everyone waited in 101-degree heat but once it arrived, all the volunteers got to work. I called to talk to Amanda Woelk with Child Life Services and Amanda picked up the phone. We chatted about how things were going and I asked if she received the plaque we sent for Eric. She seemed a bit unsure and then said she was distracted because she had a child with her. I said, "Oh, how old is the child?" She said, "Aspen is 5 years old." What!? I then realized I was talking to Amanda Deke! It was the wrong Amanda! How funny is that? And the plaque was supposed to be a surprise but she said she would not tell her husband. Then I spoke to the right Amanda and thanked her for helping set up a spectacular delivery event.
And we can't say enough good things about the people at Best Buy. They sent 12 volunteers who followed the hospital I.T. technicians as they installed each Wii, and the Best Buy staff programmed them immediately. The kids on the floor were very excited about the Wii's and this way they won't have to wait to use them. Our congratulations to Eric and Amanda for their exciting cavalcade of gifts to Children's Mercy Hospital. The whole event was featured on the local Fox evening news. Click here to see the video.
August 7, 2008
Community appreciation continues in Turkey Creek, Kentucky for our retired coal-miner, Teddy Robinette, who was honored as "Hometown Hero" on their local news. Teddy's gift was fire-fighting equipment for the Turkey Creek Volunteer Fire Dapartment. Click here to see the video.
August 8, 2008
There are many reasons why someone can be considered a hero. They might have saved a life, helped make others' lives better, or simply led by example. Jeannette Batton did all of those things. Once I got to know Jeannette I was amazed at all the things she has accomplished and I believe her story should be told. I asked if she would let me share her story here as a source of inspiration for all women and young girls. At first she hesitated, which didn't surprise me, since she resisted any publicity when she provided a new security fence at a battered women's shelter in California. But I finally convinced her to allow me to post her biography. It's a must-read for any young girls and women who want to accomplish their dreams. Click here to read Jeannette's Bio (please be patient as it may take a few moments to load).
August 12, 2008
The Summer Olympic Games are on! You only had to watch the American relay team headed by Michael Phelps swim their way to victory over the French this week to appreciate the impact that sports can have on our children. I called Teresa Smedley in Salem, Indiana today to congratulate her on her $25,000 grant for a digital timing system for their community pool where she coaches young swimmers. She tells me it's the same type they are using at the Olympics and that they already have an Olympic hopeful, an 8th grader who just qualified to swim in a zone meet that includes 15 states. Who knows? Maybe Salem, Indiana will bring us the next Olympic champion!
August 15, 2008
Tomorrow is going to be a big day in Harlem, Montana. The playground that Lorri Williams had built to honor the memory of Deputy Joshua Rutherford is all done and there will be a huge dedication ceremony held in the morning. We hired a photographer and a videographer to cover the event so we'll have lots of pictures and video to share on this site.
August 16, 2008
What a wonderful birthday celebration they had today in Harlem, Montana! Over three hundred people came to the party! Joshua Rutherford's birthday was celebrated with the dedication of the JOSHUA RUTHERFORD MEMORIAL PLAYGROUND. A Native American prayer started things off with Gros Ventre Tribe Spiritual Leader, Fred Gone, followed by a song and heartfelt words from Joshua's mother, Maxine Clifford; Harlem Mayor Jeremy Kinyon; Blaine County sheriff's officers; and our hero, Lorri Williams, who was presented with a plaque from Jenny's Heroes which was given to her by Mayor Kinyon. After the official ribbon cutting, hundreds of children, friends, and relatives from Harlem and the Fort Belknap reservation were than treated to a huge barbeque feed of buffalo, which was donated by the tribe, as well as hot dogs, hamburgers, salads, drinks, and desserts, all provided by Maxine. I just spoke to her on the phone and she told me that they made a star quilt for me which is traditionally given when you want to honor someone. It makes me cry just to type these words when it's really been my privilege to help honor her son today. With the new playground, Joshua's memory will live on for generations to come through the joy of children. Here's just one photo of many more to come.
August 18, 2008
I spoke to Maxine Clifford, Joshua Rutherford's mother, today who thanked me again for my contribution. She told me that she was very close to her son and that this event has finally brought her peace and for the first time, she felt joy. I was so happy to know that this donation accomplished more than memorializing her son, it also helped her to move on. "Today was the first day I didn't cry," she told me. I am doubly rewarded knowing this has helped Maxine who has been grieving for five years. I also learned that she is going to college to become a nurse. She'll be studying in North Dakota next year and will be 62 when she gets her degree! I plan to follow along with her and hope to get a graduation picture.
August 19, 2008
We have an update from our Chief Petty Officer in the U.S. Navy, Billy Phillips, who's been a busy man. He's been in and out to sea as well as playing baseball. His team just finished their season a week ago......winning a tournament in Bowie, MD (after playing 6 games in 3 days) and advanced to the World Series in Jackson, Mississippi. Our congratulations to everyone involved! Click here to see a photo of Billy and his team.
August 20, 2008
Childrens Hospital in Los Angeles finally received the last of Jackie's gifts this morning. Three months ago Jackie and I personally delivered a truck full of toys, notebooks, games, computers, TVs, books, movies, and flight suits, but we've been waiting for a Starlight Starbright Fun Center to arrive and it finally did. Damon and I met Jackie at the hospital where we were given a VIP tour and then a dedication ceremony and ribbon cutting of the new Fun Center. Dr. Hofstra, who treated Jackie's daughter, Hannah, was there and I even got a lesson in Wii games from Jackie's son Jered. Then everyone watched while I bowled with Ivan, a 9-year old patient at the hospital. Dr. Hofstra thanked Jackie and me and said that the memory notebooks Jackie donated were a great idea and were being used by many of the parents. It was a great morning and we are very proud of Jackie, our fourth hero of 2008.
August 23, 2008
We have something really big planned for next month.
August 25, 2008
It's time for some updates:
John McBride says his racing program is off to a great start. They're having open practices right now, letting kids who are interested join them for training to see what it's like. For two weeks it has been a packed house! He's had to send kids away so many show up! Julie Alson just placed an order for all the furniture to go in the new Veterans center and says things are moving quickly.
August 26, 2008
We're half way to a million! Today's new hero, Ben Pacht, brings our total commitment to $500,000. And what a great choice he was to bring us to the halfway point. Ben is a 24-year old middle school special education teacher in Las Vegas who is changing the lives and futures of hundreds of children by establishing an after school soccer program for inner city boys and girls. It's a "homework help and soccer program" where the homework is required in order to play. He requested $25,000 for uniforms and equipment which will allow him to expand the program to include an entire school district.
August 27, 2008
Damon and I had lunch today with our publicity team, Verse Communications. It was a chance to thank them for getting local news coverage for all of our heroes and for being our biggest champions. I couldn't resist the bratwurst with red cabbage and for dessert we had profiteroles for the table. I guess it's rice cakes tomorrow. Here we are at Bistro Garden.
August 29, 2008
Books are finally coming in at the Robeson County Library! Children's librarian, Shelly Lane, ordered hundreds of new books and seven boxes came in this week, with more coming. Everyone wanted to open the "Jenny books" but the best thing was they stacked all the boxes and spelled out a giant "Thank you" tower to me. Okay, I cried when I saw the picture (it's on Shelly's page). It sure felt good. There are more books, and furniture, still to come.
August 30, 2008
Our newest hero, Ben Pacht, says it was a very exciting Tuesday when he got the news about his grant and with all of the cameras and people, it was pretty overwhelming. The timing was perfect too because they had a coaches meeting scheduled this week. At the meeting on Thursday, Ben got to break the news to them and everybody was VERY excited about the grant. This weekend Ben will be going over purchases, the best companies to buy from, etc. He doesn't want to waste a single penny of this money. "It's been a whirlwind of activity and it's still sinking in," says Ben. "THANK YOU!! I'm honestly not sure else what to say. I appreciate this grant so much and it will mean the world to the kids." I am proud to be a part of Ben's vision.
Sept. 3, 2008
Between Michael Phelps and our swim coach hero, Teresa Smedley, exciting things are happening in Salem, Indiana. They had recruitment days for the high school team last week, and the number of swimmers who signed up for this year has more than doubled! It takes 12 girls/12 boys to fill a roster for varsity teams, and in the past they have had about eight of each. This time there were 16 of each, so they can also have a JV swim team this year for high school, something they've never been able to do before! They also have more swimmers expressing interest in the USA team. "This is growing our program exponentially," says Teresa, "and with that kind of growth, we should be able to host our first USA meet in the next year. Hosting a meet will allow us to fund our program for the next year, and possibly offer scholarships to those who can't afford to pay, but want to be on our teams. Without the timing system, none of this would have been possible." We say that without Teresa, this would not have been possible.
Sept. 8, 2008
Teacher Ben Pacht leads us perfectly right into our Teachers' Month. We've been putting it together for weeks and it's finally here! After receiving so many requests from teachers who say that because of budget cuts, they are buying books and supplies themselves, it was time to do my part. This promises to be a busy month as we announce almost one grant a day to teachers and others who are helping schools all over the country. By the end of September, a quarter of a million dollars will be on the way to help kids get the education they need to succeed in life. This is going to be fun!!
Sept. 9, 2008
Our Teachers' month is off to a great start. I've already called and surprised two of the new heroes in Texas and Georgia, and as soon as I make the third call tomorrow (in the midwest), we will post all three stories on the site, with lots more coming. And by the way, our Naval Officer, Billy Phillips in Virginia Beach, tells us his Lynnhaven baseball team came in seventh in their world series and they had a great time. He's still out to sea but is coming back next week and promised to send us a picture in uniform.
Sept. 11, 2008
Our first teacher heroes are shopping already! Jo Beth Reeves is already ordering books! She says she cannot wait to give the children their first books and she promises to send lots of pictures. Jo Beth was featured on the front page of her local paper and was on the evening news. Now everyone else can be as proud of her as we are! And I just found out that T.K. Cassidy-Fleming remarried a couple of months ago so congratulations! She's very excited about her grant and has told everyone, even her friends on Guam and in Australia! Right after I spoke to Karla Wingard, I received an email that just reaffirms why giving these grants is so meaningful to me. It came from Kathy Parsley...
"Jenny, I wanted to thank you for donating $25,000.00 to the Rising City Public School. My husband has taught math at Rising City for 25 years. Our son went to Rising City from K-12 grades. I have been employed @ the school for the last ten years. You really have no idea what this means to our school. Thank you so much! Kathy"
Sept. 15, 2008
Today I made a surprise call to Nina Markle, a retired music teacher from Middletown, Ohio. She requested $3,000 for a piano lab to teach music to low income children in her area. Nina's dream of opening a Performing Arts Academy came to fruition this month as the Academy just opened its doors last week in a space provided by a local church. "I feel God has blessed me with talent, energy, a love for children and a passion for the arts," said Nina. "I am 67 years old and am fortunate to be able to bless others as I was blessed." Nina will be purchasing the Yamaha LC2 Plus Lab to accommodate 8 students plus one teacher. When I asked Nina to explain how the keyboard works, I realized they still needed 8 additional keyboards for the students which would have cost an additional $3,000. I asked her why she didn't ask for more and she said, "I didn't want to be greedy." So I doubled the grant on the spot to another round of cheers and applause in the room. We admire Nina for bringing music to underprivileged children.
We are always flexible about heroes' purchases so Karla Wingard, our newest school hero has decided to ask each teacher to create a 'wish' list. Karla says this grant will make a big impact on the school and she wants to make sure they had some input on things that are purchased. That sounds like a great idea. If things go as planned, we'll be adding three more heroes this week.
Sept. 17, 2008
"Jenny Jones? Do I know a Jenny Jones?" That's how my surprise phone call started this morning with Susan Cha in Wilmington, Delaware, who requested $10,000 for medical supplies for her school district. So I guess that's proof that she really was surprised! I had to mention the Jenny Jones Show for her to realize this was about her grant. It was so funny! I was calling Susan at work as fellow staff members gathered to celebrate the good news. It was Susan's sister who brought the need for medical supplies to her attention. Her sister, who is studying nursing, was interning at one of the schools and noticed the lack of supplies. As for her shopping, Susan says she will ask the school nurses for their wish lists and then head to Costco. What a great idea the wish list is, so they can get exactly what they need.
Sept. 18, 2008
"Teaching rocks!" That's what our newest hero, special education teacher Roger Nott says. His passion for teaching came through loud and clear in his request for $10,000 to purchase materials that will better meet the needs of his students at Union Furnace Elementary in Logan, Ohio. " have been a special education teacher for 7 years and I still get excited on my drive into school," he said. "I feel like I am living a dream."Roger works with students who are academically and behaviorally challenged and requested $10,000 to upgrade technology with materials that address the sensory needs of his students. We are proud to help Roger continue "living his dream."
Now, some Hero Updates:
Sister Marisa in Miami has decided to install projectors with interactive smartboards in five classrooms. Originally, she planned to install projectors in all the classrooms and smartboards at later date, but this way they can start training certain teachers on the new technology, and the students would benefit from enhanced instruction immediately.
John McBride in Yuma had his first clinic last week and 12 new riders attended. They will select 8 for try-outs. They also had a bike fitting, a speed course and bike familiarization, and finally a 25 mile road ride followed by a spaghetti lunch. Between volunteers, coaches, & current riders they have about 20 people on the road! They're also currently building a time trial bike as well as rebuilding from the frame up some older bikes for the kids to keep.
Nina Markle, our music teacher in Middletown, Ohio tells me that a few days before I called, a very lovely lady who retired after 60 years of piano teaching, gave the Academy ALL of her music. Now the children will not have to buy books!
Sept. 19, 2008
It's been pretty hectic for me and Damon with all the schools we are helping this month but so enjoyable at the same time. I surprised third grade teacher Jennifer Roesch today in Detroit, Michigan. She requested $25,000 for a mobile computer lab that holds twenty laptops and can be rolled from room to room so it can be shared with many students besides her own at Loving Elementary. Principal Eddie Mae Huwitte helped me surprise Jennifer in front of her students with the good news. She even made a "Congratulations" banner for the event.
And I got a fantastic update today from children's librarian Shelly Lane in Robeson County, North Carolina. Her books are arriving and as soon as they hit the shelves they are off again! They are literally flying out the door--the teenagers must be spreading the word at their local high school. "I put out about 50 new Jenny books this afternoon," says Shelly, "and before I got to my office to put out more--they were gone! The teens are flocking to their new books--it is a beautiful sight. The kids are not the only ones noticing the improvements--today one parent commented about how it was great to finally get the Robeson County Library out of the past and into the present/future. The kids need this to spark their interest in reading. She wanted to let you know how appreciative she was that someone cares for our kids by finally providing them with new, updated and exciting books. As she put it we are going from DRAB TO FAB!" I love having Shelly's "Jennybooks" named after me. I'm thrilled to be so honored. And isn't it great to see kids loving to read?
(*I just added a late posting re: Nina Markle on Sept. 15th)
Sept. 20,2008
Retired engineer Robert Delbeke of Livonia, Michigan, got my surprise phone call today. Bob, who volunteers his time with the Detroit Catholic Pastoral Alliance and is also a Deacon, teaches Math, Science, and Technology to 5th thru 9th graders. He requested $13,000 to purchase science and technology supplies to develop, build, and test model airplanes, rockets, and racecars using alternative fuels. I was able to surprise Bob right in the middle of his class with some help from Sister Catherine DeSantis so all his students and their family members could share in the excitement. Teaching in the shadows of the GM Engineering Facility which is just 2 miles away, Bob told me his students have made great strides already and with this new funding, maybe they can one day catch up to GM. What a great way to share his knowledge and experience.
Sept. 20,2008 (2nd entry)
I am so proud of what special ed. teacher Ben Pacht is accomplishing in Las Vegas. His soccer league grant is really turning out to be the spark Ben says he needed. People in the local soccer world are starting to pay attention to this effort. An individual on the Henderson United Youth Soccer Board with connections in Vegas has offered to head up some fundraising for them, and there are already four other at-risk schools that have contacted Ben to get involved. Regarding the schools involved, numbers are skyrocketing! One school alone had 400 kids turn up for the first day of play. And that's only one school!
Sept. 22,2008
When an elementary school library has books that are stamped "The Negro School," you know they are in dire need of an update. Our newest hero, elementary school librarian Julia Roberts Boggess, was holding her newborn baby when I surprised her with the news of her grant. She was so excited I had to joke with her: "Don't drop the baby!" I don't think she even heard me with all the excitement in the room. Her West Elementary School Principal in Mt. Juliet, Tennessee, staged quite an elaborate "meeting" to get Julia to the school today. She is currently on maternity leave with her 7-week old daughter and thought she was coming in to meet with the Director of Schools about expanding the library. Julia requested $8,000 to update the library's books, some of which date back to when the school was first established as the African American School. Her excitement over the new books is a reflection of her passion for her job. Her gift will benefit thousands of students over the years.
Sept. 23, 2008
What an awesome morning this was! I paid a personal visit to today's hero, music teacher, Marcos Mendoza, who is just 20 minutes away in Van Nuys, California. Damon and I drove to the school to surprise Marcos and it was fantastic. They arranged to have all his students outside in the playground and then called Marcos out. When he saw me he was totally surprised and the kids were cheering when they heard the news. Marcos requested $20,000 to buy new instruments for his newly formed Valley Youth Jazz Band & Drum Line. His gift will allow many more students to join and participate instead of being turned away. What a nice man he is and he's clearly loved by the students as well as the staff. The best part of it for me, besides being able to surprise him in person, is that I can also go and see the band perform. I can't wait!
Sept. 24, 2008
Whose idea was it to do a teacher a day? Oh yeah, it was mine! Wow, Damon and I busier than we've ever been. If you can imagine, the more heroes we add, the more follow-up there is. More heroes are shopping with bills to be paid, more photos are coming in, more updates, more new web pages, and new applications continue to come in. We love it but it's been a challenging month, so we may award the last couple of teachers the first part of October... maybe. We're still trying to stay on schedule.
We've had several ripple effects since we started this program in January, like other donations, but we just had one happen that was a little different, and unexpected. Danny Caudillo is one of the guys who created this Heroes web site as well as the Jenny site so you know he's creative. His picture is in the Photo Gallery at the very bottom (the Heroes team). A few weeks ago, Danny was reading Ben Pacht's story and thought that the soccer team's logo "could use some updating." So on his own time, Danny created a new and very cool logo and offered to send it to Ben as a gift. Ben loved it, we all loved it, and I'd like everyone to see this fantastic Orr Rockets Logo. What a kind and generous thing to do. Danny is our own special "Jenny's Hero."
Sept. 25, 2008
When I called today's new teacher/hero, it was the first time one of our heroes was speechless. Dr. Andre̩ Peltier was truly surprised and was having trouble speaking on the phone, so I did most of the talking. As a science teacher at the Portsmouth Public Schools in Chesapeake, Virginia, his mission is to prepare his students to excel in a global society through Science, Technology, Engineering, and Math (the STEM Program). Andr̩, who has a doctorate in biochemistry, requested $6,000 to purchase sixteen NXT Robotics Kits and accessories to help instill in his students a love of science.
By creating an environment of curiosity, Andr̩ hopes to encourage minority children and girls to pursue careers in the sciences. We talked again later in the day and he already placed his order! We've never had a hero place his or her order the same day. Now that's a passion for your work! I could hear it in his voice... not on the first call, but on our second call when he was actually able to speak! ;-)
Sept. 26, 2008
Fifth grade teacher Lisa Oliver was today's recipient when I called her at Taylor Upper Elementary School in Butler, Georgia. She says more than a third of the school's students are living in poverty with little or no access to computers outside the school. She requested $25,000 saying they are in desperate need of updated technology. The school's principal helped set up my surprise call and gathered a roomful of fellow teachers to share in the good news. Five hundred students will benefit from Lisa's gift.
Sept. 27, 2008
Tennessee librarian Julia Roberts Boggess is still reeling from the news of her grant. About my surprise phone call she said, "I was so glad someone else insisted on holding my little 7 week-old daughter because I began jumping up and down like a loon!" Over the last three years Julie has been compiling a wish list of titles she had hoped to purchase over the next several years. Now, she will be able to do it much sooner. She's fine-tuning her list and has emailed all of the faculty and staff at West Elementary asking them to join her in spending this grant. She asked each one to choose the title and author of one book they want to add to their collection. Julie plans to have a dedication plate on the first page of that book with their name on it. This way everyone has a hand in the purchase. She is also going to order a colorful stamp to stamp inside each book to let everyone know that it was made possible by the Jenny Jones Foundation "Jenny's Heroes." How generous for her to include everyone in the selection process, and it's an honor to be included as well.
Sept. 28, 2008
Well it took a while but Sarah Miller's playground is finally up at the shelter in Conyers, Georgia. They had decided to raise extra money last month and get a bigger playground. It was delivered and installed last week and they had a ribbon cutting and party in celebration. And Jennifer Roesch's computer lab has been ordered and is already being shipped!
Sept. 29, 2008
"Are you sure this isn't a big practical joke?" That's what today's hero, Bobbie Matheney, kept asking after I called her today. Bobbie lives in Merigold, Mississippi and is the children's librarian for the Bolivar County Library in Cleveland, Mississippi. She requested $25,000 to upgrade all her branches with new computers, workstations, shelving, furniture and giant animal floor cushions. My surprise call was orchestrated by the library's assistant director, Linda Kern, who gathered everyone in the children's room for my call. When we spoke later she said she was still shaking and beyond excited.
Sept. 30, 2008
Jackie Miller is a Clinical Technician and Medical Assistant for a pediatrician and family practice physician in Oneonta, Alabama, where her 11-year-old twins attend Appalachian Elementary and High School. I surprised Jackie today with the news that the $25,000 she requested for a new computer lab was being granted. We had a great ally in the school principal, Mark Hitt, who staged an elaborate (pretend) meeting. He asked Jackie to come in because one of her children was receiving an award, so she took off from work to be there. In reality, her husband, mother-in-law, and her children were there as well as the county superintendent, a newspaper reporter, and several teachers. Jackie was emotional on the phone and told me that they have been trying to put a computer lab in the school for some time. She even got Lowe's to donate wood for the shelving so we know she means to get things done. Well, now she'll have a lot to do, and will have $25,000 to do it with.
Oct. 1, 2008
Well September is over and we didn't get all of the teachers and schools in during the month but we tried, so we will extend it into the next few days. It's hard to describe how we operate here, Damon and I, but you'd be surprised how many people never respond to our follow-up questions after they have applied. There have been quite a few applications that I decided for sure to grant, so we send emails back requesting more information. When they don't respond we call and leave messages saying they are in the running, but still we never hear back from them. I wonder why. So that slows us down sometimes. Hey, we're almost 3/4 of the way to a million! I really look forward to reading all the new applications every day. There are so many people with big hearts out there - it's truly inspiring.
Oct. 2, 2008
When today's hero was told she had an important phone call, the first thing she said was, "Am I fired?" She quickly learned that she wasn't fired, but she was fired up! Diane D'Errico was laughing and crying at the same time when I told her she would be receiving the $9,000 she requested. Diane works at the The Rhode Island Coalition Against Domestic Violence and requested the funds to provide each child at the state's six shelters with a sturdy back pack filled with markers, pads, pencils, rulers, etc., as well as winter coats and boots. Diane wants the little ones who are victims of trauma to feel comfortable and fit in at their new schools. Approximately 100 children will benefit from Diane's gift.
Oct. 3, 2008
Well finally! Ann Clouse says the basketball court in Ann Arbor is finally done. The project started back in March, in fact Ann was only our 5th hero! It took a while but it got done right and Ann says the local kids were so excited it was like they won a million dollars. Ann says they will use the court even in winter. "Thank you again from the bottom of my heart," she said, "you guys have made my dream come true." Ann, we share in your excitement and we're so proud of you for making this happen.
Oct. 6, 2008
Our All Teachers - All Month is finally wrapped up with today's hero, Hector Martinez from Independence, Oregon. Hector is a PE teacher at Henry Hill Elementary School and he requested $15,000 for a custom climbing wall for the school gym with their school colors, mascot, logos, and motivational slogans. Hector wants to give something back to the staff, parents, and students at the school for helping and supporting him both personally and professionally to become the person he is today. I surprised Hector at the school today during a "meeting" in the principal's office. Even the mayor came and he said, "You picked a very worthy recipient. Over 300 children will directly benefit from Hector's gift."
Oct. 7, 2008
Did you see today's USA Today? They did a special section on philanathropy and Jenny's Heroes was recognized. Now even more people will be inspired when they read everyone's story. In case you missed it here is the article...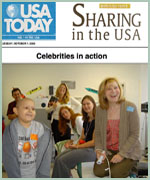 click the image to enlarge
Damon and I celebrated the success of our Teachers' Month with lunch at Jerry's Deli. Here we are toasting our iced teas for having survived such a busy, but exciting, month. After a few days of catching up, we will be ready to announce our next hero.
Oct. 11, 2008
Damon is getting married two weeks from today!
Oct. 12, 2008
PE teacher Hector Martinez from Independence, Oregon, came up with a very exciting way to let all the kids at his elementary school know that they are getting a brand new climbing wall. He made an awesome power point presentation. You have to see it - it's fantastic. It's in the October 8th entry on his page. You can't miss it. Just click here.
Oct. 13, 2008
I have updates! Lani McLane, our dentist in Bozeman, Montana has scheduled another another sealant day to provide free dental sealant for the area's children. Her team will travel to Livingston, Montana on October 24 and visit two elementary schools there. We are very excited that Lani's program is back in action.
And middle school teacher, John McBride, from Yuma, Arizona tells me that they just merged with the Yuma Bike Club and have gained the benefit of their 50+ membership including current and retired racers and triathletes as coaches and staff. They will now focus on combining other cycling groups in the county into one organization of 100 riders strong! What started as a grant to one local group may soon unite an entire county and form several different youth groups all with the same goal.
Oct. 14, 2008
The focus of today's grant is seniors. They often get forgotten but not by our newest hero, Russ Stewart. He is a maintenance supervisor at a nursing home in St. Marys, Kansas, and requested $25,000 to provide the seniors with a home theatre consisting of a Bose surround system, high definition flat screen, and special lighting and curtains, complete with a hot buttered popcorn machine. The home theatre will serve the Manor's residents who are unable to leave the property, their family members, and other elders in this rural community of 2,200 who use the center as a gathering place. I called Russ today and surprised him with the news of his grant. Michael Bomberger, the director of St. Marys Manor, helped orchestrate the surprise to include Russ's wife Terri, his daughter, Kelli, and about 35 other attendees plus a Polycom hookup with some of Russ' follow workers at the parent company in Omega. After the call, Russ and Terri went room-to-room to share the good news with the residents.
Oct. 16, 2008
Good news from Yuma, Arizona: John McBride's Yuma Bike Club just got their first Platinum sponsor! Time Warner Cable has given them enough money to cover their transportation for the next season! They are planning to participate in El Tour de Tucson, the largest charity bike ride in the country with some 10,000 riders. They'll be completing the 67 mile leg of the course. All the money goes to a good cause and it will be a lifetime experience for the kids. And we received some great photos from Andre Peltier showing his students ("robotic surgeons") building their new robots.
Oct. 20, 2008
Damon is getting married on Saturday!! Now, for other news: Alana Butts, our Baltimore hero from way back in April sent us some photos of all the kids stuff she got for her church. Ann Clouse, our Ann Arbor hero from even farther back in March, had a ribbon cutting and grand opening of the new basketball court she gave to her community and she sent us pictures. And congratulations to Jeannette Batton, our Riverside, California hero who was honored this past weekend on her retirement from the California Highway Patrol after 30 years on patrol.
Oct. 24, 2008
It's a happy day in Livingston, Montana! Lani McLane and her "Molar Patrollers" team are there today to visit two elementary schools to provide free dental sealant to children at two different schools. What a great service Lani is providing for these families.
Oct. 27, 2008
Damon got married!! Congratulations to Mr. & Mrs. Carr who tied the knot on Saturday here in Los Angeles. They left today for a two week honeymoon in Europe. The wedding was a beautiful event and you know I was there with my camera so here they are coming down the aisle at the chapel.
Oct. 28, 2008
It's nice to know I picked a great recipient in Special Education Teacher, Roger Nott, from Logan, Ohio. I hope he knows how highly he's regarded at the school. Here is a letter from retired teacher Esther Palmer...
"Dear Jenny,
Words can not express how I feel about Roger as a teacher and as a friend. I met Roger his first year of teaching, near the end of my teaching career. In the years that Roger and I worked together, I learned more about working with special needs children, than in all my previous years. No words can describe Roger or what he does.....one must witness it!!! I was at Union Furnace Elementary School this week and visited Roger and his students. It was so exciting to see what he has purchased, thanks to you, and how his students are experiencing these new additions. Roger is so deserving and I applaud you for the honor you have given him! Esther Palmer (retired elementary teacher and friend of Roger Nott)"
Oct. 30, 2008
What a joy it was to call our newest hero, today and congratulate her. Suzanne MacDonald volunteers her time at the Women's Correctional Facility in Topeka, Kansas. She and a fellow volunteer started a running club for the inmates because she believes that running is empowering the women to change their lives. Suzanne requested $20,000 to replace the cracked and hazardous running track at the facility. The staff at the prison was really helpful in allowing everyone, including several of the inmates, to join in the celebration today. The Warden thanked the volunteers for the good they are doing for the inmates. "When a warden hears about inmates running, the reaction is not always good," he said, "but this proves that not all running in prison is bad." Running on donated shoes, the inmates have already held several 5K races and raised over $5,000 to benefit local charities.
I was so motivated by what Suzanne and the volunteers are doing for the inmates that I have decided to personally donate $5,000 to buy all the runners proper shoes and socks. As a walker, I know the benefits of good quality shoes.
Oct. 31, 2008
Happy Halloween, everybody, especially to all the heroes. If any of Jenny's Heroes have pictures of your children in costume, please send them to me so I can post them on your page for everyone to see. The younger, the cuter (are you listening, Julia?) And guess what? Suzanne's son is an up-and-coming rapper! You heard me right. She'll be sending his picture to us soon. Also, congratulations to our hero, Julie Alston, whose center for homeless veterans officially opened today in Charleston, West Virginia, with a ribbon cutting ceremony attended by the governor. Great Job, Julie!
Nov. 3, 2008
It's the start of my second week without Damon and let me tell you, it's no picnic. Now I know what he does all day because I'm doing it! Or let's just say I'm doing my best to keep up. What a whirlwind of press our newest hero, Suzanne MacDonald, has received! There's lots of excitement in Topeka! At Saturday's running club at the correctional facility, Suzanne said the women were all so excited! Many of them found out about the shoes by watching the news Thursday evening so they were shocked and elated. "And of course," said Suzanne, "the women wanted me to thank you from the bottom of their hearts, and they reiterated how the program has truly changed their lives."
Nov. 5, 2008
Lani McLane, our community dentist in Bozeman, Montana sent us some numbers from their recent trip to Livingston. "Community Health Partners conducted another free dental sealant day on Friday, October 24th, she wrote. "Thanks to Jenny's Heroes, our dental team was able to provide dental screenings and sealants to 59 elementary school children in Livingston, Montana. Over 160 sealants were placed! We recently hired another dentist and this was his first experience with our Molar Patrollers program. He had a blast!" Lani has two more trips already scheduled to other schools on November 21st and December 19th. Lucky kids!
Nov. 6, 2008
Believe it nor not, it's only seven weeks until Christmas! And I have just under five weeks to find the right recipient for the big $100,000 holiday grant. It's going to be an awesome way to hit the million dollar mark, but I am also looking for more of the $25,000 applications to give before the big one.
Nov. 7, 2008
All of the musical instruments purchased for Marcos Mendoza, the music teacher at St. Bridget of Sweden Elementary School in Van Nuys, California have arrived and are on the way to the school right now. I am heading over there to meet the truck and I'm taking my camera!
Nov. 9, 2008
It was so exciting to see the instruments arrive at the school on Friday. When I first got there, the students were playing and they were good. Then the U-Haul trailer pulled up and we all unloaded boxes filled with Yamaha instruments. The kids were thrilled to see shiny new drums, saxes, trumpets and more. Marcos presented me with flowers and the kids gave me thank you notes. I can't wait to see one of their concerts.
Nov. 10, 2008
Damon is back!!! And he's all married and everything!!
Nov. 11, 2008
I have lots of updates. Teacher, Jennifer Roesch, has her new computer lab and the kids are learning and loving it. There are lots of great photos of her adorable students on her page. Swim coach, Teresa Smedley, has received all of the boxes and crates containing their new swim timer and they'll be putting it all together this weekend. Special ed teacher, Ben Pacht, has received his new soccer equipment and uniforms and their season is in full swing. The kids feel like they're in the big time now and some kids who used to get in trouble are now staying out of trouble so they can play soccer. Teacher, John McBride, has concluded his tryouts for the competitive bike racing team. Since getting the new bikes, John has added 15 riders, merged with the Yuma Bike Club, and is meeting with sponsors.
Nov. 14, 2008
I'm always overjoyed when I hear about a ripple effect resulting from one of our grants. Fifth grade teacher, Lisa Oliver, tells us her class is about to go on their first field trip in a very long time. She'll be taking her Butler, Georgia students to Andersonville National Historic Site on Monday. "We are SOOOOO excited!" said Lisa. " The board of education is allowing this field trip as a reward for winning the grant from you. You have certainly made an impact on our school and our students. THe Board of Education also gave me a new laptop computer to make my job a little easier." That's great to hear!
Nov. 19, 2008
We never expected to have a hero as young as 20 years old but Shawn Worker is an awesome young man. He's a college student, he works as a houseman at a hotel, and is also an amateur boxer. He trains at the Newburgh Boxing Club in New York State which is run by Ray Rivera. It's a rough neighborhood and Ray has struggled to keep the club open to provide a safe place for kids to go after school. I surprised Shawn yesterday with the news that he will be able to provide $25,000 to Ray at the gym. Today Ray got the good news as soon as he arrived at the gym. There were newspaper reporters and a TV crew there as well as Shawn's mother and grandparents. Ray wasn't even aware that Shawn had applied for the grant so he was totally surprised. I asked what he would do with the money and he wants to put in a learning center downstairs. I suggested they call it the "Shawn Worker Learning Center."
Shawn's mother, Joyce, was there and became my eyes and ears by calling me from the gym. She said that Ray had tears in his eyes when he heard the news. And pro boxer Luis Del Valle was there. Four years ago, Ray took Luis under his wing, trained him to become a three-time Golden Gloves champion and he just turned pro this year. Shawn was thrilled to see Luis there. Luis told me (on Joyce's cell phone) that this grant was a blessing and that there were times the club had to shut down for lack of funds. It looks like that won't happen any more.
Nov. 21, 2008
I'm headed for Vegas next week to spend Thanksgiving with my stepmom and I'm going to meet Ben Pacht while I'm there!
Nov. 24, 2008
We heard from Daniel Buglio today about the computer lab he provided in the Slatington Public Library in Pennsylvania. He says the computers have been filled every day after school and it gets so busy that the staff has to give the users a time limit. There's often a waiting list to use the computers. It's hectic at times but so far, everything has been working flawlessly. Thanks for the update, Daniel! Also, the climbing wall is already up at Henry Hill Elementary in Independence, Oregon. Our hero, Hector Martinez sent us some great photos of his fellow teachers testing it out. Check them out on his page.
Nov. 25, 2008
Congratulations to our newest hero, Persian Gulf War Veteran and Red Cross volunteer, Leonard Dubois. I called him this morning in Provo, Utah with the news that he'll be receiving the $25,000 he requested for a new computer system for his American Red Cross chapter, which serves a 47,000 square mile area (650,000 people!). I could hear people applauding over the phone. In the room were the local Red Cross Board of Directors and other volunteers. I remember my father, who served in the Polish Army during World War II, telling me that no matter where he was stationed, the Red Cross was always there. This donation is in honor of my father.
Thanksgiving Day, 2008
Happy Thanksgiving, everyone.
November 30, 2008
I spent a few days in Las Vegas for Thanksgiving and I was able to swing by Orr Middle School to meet teacher, Ben Pacht, in person as well as Principal Leavens. It was pouring rain last Wednesday but it didn't matter because I was so excited to be there. He's only the fifth hero I've met in person. Ben gathered his soccer kids together and they made me a huge "Thank You" card signed by everyone. I presented Ben with a Jenny's Heroes plaque and we took lots of pictures. Ben is just as sweet and gracious and humble as I expected. Some day, I hope to meet all of the heroes in person on a giant road trip.
December 1st, 2008
The running track is done! The crew showed up at the correctional facility the day before Thanksgiving and it's done! Suzanne MacDonald said it was a great Thanksgiving in Topeka!
And we have news from teacher, John McBride, in Yuma. His bike racing team competed in their first charity race, the famous "El Tour de Tucson." He had ten riders race in this event which is the largest of its kind in the country. This year there were 8,600 riders competing. They competed in the 66 mile and 35 mile events. In the 66 mile event, out of 1,300 riders they placed 93rd overall and 1st as juniors. In the 35 mile event, his team placed 161st. "This is a great showing for our team!" said John. "Rodrigo Diaz, a 13 year old, completed the event in 3hrs 38min. Every rider on our team completed the course and none dropped out which is incredible!" We are so proud of our hero, John, and especially proud of the kids in these great photos: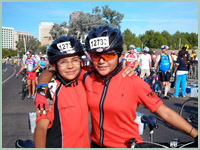 click the image to see a slideshow
December 4th, 2008
Remember Jackie, our 4th hero from Ventura County? Her daughter Hannah's life was saved shortly after her birth at Childrens Hospital in Los Angeles and Jackie showered the hospital with a truckload of gifts. Well, Hannah will celebrate her Bat Mitzvah on Saturday. Mazel Tov, Hannah!
December 6th, 2008
We have our 50th hero! He's Welton Locklear, a disabled veteran, who requested $17,000 for 5 new wheelchairs for his All Hearts Tornadoes Wheelchair Basketball Team in Pembroke, North Carolina. I called him this morning and gave him the good news right before a game. They were playing Winston-Salem and I wished them all Happy Holidays and said I hope they win. Welton is married with two grown sons and 6 grandchildren.
December 8th, 2008
BIG NEWS: I announced today that I am committing another million dollars to continue Jenny's Heroes beyond 2008. That wasn't the original plan but with the new economic crisis people are facing, I just can't quit now. This is the most rewarding thing I have ever done and to know that I can help even more people, well it was an easy decision. I know it's a lot of work, but who needs to sleep anyway?
December 9th, 2008
It's been so busy! We're getting ready for our big holiday grant next week, working on a brand new website for 2009, Christmas is coming in 16 days! Yikes! I need to start baking! I'm really excited about what new heroes next year will bring.
December 11, 2008
There's lots of shopping going on with our Heroes. Jean Jurek, our nursing instructor in Coon Rapids, Minnesota, is buying $25,000 worth of nurses' training equipment in memory of her friend. Jean tells us that some of their supplies have been delivered, like new bedside cabinets, overbed tables, blood pressure arms and electronic thermometers. Cubicle curtains, new bedspreads, manikins, storage units and linen carts are still on order. And Suzanne MacDonald, who had a running track installed at a women's correctional facility in Topeka, Kansas, emailed that the inmates had their running shoe fittings last night and it was thrilling! All of the women's feet were analyzed and then fitted with the appropriate shoes. The women were so excited and appreciative. It was perfect timing, right at Christmas time! They are still planning to have a 5K race and track dedication on April 11th.
December 15, 2008
I'm trying to do more frequent updates but there aren't enough hours in the day. Well, we are no longer taking applications for the big Holiday grant but are always open for the $25,000 applications - that will continue as I've committed another million dollars so I can continue providing grants beyond this year. Meantime, we have news from Teresa Smedley, our swim coach in Salem, Indiana, who used her grant to install a digital timing system in the pool where she coaches. They've already tested out the system during their first home meet right before Thanksgiving. As usual with something new, there were a few bugs to be worked out, but overall she says it was wonderful. Ann Clouse, one of our first heroes who provided a new basketball court for her community in Ann Artbor, Michigan, tells us that although it's wintertime there, the kids just shove the snow off the court and keep playing on it. I know that's got to make Ann feel good.
December 16, 2008
Here's why I love giving these grants: Ben Pacht, the Las Vegas special ed teacher, who used his grant to start an after school homework help/soccer program is doing amazing things for the kids. His program is expanding far beyond his school as more and more other schools are joining in. And most importantly, the kids' behavior and grades are improving. Many of the coaches are saying that the league is really helping the culture at their school, and that a number of kids who caused trouble in the past are making better choices now, since their participation in the soccer program depends on. Ben is leading the way and he's only 24!
December 17, 2008
Due to circumstances to be explained later, we are not ready to reveal our big Holiday Grant recipient today. But soon.
December 18, 2008
I spoke to the Holiday Grant winner who told me all the shopping is done already for 350 children. But not all the money is being spent on Christmas. That's all there is to say about that right now. Meantime, I also spoke to T.K. Cassidy-Fleming today who's providing a new electronic school sign for Dug Gap Elementary in Dalton, Georgia. She said the old sign is down already - gone. The new one is coming in less than two weeks!
December 22, 2008
Tomorrow is the big day for our $100,000 grant! Here are some clues...
1) It's going to be a woman
2) She lives in New York State
3) She works at a college
Bye for now.
December 23, 2008
This is so exciting! As I write this, Kiki, our new Holiday Grant winner, is having a huge celebration in her NYC housing development. As 350 children come home from school, they will be invited to receive hundreds of gifts that Kiki purchased herself with part of her grant. Santa is there too and we hired a photographer so we will have lots of great pictures next week. I wish I could be there! Kiki will spend all of her $100,000 grant on the children, most of it next year. Her Christmas gifts today include clothing, bookbags, toys, games, and warm coats.
Christmas Day, 2008
Happy Holidays to everyone, especially to all the Heroes who made this entire year seem like Christmas. I had big plans to call each hero personally to say, "Merry Christmas" but I just ran out of time. My heart was there but I had cookies to bake, a house to decorate, and then there was Kiki (our Holiday Hero). I hope everyone had a joyful Christmas.


Click here to see 2009 OUR STORY
Click here to see 2010 OUR STORY
Click here to see 2011 OUR STORY