Meet Jeannette Batton from Perris, California
CHP Officer Jeannette Batton is from Perris, California and requested $25,000 to help a needy shelter in Riverside, California. The shelter will receive a new 6-foot security fence and new cameras with a 16-channel digital video recorder for the cameras. They will also receive six new commercial washing machines, four new stoves, a new stove top, and a swamp cooler for the kitchen. Officer Batton became familiar with the shelter through the course of her duties. The shelter takes in battered women with their children when they have no place to turn, even in the middle of the night. Usually all they have is the clothes they are wearing. Besides battered women the shelter also provides temporary housing for homeless families.
*Officer Jeannette Batton is the first female CHP officer to do thirty years all on patrol.

Terry DeBord's title is "caretaker" at the shelter but she's much more than that. In desperate cases, when the shelter is full, she has even allowed people to sleep in her house. She routinely goes to court to help mothers get custody of their children and she also gets troubled people into drug rehab. Only a battered woman with no place to go can truly appreciate the importance of someone like Terry.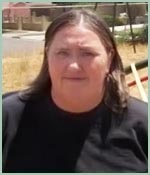 Terry DeBord
Diary Starts Here
October 18, 2008
Our congratulations to Jeannette on being honored as she retires from the CHP after 30 years on patrol. We're doubly proud to call her our hero too.
August 8, 2008
There are many reasons why someone can be considered a hero. They might have saved a life, helped make others' lives better, or simply led by example. Jeanette Batton did all of those things. Once I got to know Jeannette I was amazed at all the things she has accomplished and I believe her story should be told. I asked if she would let me share her story here as a source of inspiration for all women and young girls. At first she hesitated, which didn't surprise me, since she resisted any publicity when she provided a new security fence at a battered women's shelter in California. But I finally convinced her to allow me to post her biography. It's a must-read for any young girls and women who want to accomplish their dreams.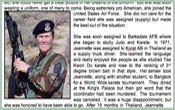 click the image to see Jeannette's Bio
July 16, 2008
Damon and I took the day off today and drove to Riverside to finally meet Jeannette and Terry in person. What a great trip this was! It took over an hour to get there and we were first met by Terry. We hugged and it felt like I was seeing an old friend. Pastor Sherry Sweetman and Terry's son, Stanley, were also there and they showed us around. It was fun to see the stoves and washing machines that we purchased. We met some volunteers and Terry showed us some of the donations she received after the publicity from our grant, including a truck and various items in it. Her kitchen is being redone as a learning project for contractors and she even has an offer of free dental work in response to the renewed attention given to the shelter.
Jeannette then drove up and she looked like a movie star with her blond hair and pretty face. It was so great to meet her face-to-face. Then we all headed out to lunch and I was to follow Terry's car to the restaurant. But she got lost! She made a U-turn. I made a U-turn. Back where we came from. Nope. Then another U-turn and back to where we were in the first place... I think. I'm not sure how we got there but we all had a terrific lunch of good food and good conversation. Then Damon and I headed back, talking all the way about what a great day this was and how much we admire Jeannette & Terry for how much they are giving back to their community.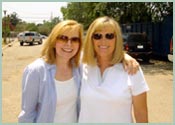 click the image to see a slideshow
June 12, 2008
Finally, all of Terry's orders have arrived. The camera's arrived first, then the monitor, and the cable is going in slowly. There are other projects to spruce up the place, painting the laundry room. lots of landscaping from the fence and security cable, redoing the kitchen floor, and painting! Terry is always looking for volunteers around every corner! We hope to get some photos soon.
May 29, 2008
Terry tells us that their new security system is being installed, and that she received a new Sony day/night vision camera from her grandson, and then her grand daughter did the same. They were her Mother's Day gift! And their new swamp cooler was put to the test during the recent heatwave. "WOW, with two stoves going and 106 out side," says Terry, "it was MUCH nicer to cook a meal."
May 7, 2008
Things are moving fast in Riverside! The gates are in, the last load of brush is in the dump and, "WOW, it looks so wonderful," said Terry. "I know it will be secure for all those who seek refuge here." She is more excited than anything with the fence and security system, and loving all the calls she's been getting complimenting the new look.
click the image to see a slideshow
Terry says she can't believe how much things have changed around there. One of their neighbors now wants to get involved in volunteering at the shelter. The kitchen with its new appliances is looking great and the security system is next.
May 6, 2008
Sad news to report. We just got this email from Terry...

"I am saddened to inform you of the passing of Pastor's mother (Mrs. Edna Johnson) early this morning. She was pleased with the foundation's donation to the shelter. She was a great supporter to the shelter from the day the planning started."
Edna & Edwin Johnson
Our thoughts and prayers are with Pastor Sherry Sweetman.
May 5, 2008
Here's an update from Terry:

"FANTASTIC! the new washers are in and working, the stoves are all in and working. They are beautiful! Only two tiny problems, the new cook top has an electronic ignition, the electrical outlet is above the stove so I will install a new box below. I will take care of that as soon as tonight or tomorrow. One hose on one washer had a pin hole & the service dept had already called and will install a new one ASAP.

The new chain link in the front is up, the gates will be installed tomorrow. The work on the back has been started, the cleanup crew is clearing the brush, and the temp is being placed there. The next and final project is the security cameras and DVD. I have 2 calls in on that and should know my answers by late tomorrow.

Thanks again for such a wonderful experience from B.J., Jenny and all the HEROES staff. This has truly made life nicer and has taken a big burden from me and my son. I have taken something that was was broken, thrown away, or scrapped and made it work for all the years I have been here. Now I can move on with ease to other things to help the shelter.

The bad shape of the shelter when I came to do a volunteer project was one of the reasons I made the decision to stay here. I had the wisdom and knowledge of construction, the tools, and stayed. This was a change from ocean breeze's and the life style I had known. I could help with my hand and my mind. The rewards were not money but seeing people's lives change.I have never been more blessed and had a true feeling of worth than in the years I have spent here. Not every day is a good one but I go on thinking that in all the residents, there are those few winners. I have seen women return to the bad life in which they wanted to escape only to see them in worse shape the next time. I always pray not to see their names in the obituary page, or on the missing person's list.

I know there are people who will always try and kick a person when they are down, this is because of their misguided beliefs and lack of understanding. I tell every one: You only have YOU to believe in and this is the rule which I believe led me to believe I could help put the shelter back into order and repair. I know they are reading the HEROES page and know that the more they said, "You can't do this. This is too overwhelming," the more help I have received. I know if I don't give, I will never receive, and I have received from B.J. and others like her. This is what keeps the tank on full!"
We admire Terry's commitment and are thrilled at how quickly she is getting things done!
May 1, 2008
The fence company was there yesterday, the gates are being built, the temp fence is going in, the old one gets torn out, the poles go in and then the new wire goes up. Wow, Terry means business!
April 29, 2008
What a fun phone call we had today. Pastor Sherry Sweetman, the Executive Director of the shelter, helped get Jeannette ("BJ") over there this morning and she made sure that Terry would be there too. We also had a newspaper reporter show up so it was hard to keep my phone call a secret. But as soon as I called, they put me on the speaker phone and it was so good to hear their laughter. "I've been had!" said Jeannette, never expecting a phone call from me. Terry said, "You pulled a good one," expecting the police to show up since something was clearly going on. Jeannette and Terry were very excited about all the things the shelter would be receiving.
Terry moved quickly after my call and scheduled the fencing company to come by this afternoon. She said she wanted to get it done before somebody pinched her and woke her up from a dream. To make the day even more special, right after my call, they received another donation of $1,000 from a woman who had a birthday party and in lieu of gifts, asked for donations for the shelter. What a great idea! What a great day!
April 29th (2nd Update)
Did I say Terry moved quickly? She just sent an update on the rest of the day. Here is part of her email titled "Wonderful Day"...
"The day has been full and exciting, with wonderful happenings. I am still in shock over the Jenny call. Pastor Sweetman worked hard to keep the phone call from Jeannette and me. The phone is ringing off the hook with congratulations and questions. The calls have been placed, even before the reporter from the Press enterprise left the property.
-- The order is in for 6 new washers, 4 new stoves, and a new stovetop.
--The fence company will be here at 9 a.m. tomorrow to get started.
--The order has been placed for the new swamp cooler.

Next I called the Board President to tell him our hero B.J. was chosen Jenny's Hero today. He too was in shock. I contacted another board member, leaving a message "You need to call me NOW'. I just wanted to see how they scream when they find out about this!"
Terry (with her son's help) has been doing repairs and fixing broken appliances at the shelter for 8 years. Thanks to Jeannette, she says, things will be much easier. We agree with Terry that Jeannette has dedicated herself to serving the public, and she became an even bigger hero today.
04/29/08: Jenny wrote... "Jeannette, I've had some experience on my show with battered women and I know it's often a dangerous situation. Thank you for helping them feel safe."
04/29/08: Damon wrote... "Congrats, Jeannette! Thanks for all you've done for the shelter and your community. You're a real hero to so many people. "
04/29/08: Christina wrote... "Jeannette... Wow... brought tears to my eyes!!! What you are doing for these women and this shelter is very powerful!!! Sending you the most heartfelt congratulations :)"
04/29/08: Terri wrote... "Good for you, Jeannette! This is a horrific problem that few understand unless they are close to the situation, or have experienced it first hand. You are an angel that has brought help and hope to these people's lives. Bless you."
04/29/08: Hector wrote... "ANOTHER SIDE OF YOU I NEVER KNEW ABOUT, BUT AM HAPPY TO HEAR ABOUT. YOU HAVE DONE IT ALL. CONGRATS ON YOUR GRANT, I THINK IT IS AMAZING. GOD IS WATCHING AND SMILING ON YOU AND THE PEOPLE THERE. GOD BLESS."
04/29/08: Liz wrote... "There is no more desperate and hopeless a feeling than being stuck with a batterer with your kids and absolutely nowhere to run. What you've done and are doing goes beyond helpful. So many family members and friends turn the other way, don't want to get involved, out of fear or misguided loyalty. And the woman suffers alone. It's a shame you have to have been there to know the fear. At least your women have you. Good for you for being a beacon."
04/30/08: Brad wrote... "B.J.- Awesome job! You always know how to take care of those in need. God will richly bless you."
04/30/08: Donna wrote... "Jeanette, How awesome! I'm so proud of you. You surely did glorify our Lord. Love, your friend"
04/30/08: Chief W. wrote... "Outstanding BJ. I'm very proud of you."
04/30/08: Anna wrote... "Hey..... When I read this I thought you go girl..... This is a wonderful thing that you have done and we all are so proud of you. You have always been a very loving and generous person. I know that this will help a large number of people. The world needs more people like you. I want to be just like you when I grow up. I am so very proud to call you cousin. I know that Daddy and Uncle Charlie are smiling down at you. So, be careful out there and take care of yourself. --Love You-- Anna... Bunn, NC."
04/30/08: Anthony wrote... "Congratulations Jeannette!... I come from a runaway shelter in Hollywood, and if it wasn't for people like you and Jenny Jones who care so much, not for themselves, but for those who have absolutely nothing. From the bottom of my heart, Thank You Officer Jeannette."
04/30/08: Chris wrote... "B.J. - Great Work - As usual. We would expect nothing less from "California's Finest." You continue to represent in an admirable fashion and I wish you the best that life has to offer. May God bless you and and keep you safe and happy!"
05/05/08: Cindy wrote... "Terry, How exciting for you! You truly are a special person and are so deserving of this "make over" for all the lives you have touched, this is just awesome. You are finally getting a secure fence! Happy tears for you. Cindy"
08/16/09: Sheila Stewart wrote... "Hello Jeannette, That was such a wonderful thing you did for the I Care Shelter home. I stayed there in the late 80's everyone was wonderful I don't think Terry was there at the time it was mostly Sherry Sweetman and Margaret a few other's ladies. I stayed for three months because I was waiting to be approved for Job Corps. I loved the ladies there and they are in my heart I know that working there is not easy with so many different people the humble and the not so humble. I love that, the shelter home is still around. Could you please say hello to Sherry sweetman for me or forward this email to her. I live in Arizona with my new husband of 9 years. I might have been one of the longest guest and I am very grateful for everyone. I love Sherry Sweetman she is a wonderful human being! Thank you Sherry please say hello to Margaret and Carla and Betty. Thank you, Jeannette. Yahweh God bless you all!"