Meet Julie Alston from Charleston, West Virginia
Julie and her husband, Alex, are the co-CEO's of the Roark-Sullivan Lifeway Center in Charleston, West Virginia. The RSLC provides emergency shelter for the homeless and is developing 27 units of transitional housing and a service center for homeless veterans. Julie has a long history of providing social services and says, "It is our dream to provide the best possible program for homeless veterans - those who have served our country and now need us."
Julie's grant will provide the Veterans Transitional Living Center with:

12 twin beds
12 night stands
10 bunk beds & ladders
32 bed-in-bags
4 sofas & 4 chairs
coffee table & 2 end tables
kitchen table + 8 chairs
game table + 4 chairs
4 stools

The center will open in September but we are committing now because money is very tight for their project, and this will allow them to add $25,000 to the construction budget, which Julie says, "would help them tremendously."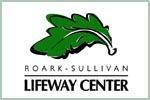 Diary Starts Here
October 31 , 2008
Congratulations to Julie! The new Veterans Transitional Living Center officially opened today with a ribbon cutting ceremony attended by the governor himself. And on schedule, too. Great Job, Julie!!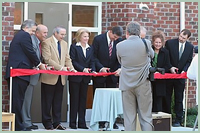 click the image to see a slideshow
September 19, 2008
With approximately 45 days to project completion, the Veterans Center is moving full steam ahead. Brick work is completed, with painting the interior to begin the week of September 22nd. From this point, they will then lay the flooring, finish the ceiling and lighting work. They are also in the process of planning the Ribbon Cutting Ceremony/Open House set for October 31st!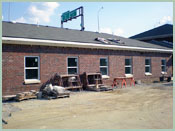 click the image to see a slideshow
August 12, 2008
We just received the latest construction photos. According to Leslee Shaffer, a development specialist at the center, the VA Center is on a roll! They have windows & the plumbing has just begun... things are going great there in WV and they are thrilled with the progress.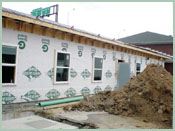 click the image to see a slideshow
July 26, 2008
Julie already ordered the beds and will be ready for them in a couple of weeks. It looks like things are right on schedule.
July 7, 2008
Construction is moving along quickly. The slab is completely finished and the framing is up for the walls. Julie says it's exciting to see things move so fast.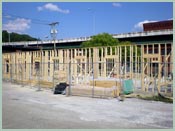 click the image to see a slideshow
June 11, 2008
Things are finally underway. Construction has begun and they cannot be any happier! The footers and block portion of the project have been completed and currently, plumbing is being laid in anticipation of the floor being poured the week of June 16th. Here's a look at the progress so far...
click the image to see a slideshow
Things are moving along at a rapid pace, thanks to good weather and very hard work. As part of this project, they also purchased a neighboring building and closed on that property on May 27th. It will be rehabilitated into a Veterans Service Center, open to all Veterans in the community, and much needed staff office space.
May 8, 2008
Julie's husband, Alex, helped us surprise Julie this morning with the good news. We were expecting a TV news crew to be there but no one came and we couldn't figure out why… until someone reminded us that Hillary Clinton was in town, and she was 2 hours late! So the crew was waiting for her and couldn't make it to Julie's office. Julie got bumped by a presidential candidate!
Today also happened to be the day they signed the contracts for the construction, which will begin in ten days. Julie and Alex will be keeping us updated with photos of the construction progress as we anticipate the grand opening. And here's something: they have 18-month old twin boys!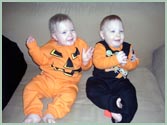 click the image to see larger view
5/08/08: Jenny wrote... "Julie, now more than ever our veterans need us, especially people like you. I am proud to contribute."
5/08/08: Damon wrote... "Hi Julie, Thanks for everything you do to help homeless veterans. They have all made such a big sacrifice for our country, and I admire your dedication in helping them."
5/08/08: Mindy wrote... "Congratulations Julie! Thanks for all of the hard work and dedication you have put into helping our homeless veterans. MOECD is proud to be involved with this project."
Mindy Young
Program Manager
City of Charleston, WV
Mayor's Office of Economic and Community Development
5/08/08: Sandra wrote... "Julie and Alex, congrats for a job well done. I know this has been hard work and we all look forward to this new added resource in our community."
Sandra J. Hamlin
Executive Director
Religious Coalition for Community Renewal (RCCR)
5/08/08: Jeff wrote... "Julie, Congratulations on receiving this grant! The services you provide are very important to our community. Keep up the great work!"
Jeff Crist
Development Director
Covenant House
5/08/08: Amy wrote... "What great news, Julie! So proud of you and your great team."
Amy Weintraub
Covenant House
5/09/08: Julie's Parents wrote... "Dear Julie: I know how hard both you and Alex work making the lives better for those that are less fortunate and need a helping hand. You are both great parents to our twin grandsons and great friends to those in need. You give of yourselves from the heart and this is what will make Charleston a better place for you being a part of the community."
All our love,
Mom and Dad
5/12/08: Terri wrote... "Hi Julie, unfortunately the "homeless veteran" is a constant problem in this country. Congratulations, and thank you for stepping up to the plate to help! I know it is much appreciated."
5/13/08: Anthony wrote... "Congratulations Julie, you are truly a hero. Helping the homeless who have nothing makes you truly an angel."
9/11/08: Rachel Sawhook wrote... "Way to go guys!!! Your hard work is paying off!!!! So proud to have been a part of such a great organization! Keep up the good work!"