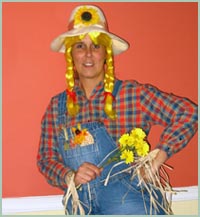 Meet Shelly Lane from Lumberton, North Carolina
We're proud to welcome Shelly Lane as our newest hero. Shelly is the children's librarian for Robeson County in North Carolina, the third poorest county in the U.S.. Most of their books are out of date and falling apart. By providing the Robeson County Public Library and its 5 other branches with new books, kid-friendly furniture, and computers, Shelly hopes to promote literacy and ultimately open many doors that would otherwise be closed for all the children of Robeson County.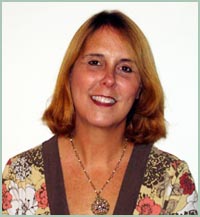 Shelly relocated to Lumberton 1-½ years ago in response to the need in the struggling county where the literacy rate is very low. She is totally committed to her job and is known to dress up in costumes in order to motivate children to read. Her children's library makeover will include lots of new books, computers, and new shelving. "The furniture and shelving units are very old--most of them broken," said Shelly in her application. "The newer ones have been donated by stores that were closing or ones that I found at garage sales. We do not have the proper size shelving for young children and our tables have sharp edges. I would love for the main library to be an inviting place for these children."
She plans to create an area for teens/tweens, another area with kid-sized furniture, and a space for toddlers and moms to sit with chairs you can wipe clean. "It is vital for this community to stress the importance of reading," says Shelly, "and stimulating its children with new and exciting surroundings would be awesome!"
Shelly has a lot on her plate. She is responsible for planning, preparing and implementing all of the story times for all county locations on a weekly basis, including driving to each location. She also orders all books, goes to all meetings, schedules all the programming and entertainment, decorates, you name it, she does it!
Diary Starts Here
March 15, 2010
Shelly recently held a very successful "Dr. Seuss" event which was enjoyed by over 620 kids.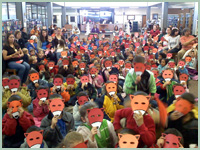 click the image to see a slideshow
December 22, 2009
It looks like Shelly has been super busy at the library. In the last 3 months, they had an amazing county-wide Halloween with alien autopsies and Pumpkin Patch parties (each child got to pick and paint his or her own pumpkin), a "Teen Fright Night", a Polar Express Party, visits from Santa, and a Fancy Nancy Party, in addition to all of the ongoing story times. Shelly sent us some great photos from their Halloween celebration.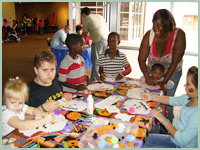 click the image to see a slideshow
There were over 100 girls and parents at the "Fancy Nancy" party. Each girl got a new fancy name from a chart (Shelly's was "Princess Unicorn"). Then at each station, the girls would earn one Fancy Nancy dollar to spend in the boutique where items like hair bows and stuffed animals were donated, along with a Fancy Nancy cake from the 4H club. They even had a fancy doorman. "I love it when grown men dress silly for their kids," said Shelly.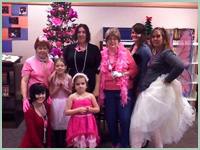 click the image to see a slideshow
The Polar Express Party drew 127 kids & parents. The kids had loads of fun acting out the story while the movie played. And everyone was excited to see Santa!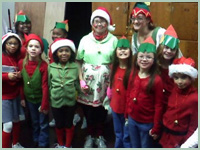 click the image to see a slideshow
October 2, 2009
Here's the latest from Shelly...

"Recently, the library was given a computer to use however we saw fit. We decided to give away the computer and have the children of Robeson County write an essay on "What It Would Mean to Have a Computer." Some essays were well thought out and others not so much! We picked a little girl named Abagail. She wanted it to help her parents learn English - it tugged at our heart. When I told her she cried on the phone! Fall programming is about to begin I have planned out 12 weeks of story time (84 programs) plus 8 special programs. Seems like I keep planning more and more and the budget keeps getting smaller and smaller! But I can't help it -- I love getting these kids excited about the library."
July 20, 2009
Shelly sent us another update on her summer reading program ...

"Here are a few more pictures from this year's Be Creative story time programs -- Due to budget cuts it is just me this year going to 8 libraries throughout our county -- I had a full time helper last summer but we could not afford her this year!! Yikes. I have one very talented part time teenager - Scarlett that helps me as much as she can but only works 10 hrs. per week. Hope all is well with you. I will write you a long letter after summer and tell you what is new at the library. Thanks again for all of your help and support,
Shelly"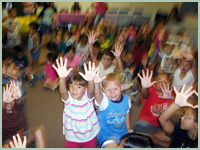 click the image to see a slideshow
June 30, 2009
Shelly said, "We Rocked It!!" when describing week one of her summer reading program...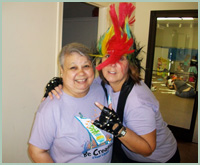 click the image to see a slideshow
April 13, 2009
The Easter Bunny (Shelly) was very busy last weekend! On Friday, she was at the Pembroke Public Library during story time, and, on Saturday, she delighted kids at the Centennial Easter Egg Hunt.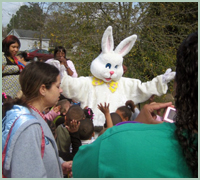 click the image to see a slideshow
April 5, 2009
The Easter Bunny is already hard at work. But he almost didn't make it because Shelly was called in for jury duty. "I told the judge I had to be the Easter Bunny and that over 500 kids were counting on me," Shelly wrote, "and he thought I was kidding! But I showed him pictures from last year and other events and he laughed and said, 'See ya later.'"

Shelly has already had the first event at their St. Paul's location - the first of 11 Easter Bunny visits! They have made over 300 spring baskets from two liter bottles to hand out to various groups throughout the county. (no, she says she did not drink all those sodas!) "The groups don't want candy so trying to fill them on a limited budget of zero is tough. I bought little play-dough things last year after Christmas for .20 cents for a bag of 20 (bargain shopper that I am) and had 6 bags. Also got 144 little bracelets from Oriental Trading Company. I am sure that I will make several Wal-mart visits before the end of next week." We look forward to some photos of Shelly as the Easter Bunny.
March 27, 2009
Shelly received some new colorful tables, and she says there's finally life in the kids' department! The teens loved the tables and were goofing around with them.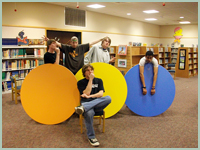 click the image to see a slideshow
March 4, 2009
Shelly is in the middle of Dr. Seuss week so it is non stop busy busy busy! She had 600 children from area day cares come to the library yesterday and has 435 coming today! Of course she dressed up in her striped pants, hat, etc. and read, then while the kids were watching a short movie, she transformed into the cat in the hat costume. Shelly says the kids loved it. And so do we, especially Shelly's great photos: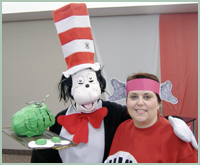 click the image to see a slideshow
February 3, 2009
Things are coming together at the library. Shelly wrote... " The shelving came in on Friday and I unpacked it with the help of two teen volunteers--now it is all waiting to be put together. We are now waiting for three round children's tables and everything will be here. We received a donation from the board to recover our chairs to match the new tables and we also bought some kid friendly headphones. We were using the adult headphones on our kids computers and they kept slipping off of their heads! I am working on getting more donations to get bookshelves that will go around the room against the wall and a vinyl loveseat We have an old storage room that would be perfect for a teen room but that is for another time. Now that we have your things, I just want to keep improving and improving. I have seen improvements in the attitudes of the children and adults that enter this room even though everything is not done--so I can't wait to get those shelves together. I will send pictures soon."
December 9, 2008
We hear that Shelly received the kids' chairs for Maxton and will be presenting them to the library at their annual board meeting. She is so excited about the new furniture and the kids love, love, love all the new books! "The word must be spreading," says Shelly, "because I have so many kids in here all the time. It is awesome. I love seeing them come into the library and find something they are interested in and checking it out. When I first came here, not many kids used the library because there just wasn't current material--now there is. If these kids are given more opportunities to enhance their lives they eat it up! Our circulation numbers have increased with the JennnyBooks and I see lots more smiles." Soon, Shelly will take down the old shelving and put up the new. Since the library has received her gift, Shelly says people from the community are really starting to take pride in their library and are treating their materials with more respect. "I will continue to work to better the library in the coming years," she said. It looks like she already has.
December 2, 2008
Shelly is having a fundraiser on Monday, December 8th... She'd love to see you there!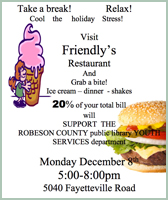 click the image to see larger view
November 14, 2008
It's nice to be appreciated but Shelly went out of her way to do something really creative. She put a sticker in every single book purchased with her grant money and actually made the stickers herself. I asked her to send us some to look at and here they are.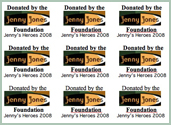 click the image to see larger view
September 19 , 2008
I got a fantastic update today from Shelly. Her books are arriving and as soon as they hit the shelves they are off again! They are literally flying out the door--the teenagers must be spreading the word at their local high school. "I put out about 50 new Jenny books this afternoon," says Shelly, "and before I got to my office to put out more--they were gone! The teens are flocking to their new books--it is a beautiful sight. The kids are not the only ones noticing the improvements--today one parent commented about how it was great to finally get the Robeson County Library out of the past and into the present/future. The kids need this to spark their interest in reading. She wanted to let you know how appreciative she was that someone cares for our kids by finally providing them with new, updated and exciting books. As she put it we are going from DRAB TO FAB!" I love having Shelly's "Jennybooks" named after me. I'm thrilled to be so honored. And isn't it great to see kids loving to read?
August 29, 2008
Books have finally arrived! Shelly ordered hundreds of new books and seven boxes came in this week, with more coming. Everyone wanted to open the "Jenny books" but the best thing was they stacked all the boxes and spelled out a giant "Thank you" tower to me. Okay, I cried when I saw the picture (it's on the left). It sure felt good. There are more books, and furniture, still to come.

August 25, 2008
Here's an update from Shelly...
"Dear Jenny and Damon-
Finally, finally, the books are coming! We ordered over 500 books which is just the beginning thanks to your foundation. I tried to select a combination of modern novels, classic novels, early childhood and nonfiction. I updated our presidential, Native American, countries, states and biography sections. We now have the complete set of presidents along with the first ladies. Another area of concern was our early readers. We Both Read books are books that adults read with their children--one page is for the adult to read while the other is for the child. This will help promote reading time together. We also updated our Newberry, Caldecott and Battle of the Books collection. Thanks again for this great gift--it means so much to our community. It is the lift we needed to keep us heading in a positive direction. Now on to furniture!!!!!
Thanks--Shelly"
July 23, 2008
Shelly says she has received book donations throughout the county from people who saw her story on our website! That's awesome!!! And her summer reading program is a huge success with 2-300 children at a program. You go, Shelly!
July 10, 2008
Shelly received a really nice note from a stranger who happened to see her story on this web site. Her name is Valerie and her 6 and 9-year old daughters have offered to send Shelly a box of books they don't read any more. You can read the note in Shelly's messages. Isn't is great to see little kids like that with such big hearts? This is a terrific ripple effect. Thank you, Valerie!
June 26, 2008
This week is the start of Shelly's summer reading program--so it has been hectic. Their theme this year is Catch the Reading Bug. Through various donations, they have been able to plan a pretty "buggy" summer! The NC Museum of Natural Sciences helped kick things off with a special program--the kids really enjoyed seeing some of the animals they provided. Next up is "That's a Spicy
Cockroach" program. And guess who's dressing up as a giant cockroach? The same librarian who dressed as an Easter Bunny and The Cat in the Hat...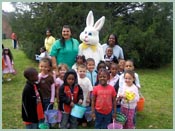 click the image to see a slideshow
June 20, 2008
Shelly sent me a note today and it's moments like this that make Jenny's Heroes so worthwhile. Here's what she said...
"Dear Jenny-
I am still walking on air after receiving your wonderful gift. I really still can't believe it is true. I am truly thankful for what this will mean to our children. The phone has not stopped ringing with congrats from well wishers. One of the best things that happened today was when several of "my" teenagers ran into the library and shouted--Yeah for Miss Shelly--we love you! They then all circled around me and gave me a big group hug--They have already put in their suggestions on how I should fix "their" library and of course, they brought me a huge book list!
Although my boss tells me not to work on the weekends--I will be working this one--I want to make sure that I am careful about making the best choices possible for our community. Thanks again and I will talk to you soon.
Shelly"
June 19, 2008
I called Shelly this morning with the news that she would receive the grant she requested. There was a roomful of people including Library Director Bob Fisher, Chairman of the Board of Trustees, Rusty Livermore, Vice Chairman Horace Stacy, as well as newspaper and television reporters. Bob really helped us get everyone there for my phone call and Shelly will be on their local news tonight.
In talking to Shelly, Bob, and Rusty, I learned that Robeson County covers over 900 square miles and has 125,000 people of which 25,000 are children. Can you imagine how many of these children will benefit from Shelly's gift? The library's branches are scattered throughout the county and Shelly will be updating all the branches. She especially needs new shelving and told me there was even a bullet hole in one of their shelves.
"If you can teach a child to read, they've got a chance," Rusty told me on the phone. Rusty was born & raised in Robeson County and said they have the lowest literacy rate in all of North Carolina. Well, I think that's about to change. Shelly has already tripled the number of people coming to the childrens' library, so imagine what she will do with her "new & improved" space. Bob told me about one family whose mother walks her three children 3 miles every week just to attend Shelly's reading class. Shelly is clearly a woman who is already making a difference and is about to do even more.


6/19/08: Jenny wrote... "Shelly, your library makeover will have a tremendous impact of the future of so many children. I am proud to be a part of something so vital to all children – reading."
6/19/08: Damon wrote... "Congratulations, Shelly! Thanks for everything you do for the children of Robeson County. They are so lucky to have you."
6/19/08: Bob Fisher wrote... "The children of Robeson County have benefited tremendously because you accepted the library's offer to manage the Children's Library. Your talent and initiative are evident on a daily basis but it is very obvious that you care for the children and teens of our county and want to make their life a little more pleasant and rewarding. We are proud that you are now one of Jenny's Heroes because you are also a hero to hundreds of children in our county. Congratulations."
6/19/08: Horace Stacy wrote... "Shelly, you have given real life to the children's library program. We are most fortunate to have you. Keep up your spectacular work."
6/21/08: Pearl M. wrote... "I am very glad that you are a part of us at Robeson County Public Library. You have really made a big difference in the Children's Department. Congratulations and keep up the Great Work!"
Pearl
6/21/08: Shirley Lane wrote... "Once again, you have proven yourself to be a talented, caring, thoughtful and dedicated person. You are totally committed to your job and each and every one of those children who walk through the doors of the Robeson County Libraries. During my current visit, I had the opportunity to go along with you to the different libraries. It amazed me to see all those faces light up when they saw you. They were so eager to participate in the activities and didn't want you to leave at the end of the session. Congratulations, you are their hero and are truly making a difference in their lives. I'm proud to be your mother."
6/24/08: Joan wrote... "Congratulations, Cheryl (Shelly). Your friend in Ohio is proud of you, almost as proud as your Mother. You deserve a feather in your hat, along with that sunflower. If you need one, will send you one of Paulie's. Keep up the good work. You will never know for years yet, how many lives you have touched."
Joan & Don Hamilton
6/24/08: Terri wrote... "Congratulations Shelly, to someone who really cares. Kids are the future, and reading is the foundation they need. Love your costumes too!"
6/26/08: Victoria wrote... "WOW Ms.Cheryl (Shelly). We sure miss you in Boca Raton, the library here has never been the same without you. But we are so so so so proud of you and your dedication to your job, to your kids, to your community. Hurray for Jenny's Heroes, for Robeson County library, and kudos to you for making these children's lives so much richer and better. You are a JEWEL!
Victoria and Natalie Macadar
6/27/08: Liz R. wrote... "Good for you Shelly for seizing the opportunity to improve the lives of the kids. I can only imagine the excitement of working with new things after struggling with the out-dated stuff."
7/05/08: Luis Aponte wrote... "Hey Shelly, Love the costume! It's great to see that you are still using your own flair to enhance the library programs up north. That is what made us miss you so much in the Boca Raton library! It's great to see your talents being put to so much great use. Sounds like you have a full plate to tackle and I can not think of a more worthy person to receive a grant to enhance what you are bringing to those children in Robeson County. Good luck, Shelly! You're a great inspiration for me!"
7/09/08: Valerie Fred wrote... "Hi Shelly, I was on Jenny's Hero's website filling out an application when I ran across your story. I was applying so I could help out Children with Hairloss which is an organization from where my 6 year old gets her free wigs. She has Alopeica Areata and is completely bald. Children with Hairloss, when they have the funds, provides free custom wigs to children anywhere in the world. Anyway, I read what you've done with the library to my daughters (6 and 9) and they immediately went to work looking for books they don't read anymore. I have a box to send you if you're interested in early reader books. Some are paperback, some are hardcover, varying subjects. If you don't need them for the library, maybe you could let some of the kids take them for free. They're in great condition. If you're interested in receiving these books, please provide me with an address to which I can send them. Thanks!"
12/07/08: Chris Hill wrote... "Hi Shelly. As a parent of a 10 year old son that really loves seeing you and reading with you, I thank you for your commitment and dedication to the children of our county. You deserve all the credit you receive. Keep up the great work!"
03/13/09: Angela Sumner wrote... "Wow – Shelly – this is great exposure for the Children's Library and the RC Public Library!
I hope this will help more children take advantage of all of the wonderful resources that you have to offer. We look forward to continuing to work with you and the RC Public Library to reach as many children as possible in our community to understand the GREAT benefits of reading and being involved in our community. Thanks for all you do!"
Angela D. Sumner
Robeson County Director
Child Care Directions
04/01/09: Penni Fields wrote... "Shelly, you are a great friend and wonderful person. I love collaborating with you during Dr. Seuss week because you make it so much fun to do. That's saying alot because as you know I am not a fan of Dr. Seuss at all. What you have done for Robeson County and the public library is such a wonderful thing. I know all the kids can't wait to see Ms. Shelly when you do your visits to the facilities. Keep up the good work. Your friend, Penni"