Meet Tony Blue from Detroit, Michigan
Tony Blue grew up in Detroit with support from his parents and coaches and now he wants to provide inner city kids with the same opportunities he had. In 2006, Tony founded the Motor City Chargers Youth Organization to provide a positive influence and leadership to kids in need with structured team sports as well as tutoring and mentoring. Tony's request for $25,000 will provide for almost 200 children who cannot afford the proper equipment to keep them safe. His shopping list includes:
• football uniforms
• shoulder pads
• helmets
• safety equipment
• physicals for each player
• cheerleading uniforms
• trophies, supplies, and more
By providing tutoring as well as organized sports, Tony feels his program will help youth in the classroom as well as society. In his application, Tony said, "Youth programs designed of this magnitude, and to benefit the number kids we are trying to reach, is very expensive. Most of the kids in this area can't afford the registration fees, so it is very difficult for us to provide proper equipment needed for these kids in this area to play organized sports."
Tony works in new car sales and he and his wife have a 2-year-old son, Anthony Jeremiah. (we hope to get a picture soon!)
Diary Starts Here
September 14, 2008
All the equipment and uniforms have been received, and Tony sent us some great pictures...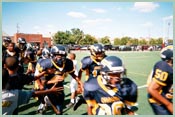 click the image to see a slideshow
June 30, 2008
I was able to surprise Tony today with a lot of help from James Parker, his long-time friend from high school. James got 4 coaches and 5 players to all meet at the car dealership where he works. They were all there when Tony and his wife, Jenny, came in.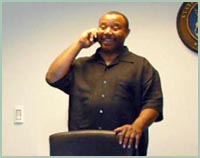 Tony's surprise phone call
Tony was excited to hear the news and so was the whole group who all said "thank you" together so I could hear over the phone. That was really fun! I said hi to Tony's wife and to the team's athletic director, Derek Smith, who invited me to a game. James told me that he and Tony played football together in high school and both their dads were coaches, so it has always been their dream to make sure that all kids have the same opportunities that they did. It looks like that's exactly what they're doing. Tony said that more kids than they expected want to participate, so I think that means his program is really needed in the community.
06/30/08: Jenny wrote... "Tony, the world needs more role models like you. What you are doing for these kids will benefit them for the rest of their lives."
06/30/08: Damon wrote... "Congratulations, Tony! You should be very proud of all the good work you're doing for the kids in your community. I can just imagine how excited they'll be to start using all the new football equipment they'll be receiving. Go Motor City Chargers!"
06/30/08: Terri wrote... "Hi Tony, I love what you are doing for the inner city kids in Motown! They will thrive and prosper due to your generosity. You're a true hero. Blessings to you and your family."
07/01/08: Caleb Coan wrote... "WOW!!! I can't think of anyone more deserving than the Motor City Chargers organization. Tony, the work that you, James, and the rest of the staff have done will speak volumes for the young lives that you all have touched. I still remember the things that we learned while playing team sports all those years. Togetherness, Leadership and Discipline. Congrats and may God bless your efforts."
07/01/08: Clif Simmons wrote... "Sands, Congratulations! You keep molding and shaping those young minds."
07/01/08: Judy O. wrote... "Dear Tony, Congratulations to you and the Motor City Chargers organization! It is such a joy to see dedicated young men like yourself reaching back to the children and youth of our community. You are making a difference in their lives. May God continue to bless you."
07/01/08: Bridgett Taylor wrote... "Hey Cus, Know it's been a while but great news travels fast. Soooo Proud keep up the good work we need heros like you."
07/16/08: Reginald Howard wrote... "Tony, I received the good news just today. I wish you much success with your organization, The Motor City Chargers. The brothers of Alpha Phi Alpha, Alpha Upsilon Chapter, are very proud of you and your accomplishments. Bless you and your boys."
07/20/08: Michelle Chambers wrote... "Hey Tony, Congratulations on your grant for your teams. So many kids need to have some leadership and discipline in their lives. This is a blessing from God and may he continue to bless you and your team. Love always, Michelle Chambers"