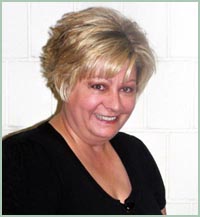 Jean's Videos
Click image to see video


Jean's Photos
Click images to see larger view.
Meet Jean from Coon Rapids, Minnesota
Jean Jurek is from Coon Rapids, Minnesota. She is a registered nurse who teaches at Anoka Technical College in Anoka, Minnesota. Her request of $25,000 is to fulfill her best friend's dream of upgrading the training equipment at the school where they worked together. Her friend and co-worker was killed in an accident in 2005. Jean wrote, "Please help make Sue's dream come true." We are happy to help the school and to honor Sue's memory.
Susan Hanson was head of the department when she died, leaving a husband and four children behind. "She worked tirelessly to train students to be NA's," wrote Jean in her application, "instilling in them her great love of caring for the elderly." Sue's specialty was geriatric nursing.
The program trains around 300 students each year plus another 300 students at their adjoining Secondary Technical Education Program (STEP), which offers an opportunity for high school students to receive college credit for Nursing Assistant and other technical programs. They continue to work with some of the same equipment that was there in the early 80's when Sue and Jean were students. Jean's gift will also serve students in other health programs at the college.
Here is the list of equipment items Jean is planning to purchase:
• Simulation manikin
• Over bed tables
• Bedside cabinets
• Cubicle track curtains
• Wheelchairs
• Walkers
• Canes
• Mechanical lift
• Stand-up lift
• Tympanic thermometer
• Thermometer probe covers
• Linen carts
• Storage cabinets
• Blood pressure simulation arms
Diary Starts Here
February 3, 2009
We have another update from Jean: "We are using the new room. Many things have come in and a few items were caught up in red tape while we were on Christmas break, but they are starting to show up now. The new curtains are up and look great. We are waiting for the bedspreads and cabinets to come in so we can put everything in its place and take some pictures for you. Teresa and I want it to look perfect in order to honor Sue in the way we envisioned!"
December 11, 2008
Jean tells us that some of the new equipment has been delivered. So far they have gotten new bedside cabinets, overbed tables, blood pressure arms and electronic thermometers. Cubicle curtains, new bedspreads, manikins, storage units and linen carts are still on order. Thanks for the update, Jean.
October 3, 2008
Good news! They finally got the official "OK" to move the Nursing Assistant lab into the bigger room! They will start moving on Oct 15th. The funny thing is that Oct. 15 is Jean's birthday and she says, "I couldn't think of a better present than to finally get started on fulfilling Sue's dream of getting that lab and all the equipment up to date."
September 15, 2008
We're still waiting for word on whether Jean's department will be moving into a larger room before they decide what to order.
July 30, 2008
Our very first grant, through night janitor Travis Wiersma, went to a nursing assistant program in Madison, Wisconsin. The head of that program, and one of our favorite people, Sue Worth, sent a nice note to Jean today. It's posted on the right.
July 28, 2008
Jean and I are trading cookbooks. She's sending me the one she had published to raise money for Sue's foundation, and I'm sending her mine which I published to raise money for breast cancer.
July 25, 2008
I called Jean to surprise her with the news about her $25,000 grant and she was so excited, she couldn't give me the ages of her children! It was so funny because then I asked to speak to her husband, John, and he couldn't remember either! I could hear everyone in the room celebrating the good news and then Jean finally gave me the info: she and John have three children, Sarah 23, Rianna 17, and Aaron 13. My surprise phone call was orchestrated by Teresa Dill, the school's Nursing Assistant Program Director, who arranged to have Jean's family there as well as Sue's daughter, Missy, who told me how much this gift meant to her for her mother's memory.
Teresa told me that Jean has worked tirelessly to honor Sue, even putting a cookbook together to raise money and because of her efforts, they were able to provide scholarship money to students in need. I felt so good making this call, knowing that Jean will be helping the school and everything this gift provides will honor the memory of her best friend.
7/25/08: Jenny wrote... "Jean, I'm sorry for the loss of your friend and it's an honor to join you in making her dream come true."
7/25/08: Damon wrote... "Congratulations, Jean! Thanks for everything you've done for your community and for the students at Anoka Tech. The legacy of your friend is very much alive in all the important work you do."
7/25/08: Karyn Skog wrote... "Congratulations, honey. We all knew you could do it. The whole family is so proud of you for your dedication to your students and school, and especially to the foundation you created after Sue died."
Love, Mom
7/25/08: Jerry Bergstrom wrote... "Jean, Jane and I are sorry to hear about the loss of your friend. I'm sure Sue is very proud of your work in keeping her memory alive!! We feel truly blessed having a friend like you!!!"
7/25/08: Bonnie Van Heel wrote... "Congratulations Jean. You were Sue's dear friend. We sure miss her. Thanks for making her memory come alive. God Bless." Sue's sister, Bonnie
7/25/08: Joanette wrote... "Jean, what a tremendous project! Congratulations."
7/25/08: Aunt Punky wrote... "Dear Jean, You make an aunt proud!" Love you, Aunt Punky
7/25/08: Tim & Sally Hendricks wrote... "Congratulations, Jean! Way to go. I'm sure Sue is very proud of you. Keep up the great work."
7/26/08: V & G Jurek wrote... "Jean - We are very proud of you and your achievement in memory of your dear friend Sue Hanson. We know you have been working very hard on this project and it really paid off for the school and Sue's memory. Again, we are very proud of what you have accomplished by your dedication to the nursing program. We love you."
Mom and Dad Jurek
7/26/08: B & G Jurek wrote... "Hi Jean: What a great thing this is you have done. We just found out the news, this is so awesome. Congratulations on accomplishing this. How does it feel? We are very proud of you. Your effort in pursuing Sue's dream is really inspiring."
Bob, Glenda, Tanner and Cole
7/27/08: Terri wrote... "Hi Jean, what a lovely thing to do in your friend's memory. You truly deserve "hero" status!"
7/28/08: Aunt, Sister Kathleen Skog wrote... "Jean, CONGRATULATIONS! This is a wonderful thing you are doing in honor of your friend and for all of the nurses who will have the opportunity to receive education and training from your college. This is no easy task to ask for funds and make calls and pray that others respond. We are in much need of dedicated nurses who care about their patients. By your example, the students will see how nurses make the difference! God bless you!"
7/30/08: Dean wrote... "Congratulations Jean! We just heard your fantastic news. Sue was truly an amazing friend to you just as you are to so many. We know how hard you have worked to raise money to fund scholarships for students in need and for new equipment for the college. You are truly an amazing "hero" and deserve only the best. We are proud to be your friend."
Dean, Tanya, Kirsten and Kyle Goodroad
7/31/08: Sue Worth wrote... "Jean, I am sure this will truly make a difference for your Nursing Assistant Program. This gift has enormously improved the NA training program here at MATC. The improvements in the lab & the updated equipment has made our lab practice more realisitic, more effective,and aesthetically pleasing. Students are better prepared to go out into the clinical setting. In this time of tight budgets for everyone, especially schools, our nurisng assistant programs often don't get the attention of the more high profile programs. But as we know the Nurisng Assistant is the backbone of health care & the foundation for all other health care training. I hope you enjoy your gift & your shopping as much as I did. I know you will love the BP arms, our faculty & students do! As one of my faculty stated, "it gives them a sense of accomplishement on a very difficult skill."
Susan Worth RN, MSN, MSED
Nursing Assistant Program Director
Madison Area Technical College