Meet Teresa Smedley from Salem, Indiana
Summer Olympics is the perfect time to announce our newest hero, accountant and swim coach Teresa Smedley from Salem, Indiana. Teresa requested $25,000 for a digital timing system to be installed in the swimming pool where she coaches middle school and high school swimmers and a USA competitive swim team. The timing system will allow the community to host swim meets to raise even more money to fund the teams into the future. Teresa calls it "an investment in the children of Washington County."
Six years ago, Coach Smedley started a high school swim team, then added middle school and summer recreation league, and finally a USA competitive swim team. She currently coaches over 200 children a year, does lessons, and volunteers her time at the YMCA coaching the summer team, and the USA team which trains year round. Combined with her accounting work, it's a very full schedule. "I feel blessed that there are others in the community - parents and other adults - who give so much of their time to make these programs successful," said Teresa in her application. "Without them, I could not do it."
Since the swim programs are through the Salem Community Schools (high school and middle school), the Washington County YMCA (summer conference swim team) and the recently formed Washington County USA Swim Team, several organizations will benefit by the new timing system. Teresa will be purchasing an International Sports Timing system, including the software, six line numeric scoreboard, six touchpads. and all the cabling required as well as storage units for the system when it is not in use, and a laptop computer and printer.
Diary Starts Here
December 15, 2008
So the new timing system is finally up and running. Teresa says they've already tested it out during their first home meet right before Thanksgiving. As usual with something new, there were a few bugs to be worked out, but overall she says it was wonderful. Teresa will try to get us some photos from one of their upcoming meets.
December 2, 2008
Teresa sent us some pictures recently of the timing system scoreboard being installed...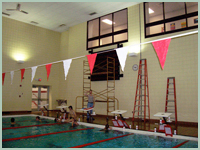 click the image to see a slideshow
November 10, 2008
There's lots of news from Teresa. "Jenny, everything arrived last week! We have an entire storage room at the middle school full of boxes and crates. It is almost overwhelming what we now have to do to put everything together and learn how to use it, but we are ready to go! Next week, AD Randy Johnson has arranged for school personnel to install the scoreboard on the wall, the biggest job we face. On Saturday the 15th we are having a parents day at the school so parents can come in, we can put it all together and test it out. Our first home high school meet is 11/25 so we are running out of time to be prepared.
In other exciting news, our USA team has several new members and some of the youngest (age 7-11) will be attending their first meet in Jeffersonville, Indiana this weekend.
High school girls team is in full swing. We have 12 girls committed and coming to practice every day. Our boys season begins next week and it is looking like we will have 14-16 boys. This may not sound like much to you, but when I started this team six years ago, we had 2 girls and 1 boy. We have grown over those years, but even last year we only had 6 girls and 6 boys. So, this is a tremendous increase and they are all excited about the new timing system and what it will mean for improving our ability to get accurate times at the meets. It is truly a blessing. I am contacting our sports writer this week at the local paper to get some press for this team. We are looking forward to having a very good year! Next Saturday after the parent get together to train on the timing system I will have a house full of high school swimmers. They requested that I make them spaghetti (they love my spaghetti), then movie night and a sleepover (girls only!) at the coach's house. It's a great bonding experience and I enjoy it almost as much as they do. I'll keep you posted on what's going on.
Teresa Smedley"
September 3, 2008
We hear from Teresa that exciting things are happening as a result of the new timing system. They had recruitment days for the high school team last week, and the number of swimmers who signed up for this year has more than doubled! It takes 12 girls/12 boys to fill a roster for varsity teams, and in the past they have had about eight of each. This time there were 16 of each, so they can also have a JV swim team this year for high school, something they've never been able to do before! They also have more swimmers expressing interest in the USA team. "This is growing our program exponentially," says Teresa, "and with that kind of growth, we should be able to host our first USA meet in the next year. Hosting a meet will allow us to fund our program for the next year, and possibly offer scholarships to those who can't afford to pay, but want to be on our teams. Without the timing system, none of this would have been possible." We say that without Teresa, this would not have been possible.
August 17, 2008
Teresa has been glued to the Summer Olympics but who hasn't? And she taped it all for her younger daughter who has been away. I asked Teresa about her family and she said, "I have this wonderful husband, who officiates at our high school and USA meets, so stays involved. He is a saint, putting up with my "swimming insanity" most of the year. He even allowed me to talk him into moving out of a house we loved, because there wasn't enough land to build my dream pool. We built our house three years ago on three acres of land, and last year added a 25 yard, two lane competition pool so I can do some of the training here. We are now completing the building over the pool and it will be ready to be year round by next month. So now we have a 1900 square foot house, with a 2500 square foot pool house!!! Am I nuts or what?" No, Teresa is not crazy - crazy with passion maybe for a sport that she loves.

She is also blessed with two beautiful daughters, one of whom works with her in the accounting business (she's 30) and assists with summer team coaching (she was a swimmer, too, of course). Teresa's baby girl (19) has been in Germany all summer, but is coming back to start her sophomore year of college. The family is rounded out with two huge mutts, Sunnie and Torrynce (see family photos to the left).

As for her shopping, Teresa has already talked with the rep for the timing system company for quotes, so she can choose which options they want. "It all still seems like a dream," she says. "I hope I don't wake up!

August 12th, 2008
How exciting it was to call Teresa during the Summer Olympics! My surprise call was orchestrated by Jon Hill, Executive Director at the YMCA who arranged a "committee meeting" with Teresa but when she got there, she was greeted by school superintendent, Dr. Lynn Reed, assistant superintendent, Dr. Kim Thurston, athletic director of Salem Community Schools, Randy Johnson, YMCA staff and volunteers, several high school swimmers, as well as three newspaper reporters. Earlier today, Jon and I had arranged that he would put me on the speaker phone, but he was momentarily technologically challenged and forgot how to do it! We laughed about it because he has used his speaker phone in the past but needed help today to figure it out! But he got it working just in time for me to give Teresa the good news.

Teresa was just as excited as I was and we talked about watching the American Olympic relay team, headed by Michael Phelps, swim their way to victory over the French this week. Teresa will use her $25,000 grant to purchase a digital timing system for the pool where she coaches young swimmers. She tells me it's the same type they are using at the Olympics and that they already have an Olympic hopeful, Connor Williams, an 8th grader who just qualified to swim in a zone meet that includes 15 states. Who knows? Maybe Salem, Indiana will bring us the next Olympic champion!
8/12: Jenny wrote... "Teresa, I so admire your commitment to the children of Washington County and I'm proud to be a part of your vision."
8/12: Damon wrote... "Congratulations, Teresa! Thanks for everything you do for the children of Washington County. Who knows, with your coaching, and the new timing system in place, you may very well produce some Olympic champions in the near future."
8/12: Sherri Mitchell wrote... "Teresa, HUGE congratulations! I don't know how you do it all—and always with a smile!"
8/13: William Troutman wrote... "Congratulations Teresa! An accomplishment well deserved! Your devotion, hard work and patience is shown through the eyes of every child you teach. You're Amazing!"
8/13: Thomas Scifres wrote... "Teresa: Thanks for all you do for the kids in our community. Having had kids who participated under you, I know first-hand your level of commitment to the success of the kids and to the program. This is awesome, and you certainly deserve to be acknowledged. Keep up the good work; our programs would not be nearly as good without you. "
8/13: Jon Hill wrote... "Congratulations Teresa! This donation will have a great impact on Kids in Washington County for many years! This is a culmination of all your hard work. This will make swimming grow in Washington County and gives Kids another positive opportunity."
8/13: George Browning wrote... "Thanks Teresa for all you do for the kids in Washington County. You wouldn't take the credit, but swimming probably wouldn't exist as a competitive sport in this county without you. Some sports last a season, but swimming is year-round and you are at he forefront of it all. Thank you and God bless you for all you do. It's a pleasure to be able to work with people like you. Congratulations on the grant."
8/13: Cindy Fleener wrote... "Dear Teresa, I am so excited for you and your kids. You continually amaze me with your energy and generosity. Good Luck and Congratulations."
8/13: Kyla Kinslow wrote... "Mom, you really do have the biggest heart...and honestly I don't know where you get all the time from to keep up with everything that you commit to. But I do know that the children who swim under you have nothing but the utmost respect and love for you and would do anything you asked of them. We all appreciate the time you have given to teaching us and our children true sportsmanship and the love of the sport, and this grant is a wonderful investment in the future of our children and our community. We are all deeply greatful! Love, your daughter and assistant coach."
8/14: Sara W. wrote... "Teresa, this is so great for Washington County! The Swim Team and all will benefit from it. We really appreciate everything you do. Thanks!"
8/14: Terri wrote... "Hi Teresa, you're a true inspiration. All the best to you, your kids and your teams!"
8/15: Lisa Angell wrote... "Amazing work Teresa, as always. What you do today will make a huge impact on the future. Best of luck to you and your team!"
8/15: Ed & Jeanne Hill wrote... "Congratulations on you success in gaining such valuable help for so many people! We know it doesn't alway work out this well, and that makes your successful endeavor even better."
8/16: Garilou Crane wrote... "My dear friend,
You have amazed me at the intuition you took to make this grant happen. I have had so much fun telling the kids in 5th grade about the improvements that will be made in the swimming program. I think it will make all kinds of fireworks at the pool. How fun to be so, in the groove. I can't wait to see the new equipment. Thanks for all the time you put into our swimming program.
Your swimming friend,
Garilou Crane"
8/18: Sandy Kern wrote... "Congratulations, Teresa! I worked with you at the Scott County Family YMCA and didn't realize since my move to Florida that you have taken on so much! You will be an asset to the families in Washington County. Keep up the tremendous job you are doing!!"
8/18: Gail Napier wrote... "Dear Teresa, I read the article in the Courier Journal this morning about your award from Jenny Jones. I am so excited and thrilled for you and all the people of Washington County. What a difference you have made in the lives of children in Salem and Washington Co. with your dedication to swimming. Thank you for all you have done and continue to do for our kids. I am so proud of you. This is icing on the cake.
Your friend,
Gail Napier"
8/20: Deb Ferree wrote... "Teresa, Kate sent me the web site and I wanted to let you know how impressed I am with your commitment to this community and the kids. It is just awesome that you were able to do this. I am proud to call you friend."