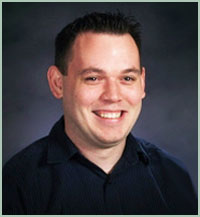 Roger's Photos
Click images to see larger view.
Meet Roger Nott from Logan, Ohio
"Teaching rocks!" That's what special education teacher Roger Knott says. His passion for teaching came through loud and clear in his request for $10,000 to purchase materials that will better meet the needs of his students at Union Furnace Elementary in Logan, Ohio. "I have been a special education teacher for 7 years and I still get excited on my drive into school," he said. "I feel like I am living a dream."
Roger serves as the teacher of the STARS Program ("Successfully Teaching And Reaching Students"), which provides students with emotional disturbances academic and counseling services. He advocates for their best interest and cheers about their successes. When the program started up last school year, Roger was handpicked to be the teacher and even helped name the unit. He says his students, who range in age from 7 to 12, are making many gains, both academically and behaviorally.
Roger wants to improve the STARS program by upgrading technology, purchasing materials and resources to address the sensory needs of students, and upgrading the classroom furniture so that students can be safer and be in a learning environment that embraces the way they learn best.
Roger will spend his $10,000 grant on a digital projector, an elmo machine and presentation cart, computer software to help his students improve in Reading and Math, Sensy Balls, GrabBalls, weighted vests, new activity tables and chairs suitable for emotionally disturbed children, storage units and a bookcases.
We are proud to help Roger continue "living his dream."
Diary Starts Here
March 15, 2012

We received an update from Roger...
"Greetings from a "Jenny's Hero". I hope life is treating you well. I think of your generosity often, especially as I read about the greedy celebrities. :)

I am back in elementary ED world. The early hours of the middle school didn't agree with the family, so I was lucky enough to be able to return to my old stomping grounds. This year is going very well...and it is already March. Time does fly when you are having fun.

On the homefront, life is equally satisfying. Sheri and I will celebrate 7 years of marriage in July. Owen, who turned two in October, is talking all the time... and is trying to boss. A former student of mine, Darrien, has moved in with us for the remainder of his senior year. He has been with us since December. Sheri and I often laugh about having a toddler and a teenager under the same roof. He does great with O and I am thrilled with how hard he is working on improving his grades.

We haven't got a new dogter yet, but are finally looking... probably not until after Sheri's big 3-0 birthday party in May. Anyhow, I should get back to grading papers... the students are going to be back from recess soon. Take care and thanks again for all you do! :)"
August 2, 2010

Here's the latest from Roger...
"I am back in ED world, but this time I am at the middle school. If you remember, they expanded the program I piloted to the middle school last year. They had a tough school year, which among many things, resulted in a case manager leaving in the middle of the year and over this summer the teacher and counselor for the program both chose to go to different positions. This left the program in a pretty ugly spot, so I agreed to take on the challenge of the middle school ED program for this coming year.

I am excited to take on this new adventure. I know most of the students, but I am starting from scratch. The principals have been very supportive and are working on getting me a couple of computers. The room is a large sized room and there is a time out room down the hall for us to use. I have raided my basement, house, and "borrowed" a few things from my mom. Motivating teens is a lot different from motivating elementary children, but I am going to do my best!

I am also sad to report that we lost our dogter, LuLu, this summer. She had a rare blood disorder that she just couldn't overcome. We sure do miss her, but are so thankful for our time with her. I will always remember how affectionate she was with Owen and how they use to french kiss---yuck! :)"
October 23, 2009
Roger's baby arrived yesterday morning! "Owen Matthew" was born on October 22nd at 1:35am weighing 9 lb. 2 oz. and measuring 22.5 inches. Both baby & mom are doing well. Congratulations, Roger and his wife, Sheri!!!!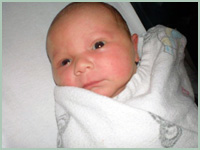 click the image to enlarge
July 15, 2009
Roger and his wife, Sheri, picked a name and when their son arrives in Octorber he will be named Owen Matthew Nott. Below is one of the sonogram pictures that Roger emailed us.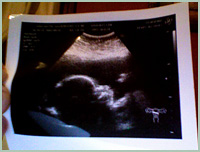 click the image to enlarge
March 30, 2009
!!! Roger's wife is pregnant !!! Congratulations Roger and his wife, Sheri. They are expecting their very first baby in October. "We had our first ultra sound on Monday and heard and saw the baby's heart beat. We also got to see our little peanut! SO EXCITING!"
Sheri is 9 weeks and 5 days today.
February 2, 2009
More exciting news from Roger... "The upper administration of my school district is so pleased with the success of my program that next year the middle school will be doing a similar program, complete with a teacher, aide, case manager, and therapist. This will be great for the students and is quite the compliment to the staff members of the STARS Program. Woo-hoo!"
January 15, 2009
We have exciting news from Roger: He's getting a new classroom next year! Right now, he teaches in a smaller sized classroom without windows and limited storage and space. So this upgrade is GREAT news. It also means the STARS Program will be able to serve more students, which is something Roger was hoping would happen! He recently shared the Geo-Safari laptops with the students and they were an instant hit! The computer program he purchased for Math facts has really helped the students. "It's great to see that all these months later, the materials I purchased with money from your grant are still making a difference in the lives of my students," said Roger.
And since he didn't have to use his personal money to purchase additional academic supplies and resources for the classroom this year he was able to treat his students to a movie over their Christmas break. The students and staff members of the STARS Program watched The Tale of Despereaux. A great time was had by all!
October 28 , 2008
It's nice to know I picked a great recipient in Roger Nott. I hope he knows how highly he's regarded at the school. Here is a letter from retired teacher Esther Palmer...
"Dear Jenny,
Words can not express how I feel about Roger as a teacher and as a friend. I met Roger his first year of teaching, near the end of my teaching career. In the years that Roger and I worked together, I learned more about working with special needs children, than in all my previous years. No words can describe Roger or what he does.....one must witness it!!! I was at Union Furnace Elementary School this week and visited Roger and his students. It was so exciting to see what he has purchased, thanks to you, and how his students are experiencing these new additions. Roger is so deserving and I applaud you for the honor you have given him! Esther Palmer (retired elementary teacher and friend of Roger Nott)"

..and another one from an administrative assistant at the school...
"Thank you, Thank you for everything that you've done for Mr. Nott's classroom. He is so excited to share with his students all the new learning material that your grant provided. The children are beaming with excitement. It's like Christmas. The other staff members are jealous. Please know that your gift will touch many needs, academic and behavior and your gratitude is truly appreciated."

October 16 , 2008
I just love to receive updates on the success of these grants. Here is one from Roger that says it all: "Well, this is the first week that I have been able to use a lot of the new things and I could not be happier! We've used the Elmo and projector to make story problems in Math come to life, used it to showcase student work, and today I used it to make a Halloween story come to life for the students! It is so much fun! Our drying rack is filled with artwork that the students have been working on. My new easel provides me much needed storage for my literature books (We're starting The Boxcar Children next week) and is a big help when I am doing whole group lessons or class meetings. The new camera is charged and will be used to capture the student successes as the year goes on! It's a fun time in the STARS Program!"
October 3 , 2008
Well, Roger's Elmo arrived! He took it home over the weekend to put it together. "A couple other things have come too," says Roger, "my drying rack for the art projects (you have no idea what a lifesaver that is) and some headphones that will be used with the computers! This is such an amazing experience and I am so thankful to have this opportunity. My students, present and in the future, will really benefit from Jenny's generosity! One of my former students, who is now a freshman in high school, delivered one of my packages today. I really am so lucky to be a teacher and to help children tap into their passions and gifts!"
September 28, 2008
It's clear that Roger is well regarded by his peers. Here is an email I received from one of his fellow teachers...
Dear Jenny,
I teach with Mr. Roger Nott and you could not have chosen a better person. He is very dedicated to his students and he deserves everything he can get. Roger is excited to come to school every day and be here for the students. He is a real team player and will help anyone whenever he can. Thank you for helping him make his dream come true.
Sincerely,
Carol S. Buttrick (his friend and a teaching partner)
Carol, It's good to know that my instincts were right. Thanks!
September 18, 2008
Roger got the good news this morning that his request for $10,000 is coming through. My surprise phone call was arranged with the help of Principal Lisa Frasure, who paged Roger to come to the main office for an important meeting. When he walked in, I was already on the speakerphone, his wife Sheri was there, as well as six of his students, several staff members and a newspaper reporter.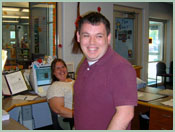 click the image to see a slideshow
Roger is starting his 8th year of teaching and he told me that his students at Union Furnace come from the entire county. He's teaching 4th and 5th grade this year. He and Sheri have been married for 3 years and they have no children but they do have a pug and he promised to send a picture. Shortly after our phone call, Principal Frasure sent out this email to the entire school...
Good Afternoon, I wanted to send CONGRATULATIONS out to Mr. Nott. He received a $10,000.00 grant from the Jenny Jones Foundation this afternoon, via speaker phone with Jenny herself! WAY TO GO, ROGER!!!
9/18: Jenny & Damon wrote... "Congratulations on becoming a part of our special Teachers' Month and for championing the importance of a good education."
9/22: Marcie wrote... "WAY TO GO ROGER! YOU ROCK!!!!! CONGRATULATIONS TO AN EXCELLENT SPECIAL EDUCATOR."
9/24: Brenda Lemon wrote... "A very well deserved award, Roger! Thanks for always going the extra mile for our students!"
Brenda Lemon, President, Logan EA
10/20: Debbie Mohney wrote... " Roger, Your dedication to children is inspirational. You have always been a hero to many children! We are proud of you!"
10/20: Rachelle Lynne wrote... " Congratulations Brother-in-Law!!! I am so excited and proud! It is nice to see someone brightening up the futures of such wonderful, special children. Like they say here in Virginia, No child should be left behind and you, Rog, are taking that extra step to make sure that those kiddos in Ohio are not. Congrats and have fun teaching with all that new stuff! See you at Christmas!
Love,
Rachelle, Sydnie, MacKenzie and Jayson
and Kevin, deployed with the USS Mason"
10/24: Sheri Nott wrote... "No one knows better than me, how much you deserve this grant. I see you working on lesson plans, ideas, and grading papers each weeknight. We come out here to the school each Sunday. And I still remember the fourth of July we spent working in your classroom. And now you have spent each evening online, looking for the best deals; that way your money can go farther than planned. Jenny has made a great investment!! You will use all of your new things to the benefit of your students, and students to come. You are a fantastic teacher! Congratulations!
I love you!"
Sheri
11/17: Bonnie Hahn wrote... " Congratulations!!! What a difference you make in the lives of your students and all the people around you! GO ROGER!!!"