Meet Jennifer Roesch from Warren, Michigan
Teacher, Jennifer Roesch, says her dream is to create a Mobile Computer Lab for use at Loving Elementary in Detroit, Michigan where she teaches third grade. The school is located in an area that has an extremely high rate of poverty, unemployment, and crime and many of these children have never even used a computer. Jennifer requested $25,000 to purchase an Apple Mobile Learning Lab, which she says will benefit the entire school of 400+ students. They would use the laptops to increase their Literacy, Math, and computer skills, all of which are essential to ensure a bright future for these children.
"Our students face so many obstacles in their everyday lives that affect their education and their chances for a successful future," wrote Jennifer in her application, "but through the use of technology, these children can be helped during their formative years and can learn the skills that will help them from now and on into adulthood."
A mobile computer lab is a cost-effective way to share technology among more than one classroom. Laptops are stored within a mobile cart that can be wheeled from one classroom to another. The cart itself acts as both storage and it recharges the batteries for each of the laptops. They are very easy to use and are designed specifically for use in schools.
Diary Starts Here
November 10 , 2008
The computer lab has arrived and Jennifer says the kids love it! They get all kinds of visitors coming to their classroom to watch them in action and everyone is impressed by how quickly the kids have learned to use the Macbooks. Jennifer is also teaching an after school computer tutorial program (using the lab) and the kids can't wait to stay after school so they can jump right back into using the programs.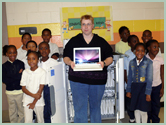 click the image to see a slideshow
September 19, 2008
Jennifer's entire 3rd grade class got to share in receiving the news of her grant. Principal Eddie Mae Huwitte helped set up my surprise call to Jennifer in the school library. This is Jennifer's second year teaching at Loving Elementary and it sounds like they are lucky to have her since she plans to share the new computer lab with all the students from kindergarten to 3rd grade.
9/19: Jenny & Damon wrote... "Congratulations on becoming a part of our special Teachers' Month and for realizing the importance of technology towards a good education."
9/20: Linda wrote... "Congrats Jen on a job well done. We are so proud of you and all that you do for your students. We have seen you in action as a teacher and it shows that you really love and care about all your students. With the addition of this computer lab, your students will have the best that mobile technology has to offer. It will truly make a difference in their lives now and in the future. Keep reaching for the stars. Even the tiniest ripple in the Sea of Life makes a difference.
All our Love,
Mom and Dad"
9/21: Vickie wrote... "Congratulations Jennifer on your achievement in obtaining educational computor tools for your students. They are very fortunate to have you to keep their interests and needs at heart. Keep up the good work and your efforts will be rewarded. Love, Auntie Vickie Kolasa"
9/21: Mandi wrote... "You know how proud I am of you, and I was so glad to be able see you get your surprsie first hand. The excitement of your kids, and your fellow staff spoke leaps and abounds about you. I always told you you were an amazing teacher, and I'm glad it is now being seen on a larger stage."
10/29: Tina Sill wrote... "Hey Cuz! Congratulations! You always speak passionately on how much you care about our leaders of tomorrow! It's so amazing on how technology changes. I started in a class in 9th grade. This generation is practically typing and clicking when they're born. Proud of YOU! Love you, Tina"
11/23: Carol & Rick Gehringer wrote... "Congratulations Jen, Your students are so lucky to have a teacher who really cares about them. One who wants them to have the current technology and necessary tools so that they can get a good education. Great job in getting the computer lab, it will be so helpful for you and your students."