Meet Julia Roberts Boggess from Mt. Juliet, Tennessee
When an elementary school library has books that are stamped "The Negro School," you know they are in dire need of an update. Julia Roberts Boggess is the librarian at West Elementary in Mt. Juliet, Tennessee. When she came on board two years ago, she was shocked to see books from as far back as the 1950s when the school was first established as the African American School. One book about libraries stated, "I visit the library to check out records to play on my phonograph." Julia has worked diligently to update the collection but funds are limited and she has requested $8,000 for new books.
This grant will benefit 450 students each year and since the books will last for many years to come, thousands of students will ultimately benefit from Julia's gift. She has a list of wonderful titles that the library needs to allow their students the best library and educational experience possible.
Julia says she's not a typical librarian and refuses to run a "hush - hush" library. Her best days are filled with students' discovery of worlds they never knew existed through great stories. She loves to help make stories come alive for her students by using different voices for each of a story's characters.
Julia and her husband Mark just had a new baby daughter, Claire and they also have two dogs, Sophie and Rigsby.
Diary Starts Here
March 9, 2009
Isn't it just the sweetest thing to receive thank you's from children? Julie sent me this adorable video that shows how many little lives are benefiting from her gift.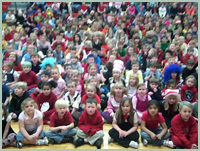 Click the image to see video
December 22, 2008
Julia sent us a quick update...

"I am excited to tell you that our books have arrived!!!!!!! They are still in boxes since we are now out for Winter Break. As soon as we get back we will be unpacking them all. We are going to have an assembly where all of our faculty and staff will share their "book picks" with the students. We are very, very excited! Thanks again for making this possible! I included a picture of Claire to wish you a Merry Christmas!"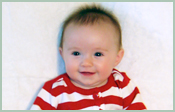 click the image to see larger view
October 31, 2008
If you want to make me all mushy and teary, just send me thank you notes from children. This week I received a huge envelope filled with personal Thank You notes from the children at the library, thanks to Julie. Isn't is exciting to see children excited about books? I'm sure having a librarian who's passionate about children makes a big difference. I spread the notes on my table and took this picture...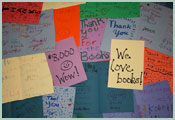 click the image to see larger view
October 13, 2008
Julie says when she goes around town, a lot of people have been stopping to congratulate her on the grant! And all of the students are very excited. They saw her on the news and in the paper and they can't wait for the books to arrive. "Our school secretary joked that she didn't recognize me without my jaw being dropped and my hair flying around from all of the jumping," said Julia. (from the picture in the paper, on the news) "I just giggled."
October 3, 2008
Is that the cutest little baby or what??? After my call to Julie, they sent out this notice to the school:
CONGRATULATIONS Mrs. Julie Boggess from West Elementary!
The West Elementary School library is the winner of an $8000 grant that is sponsored by the Jenny Jones Foundation, which is called Jenny Heroes. Mrs. Boggess on a whim applied for a grant offered by Jenny Jones. Well, the whim paid off. Ms Jones personally called Mrs. Boggess today to announce her as a winner. The $8000 will be used to update the books in the library. Ms. Boggess has been out on maternity leave and was told that Mr. Davis, Wilson County Schools Superintendent, wanted to personally talk to her about ways to update the library. The look on her face was priceless!

September 27, 2008
Julia is still reeling from the news of her grant. She drove in from Bowlilng Green visiting her mother to be at the school but thought it was just for a meeting with the superintendent. She said, "I was so glad someone else insisted on holding my little 7 week-old daughter because I began jumping up and down like a loon." She also emailed me about her plan:
"* Over the last three years I've been compiling a "wish list" of titles that are missing from our shelves. I had hoped to be able to purchase these books over the next several years. Thanks to you I will be able to do this much, much sooner. Tonight I began fine-tuning this list so that our students get the most benefit from this grant. It is a wonderful opportunity to place updated non-fiction books on the shelves. I will also be able to expand our fiction section to include some really great series and titles that we do not currently have available for our kiddos.
* I have emailed all of the faculty and staff at West Elementary asking them to join me in spending this grant. I've asked each of them to give me the title and author of one book they feel we need to add to our collection. We will place a dedication plate on the first page of that book with their name on it. This way everyone has a hand in this wonderful purchase.
* I am also going to order a colorful stamp to stamp inside each book we purchase with your generous gift. The stamp will let everyone know that each book was made possible thanks to the Jenny Jones Foundation 'Jenny's Heroes.'"
September 22, 2008
What an exciting phone call I had today when I surprised Julia with the news of her grant. West Elementary Principal Robbin Morthel staged quite an elaborate "meeting" to get Julia to the school today. She is currently on maternity leave with her 7-week old daughter, Claire, and thought she was coming in to meet with the Director of Schools, Mike Davis, about expanding the library. When I called in on the speakerphone and gave her the good news, Julia was so excited as was everyone else in the room I could barely hear what she was saying. Mike actually was there, along with Principal Robbin and other school board members and everyone was very excited about the new books. Mike thanked me and said this grant would make a big difference at the school.
click the image to see a slideshow
Julia, as I learned today, is a multi-tasker. She told me that she breast feeds and works on the computer at the same time. So she'll be ordering her books right away, from home, probably while breast feeding! Even when she delivered her baby, her water broke at 2:30 in the morning but she still came to the school. "Not today," she told everyone, "I have too much to do." West Elementary is lucky to have someone so dedicated.
9/22/08: Jenny & Damon wrote... "Congratulations on becoming a part of our special Teachers' Month and for realizing the importance of books in children's lives."
9/23/08: Robbin Morthel wrote... "Julia, The "West Elementary Family" is so fortunate to have you as our Librarian. You bring such amazing energy, character, and enthusiasm to our students. It is an honor and privilege to watch the excitement on your face when you talk about our students. I cannot wait to see what you have in store for the students at our school. Your energy is infectious and I love the way you spread it around.
Robbin Morthel, Principal"
9/23/08: Heather Butler wrote... "I am so excited for you and for our school. When I found out the news I told Aidan and Addison! I told them the library will be receiving $8,000 for new books! Of course, Addison screamed and jumped up and down with all of the enthusiasm of a 7 year old. I can't wait for the kids to start checking out the new books, so we can go on wonderful adventures together! Thanks for all you do to make reading fun for our kids! West is the best because of teachers like you!
Blessings,
Heather Butler"
9/23/08: Jennifer Sloan wrote... "Julia, my dear friend and fellow educator, I am so proud of you. Your genuine love of children and books is a wonderful combination. I'm thrilled you are able to better your library and school. I know it has been an important goal for you. Congratulations on being chosen as one of Jenny's Heroes."
Jennifer Sloan
9/23/08: Julie Smith wrote... "Mrs. Boggess, words can not express how excited we are to learn that you won!!!!!!!!! Which translates into our children won!! You have been such an asset to our school. I have been blessed to work with you and the love of reading you have helped to foster with Robert Del will have a lasting effect. Devin can not wait to get a new book. Take care of that sweet baby and come back soon. We miss you!"
Julie Smith
9/24/08: Alicia Porto wrote... "What can I say that I haven't said a million times about you and your dreams for our Library! Working with you is a true blessing and joy. Knowing that you are truly dedicated to all of your students makes all of the hard work worth it. I know that you will continue to take this Library to another level. I am very happy and excited that this has taken place for you and our students. I know that it could not have happened at a better time in your life. I will just say one thing to sum this all up "You Rock!"
Alicia Porto
Library Assistant
West Elementary School
9/24/08: Anna Woodring wrote... "Wow! I am so proud of my good friend Julia! This award could not go to a more dedicated individual. I know you will be busy looking for books and items for those wonderful kiddos! Congratulations!"
9/24/08: Stacie Kerney wrote... "I am SOOOOO Proud of you. Not only are you a great friend and mom, but a great teacher. You teach me new things all of the time. Your students are truly lucky to have you care and love them so much."
Mrs. Kerney
1st grade Team Teaching
West Elementary
9/24/08: Wendy Williams wrote... "Way to go, Julie! You are a tremendous assest to West Elementary."
Wendy Williams
Physical Education
West Elementary
9/24/08: Susan Parker wrote... "I cried when I heard about the money and I cried looking at the wonderful news on the website. What a miracle your incredible energy is for our school. The blessing of this money and your presence will multiply so many times! Just think how many people will be affected! West continues to benefit from your invovement and generosity and we appreciate so much your request to this wonderful organization. Can't wait to get a new book and read it to your little princess!"
Susan and Noah Parker
9/24/08: B Carol Tramel wrote... "Wow, what a terrific surprise! Our school has needed new books for a long time. Thank you for working to get them for us. Keep up the good work!"
9/24/08: Judy Bellemere wrote... "Dear Julia, (we call her Julie!) To make the child a well educated person, which will, in turn, make our country and world a better place...this is what you and your parents, Drs.Julia and Dick Roberts do, and do so well. It is that extra surge of energy and persistence that brings about great possibilities, and how wonderful for your school that they have a Julia Roberts Boggess in the library! (Not to mention the presence of the adorable Claire Elizabeth!) Julie, your dedication is an inspiration to all of us who care about children. I wish our little grandchildren could have the benefit of such a stimulating lady in their libraries. Congratulations! When you develop a national periodical or book with your school as the model, won't you need a slightly aging illustrator?"
Admiringly,
Judy and Fred Bellemere
9/24/08: Vikki Adkins wrote... "Julia, Thank you for letting me share your joy in getting the grant. I am so glad I came and got to see your face when you got the news. Thank you for letting me hold little Claire, she is a sweetie! As a parent of 2 children at MJE any chance I could steal you to come to our library? Congratulations, and thanks for your hard work."
Vikki Adkins, School Board
9/25/08: Molly Newsom wrote... "Julie, Congratulations on being chosen as one of 'Jenny's Heroes'! You and the students at West are so deserving. I know the challenges you were faced with when you came to the West Elem. library. You have done an outstanding job updating the facility as quickly as you have. This donation will enable you to achieve your other goals even sooner than expected. The students are lucky to have you as their Media Specialist!~"
Molly G. Newsom
Scholastic Book Fairs
Nashville
9/26/08: Joyce Ann wrote... "I am so proud of you and your winning the generous grant for books in your school's library! Not only was it a wonderful 'gift' to you but to the whole school family. You are indeed a multi-tasker... with all I know you are doing these days"
9/27/08: "Julia Roberts" wrote... "Dear Julie, from the time that you first came into this world, books have been an
important part of your life. I am so proud for you for receiving this grant that will allow you to share more books with students at West Elementary School. You have always been one of my heroes, and I am so happy that ou have been named one of Jenny's Heroes."
Love,
Julia Roberts
(Julie's mother)
9/28/08: Rebecca Clark wrote... "Julia, I knew when you started Student Teaching in our classroom many years ago, I was confident you would do great things with your students and make a difference in their lives, and you have. I am so very proud of you!"
Rebecca Clark
10/03/08: Mary wrote... "Julie, I have watched you work with your nieces and nephews for years. Obviously, you have a special gift for making education and books come alive for children! The opportunity to update the library will make a difference in the lives of students in the school. Education is about changing lives. Keep up the good work!"
Aunt Mary
10/04/08: Anna Jo Johnson wrote... "Julie: Ihave just visited with your mother and learned of this wonderful grant you have received. I know how important books are to you and all of your family. Congratulations on this award and your beautiful daughter who will benefit from books as you have."
Anna Jo Johnson
(family friend)