Meet Marcos Mendoza from Northridge, California
As a band director in the San Fernando Valley area of Los Angeles for 23 years, Marcos Mendoza knows many kids who don't have a chance to perform in the community. To assist high school musicians who want to participate but do not have an instrument due to school cutbacks, he recently formed the Valley Youth Jazz Band & Drum Line. But students are being turned away due to lack of instruments, so Marcos has requested $20,000 to purchase new instruments that would enable many more students to join and participate.
His grant will provide:
• 3 marching snare drums
• 4 marching bass drums
• 2 sets of field-corps toms
• 4 bass drum carriers
• 3 snare drum carriers
• 2 tom carriers
• 2 trumpets
• 2 trombones
• 5 saxophones
• 1 set of cymbals

Marcos works at 2 Catholic parochial schools: St. Bridget of Sweden in Van Nuys, and Our Lady of Lourdes in Northridge, CA. He teaches singing to all grades (K–8) in preparation for Masses, Christmas, Spring Concerts, and other special occasions.
Diary Starts Here
November 12, 2009
Marcos and his Valley Youth Jazz Band & Drum Line are participating in a Benefit Concert for the Music Ministry at St. Bridget of Sweden Church this Saturday, November 14th at 7pm.

click the image to enlarge
September 17th, 2009
Marcos emailed this letter to all his supporters today...

"Hi Everyone!

This is Marcos Mendoza with info about our new season for the Valley Youth Jazz Band & Drum Line THANK YOU for your support in the past for our group! We have been able to accomplish so much thanks in large part to the support and generosity of all our friends and boosters, and for this I am grateful.

Please check out the recruitment brochure below! We have much to be proud of in our first 2 years, and I'm looking forward to another successful year ahead! If you know of ANYONE who might be interested, please forward to them this email! There are MANY kids out there who would benefit by becoming a part of our group... so please spread the word!

Please check out valleyjazzdrumline.org for more information including upcoming gigs! More info on the San Francisco trip, and our schedule! Thanks again for your past support! With your help and interest, we can continue to work with young musicians and achieve great things..."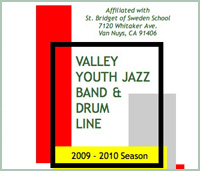 click the image to enlarge
May 4, 2009
Marcos sent us a kind note today...

"Thanks for all your support in making this possible! The Valley Youth Jazz Band & Drum Line achieved the top instrumental score at the Heritage Festival in Las Vegas, Nevada in April of 2009!! Please see the attached flyer for some pictures from the weekend of April 17 - 19, as we performed and had an enjoyable and productive tour!

Also, please don't forget to visit our web site, valleyjazzdrumline.org for information on upcoming performances in the next few months. Thanks again!"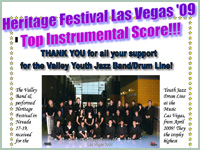 click the image to enlarge
March 26, 2009
Damon put together some video clips from last weekend's concert. It was over an hour long so these are just a few of the highlights. Enjoy...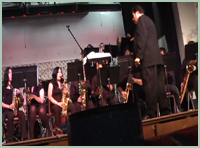 Click the image to see the video
March 22, 2009
I went to see the Jazz Band & Drum Line perform last night and they were great! The fundraiser drew a lot of people at it was a thrill to see all the new musical instruments in action. Denis and I sat with Marcos's parents and aunt who turned out to be great company and the nicest (& proudest) people. The kids put on an amazing big band show with classic songs like Night and Day, I've Got You Under My Skin, Tuxedo Junction, and Rock Around The Clock. I was especially impressed with the drummer, Jason Aguja. The Drum Line put on an impressive show and those new drums looked and sounded fantastic! I was presented flowers to acknowledge my donation and they're now in a vase at home. We took lots of pictures and video which are posted below. It was a spectacular evening, all because of a very special teacher.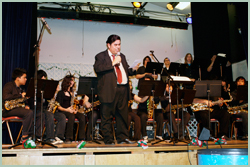 click the image to see a slideshow
March 9, 2009
Marcos and his Valley Youth Jazz Band & Drum Line are holding their annual Mexican Dinner Fundraiser on Saturday, March 21st at 7:00pm...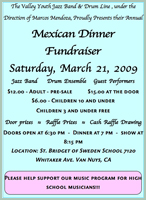 click the image to enlarge
December 22, 2008
Today, Marcos emailed the following to all of his supporters...

"To all who participated, THANK YOU for a great night of Christmas caroling and sharing with the community on Friday, Dec. 19! Members of the Valley Youth Jazz Band & Drum Line took their Christmas spirit out to the neighborhood in Woodland Hills known as "Candy Cane Lane", where they played Christmas music for the people in the neighborhood as well as people touring the area to look at the beautifully decorated homes!
Many wishes of "Merry Christmas" floated though the air as the group played holiday music in front of various homes. One resident even offered us $2000 to return the next night to play at their Christmas party!! (unfortunately the details did not work out, but still how cool!!)
Many thanks are in order, especially to Jenny Jones and to Jenny's Heroes, whose generous grant allowed us to purchase new instruments and drum equipment that we were able to take out in public for the first time! Our community impact will increase thanks to your thoughtfulness and support... thank you!
To all who have supported us in the past, thank you! Our kids could not do any of this without the support of family and friends old and new! Please keep us in mind for two upcoming events: our MEXICAN DINNER PERFORMANCE FUNDRAISER on Saturday, March 28, 2009, and our performance at the Heritage Music Festival in Las Vegas April 17 - 19, 2009!
To all our members, families, supporters, and friends, have a warm and safe holiday season, and Merry Christmas!"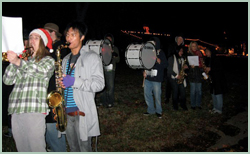 click the image to see a slideshow
November 10, 2008
It was so exciting to see the instruments arrive at the school on Friday. When I first got there, the students were playing and Marcos let me come in and listen. They were really good! Then the U-Haul trailer pulled up and we all unloaded boxes filled with Yamaha instruments. John, the owner of Pedersen's Band & Orchestra, loaded everything up himself and delivered it personally to the school. The kids were thrilled to see shiny new drums, saxes, trumpets and more. I even got to play a few riffs on the drums. Marcos presented me with flowers and the kids gave me hand-written thank you notes. I can't wait to see one of their concerts! I brought my camera and we took lots of pictures. Here are the best ones...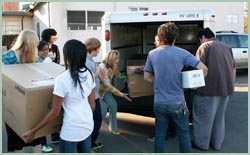 click the image to see a slideshow
November 7, 2008
They're here! I'm on my way over to the school to see the truck arrive full of musical instruments. John Pedersen himself is loading up a U-Haul truck and driving over from Burbank and I'm heading there with my camera so we'll have lots of pictures.
October 27, 2008
The new instruments are finally on order! We are getting them from Pedersen's Band & Orchestra in Burbank, California and I spoke to the owner, John, who was kind enough to absorb the shipping cost (at his own suggestion) which will save us over $500.! Thank you, John. I invite anyone in the area who needs instruments to call Pedersen's.www.pbando.com
September 23, 2008
What an awesome morning this was! Damon and I drove to the school to surprise Marcos and it was fantastic. Our ally was school administrator Peggy Sloniker and she arranged to have all his students outside in the playground and then called Marcos out. When he saw me he was totally surprised and the kids were cheering when they heard the news.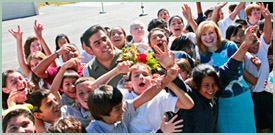 click the image to see a slideshow
What a nice man he is and he's clearly loved by the students as well as the staff. The best part of it for me, besides being able to surprise him in person, is that I can also go and see the band perform. I can't wait!
9/23/08: Jenny & Damon wrote... "Congratulations on becoming a part of our special Teachers' Month and for realizing the value of music for today's youth."
9/23/08: Mary Janus wrote... "This is Awesome!! Marcos, you and the band are great and give so much to the community! This summer you're joining in two events at Our Lady of Lourdes in Northridge in honor of her 50th Anniversary. Thanks Marcos and band. Best of Luck!
Mary Janus, Director of Liturgy and Harmonia Choir"
9/23/08: Ellen Rundle wrote... "Marcos, this is truly impressive, my congratulations to you and your kids. You are a blessing to the community. Wow!"
Ellen Rundle
9/24/08: Caron wrote... "Marcos, You are Awesome! Congratulations!"
The Willits
9/24/08: Carol Schultz wrote... "CONGRATULATIONS!!! Marcos, these kids are fantastic and I have so enjoyed hearing them play this year. You are definitely a blessing to the community and those in the youth band. I imagine that there are many more that will benefit from your musical and teaching talents. I am proud to say I know you! Keep it up!"
Carol L. Schultz
9/24/08: Kathy Craven wrote... "Marcos, Congratulations!!! We are so lucky to have you at St. Bridget of Sweden School. We all love you."
Kathy Craven
10/23/08: 'Accounting Department' wrote... "Congratulations Mr. Mendoza. We are very pround of you and thank you for the care and love you give our children at St. Bridget. All the children are winners because of you."
Lucien and Elvira Duran