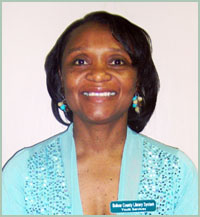 Bobbie's Photos
Click images to see larger view.
Meet Bobbie Matheney from Merigold, Mississippi
"I dream of our Children's Rooms as being warm, vibrant spaces that happy children flock to for both recreation and learning," said our newest hero Bobbie Matheney from Merigold, Mississippi. As the children's librarian for the Bolivar County Library in Cleveland, Mississippi, Bobbie knows that the communities her library and branches serve are among the poorest in the state. Most residents cannot afford computers and depend on the library for access to technology.
Bobbie requested $25,000 to purchase new computers that are designed for children aged eight and under, and are installed without Internet access. She will also purchase new workstations, shelving, furniture and giant animal floor cushions to make her library and seven branches even more fun for children. Bobbie had a partner in applying for this grant, Tamara Blackwell, who also works for the Bolivar Country Library. It was Tamara who discovered Jenny's Heroes on the Internet.
As the children's librarian, Bobbie stays quite busy. She prepares for her weekly story hour choosing a different topic each week, building the hour with different activities including story time, games, videos, and coloring, then ending with a treat. She often creates a costume to wear to capture the children's attention and imagination. And there's more. She also visits schools to promote literacy, and takes serious care of the library's Children's Room, right down to daily dusting and vacuuming.
Bobbie says over 900 children within the county could benefit from her gift.
Diary Starts Here
April 7, 2009
Bobbie sent us an email today, she wrote... "Here are some pictures of the children's room COMPLETE. I am so happy! It looks so beautiful. Thanks to The Jenny Jones Foundation!! Thanks again, Bobbie"
January 21, 2009
Things are coming along at the library. Bobbie's end panels are up and she's having a striking mural done by a 26-year old local artist named Greg Davis. He spent 2 weeks working on the lion mural and Bobbie also sent us a drawing he did of our new President.
December 5, 2008
Here are some pictures of Bobbie's new colorful plush animals, magazine rack, red book cart, and purple chairs.
December 2, 2008
Bobbie sent us some pictures recently of the computers and workstations that have arrived.
November 10, 2008
Bobbie tells us that their seven children's computers have arrived and they are just waiting for the work stations so they can all be delivered to the branches. And on a personal note, her new grand-daughter weighs 3 lbs and 11 oz. She is still in the hospital in Jackson, Mississippi and her daughter stays in the Ronald McDonald House on the University Hospital grounds there. Once the baby weighs 5 lbs, then she can come home.
September 30, 2008
We received this email from Bobbie after my surprise call. " I have finally come back down to earth a bit," said Bobbie. "After five, my day was filled with phone calls from my friends and family congratulating me on receiving the Jennys Heroes $25,000 grant. I will be forever grateful to Jenny Jones and her generosity. My ideas were centered around a grant writing committee that consisted of our Director Lynn Shurden, Assistant Director Linda Kern, Adult Services Librarian Tamara Blackwell and myself. We all worked really hard together in order to get this done. And finally, I am ready to SHOP!!"
September 29, 2008
"Are you sure this isn't a big practical joke?" That's what Bobbie kept asking after I called her today. My surprise call was orchestrated by the library's assistant director, Linda Kern, who gathered everyone in the children's room for my call.

The press was there as well as a library board member, several employees, and Tamara Blackwell who initiated this grant for Bobbie. When Bobbie walked in, I was already on the speakerphone. She was very excited about the news and when we spoke later, she said she was still shaking and beyond excited and she had already called her husband, Everett, with the good news. She also told me that her first grandchild is coming in December!
9/29/08: Jenny & Damon wrote... "Congratulations on becoming a part of our special Month for Schools & Education and for doing so much to benefit your community."
10/01/08: Liz R. wrote... "Hi Bobbie, just think. Your efforts may well have given your students that extra boost they need to excel even farther. I'm sure just the thrill of being able to do more exploring, and the excitement of new "stuff" always makes them want to learn more and explore. You never know at this point just how much good will come from all this. Good for you for getting out there and doing it."
Liz
10/04/08: Gwen Meador wrote... "I have a picture of my daughter Allyn when she was 4 and attended story hour. She is now 26. So happy for everyone at Bolivar County Library System. Have fun shopping and fixing up for the kids. Thanks, Jenny."
Gwen Meador