Meet Diane D'Errico from Warwick, Rhode Island
Besides being our hero, Diane D'Errico is also a hero to the many children living in six domestic violence shelters in Rhode Island. As an administrator with The Rhode Island Coalition Against Domestic Violence, Diane says she wants "little ones who have no voice and are still victims of this trauma to feel comfortable in their new schools." Diane requested $9,000 so that each school age child receives a sturdy back pack filled with markers, pads, pencils, rulers, etc., as well as winter coats and boots. She chose this line of work because she feels blessed and wants to give something back.
Diane is a single mom with two children. Her daughter is an environmentalist and her son just finished a residency in internal medicine and is now a fellow in Cardiology. She's very proud of her children and two grandchildren. And we are very proud of Diane for providing school supplies and warm clothes to these children.
Diary Starts Here
March 4, 2009
Diane just placed another order for their teens, who are referred through one of their human service agencies (they serve 10 cities and towns in RI). Believe it or not, several are homeless, and one young man was living in a car. They are often victims of violence or have parents who are addicted and throw them out (or beat them). The situation is bleak, and this is a rural community. "I will be placing another order for them next week," Diane said. "You cannot imagine how this helps."

"It has been a very long, very cold winter in Rhode Island," wrote Diane in another email. "The generosity of Jenny's gift has helped us to keep many children warm and cozy. We have also been lucky enough to purchase school and art supplies for use by the after-school tutor with the children in shelter. We are now beginning to order spring jackets, etc. with the hope that the warm weather will eventually be here!! Thank you Jenny for your quiet generosity!" And thank you, Diane, for all the good work you are doing with these children.
February 3, 2009
It was time to get more school and homework supplies from Target so Diane sent us her order. She said the kids already went through the first batch and their after school tutor was most grateful to be able to order more!
January 22, 2009
Diane told me she was excited about our new president but so is her granddaughter, Emma. She even wrote a special letter to President Obama.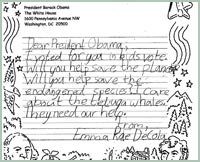 click the image to see larger view
November 14, 2008
What a bargain shopper Diane is! She shopped at Target and just bought 125 items including everything from glue sticks, postits, and calculators to over 100 warm coats, jacket and boots. Don't you love Target? She even sent us pictures of some of the children wearing their new coats (faces couldn't be shown). Great job, Diane!
October 8, 2008
"I am getting my 'shopping shoes' on and going to look for some great bargains." That's what Diane said in her last email. We look forward to seeing her shopping list.
October 2, 2008
When Diane was told she had an important phone call, the first thing she said was, "Am I fired?" She quickly learned that she wasn't fired, but she was fired up! Diane was laughing and crying at the same time when I told her she would be receiving the $9,000 she requested. Diane told me it was her grandchildren who inspired her to make this gift. She said she saw them going off to school with their cute little backpacks filled with school supplies and wanted the children at the shelter to have the same. Approximately 100 children will benefit from Diane's gift. Her co-worker, Nancy Clancy, took pictures for us of Diane on the phone.

10/02/08: Janny & Damon wrote... "Congratulations on becoming a part of our special Education Month and for helping these children adjust and fit in to their new schools."
10/07/08: Mary Lou Haren wrote... "What a wonderful gift for the children! And it is so like Diane to learn about and take advantage of these unique funding opportunities. Thank you Jenny – you are both my heroes!"
10/07/08: Tish Devaney wrote... "Diane – you are such a wonderful person and do such good things in your life! Jenny's Heroes made a great choice in selecting you and your vision of providing school supplies to young children. You are my hero! You could rename the program Diane's Heroes (sorry Jenny!) And since I have the pleasure of knowing your grandchildren, I can see why they inspire you! I'm blessed to call you my friend."
10/07/08: Penny Keenan wrote... "Those of us who are fortunate enough to have the "trimmings" of daily life can lose sight of how important it is for kids to have the externals that make them feel a part of their peer group. These children are indeed lucky to have Diane on their side!"
10/20/08: Liz Cimini wrote... "Having known Diane for 40+ years, I'm not surprised that she was a successful applicant. Her education and intelligence would certainly have made it possible to go for high paying private sector jobs, but she's chosen to always work for nonprofits. They have always valued her skills."
10/21/08: Emma & Sofia wrote... "We are so proud of our Nonie!! You are setting such a great example about the importance of sharing with children who are in need. We love you Nonie!!! Love, Emma & Sofia"
10/24/08: Patty Marino wrote... "Diane is the most unselfish person I know. She will always help anyone in need. She is a great example of how we should all treat others. I am not surprised she was given this honor. Way to go, Di."
11/17/08: Linda Impagliazzo wrote... "I have had the fortunate opportunity to have known Diane for many years as a colleague and friend. She is a very caring and dedicated person who is willing to share her good fortune with others. Because of Diane, our agency is able to provide new winter coats and shoes to the children living in our Safe Home and Transitional Housing Program. Diane and "Jenny's Heroes" have truly made a difference in the lives of families who come to our agency. Thank you so much!"
Linda Impagliazzo
Executive Director
Blackstone Valley Advocacy Center
12/01/08: Mary Roda wrote... "Diane, I wish you could have seen the looks of joy, gratitude and relief on the faces of the mothers who were given new winter coats and shoes for their children because of your efforts. Thank you for being so dedicated to this work and for your concern for those in need.
Backpacks, school supplies......remember the thrill of new, pointed unbroken crayons? Thank you for making the transition into a new school a little bit
easier for the children in our Safe Home. As they say, Diane, You Rock!! Congratulations on being selected one of Jenny's Heroes!"
Sincerely,
Mary Roda
Executive Director
Domestic Violence Resource Center of South County