Meet Russ Stewart from St. Marys, Kansas
"He's a great human being who devotes his life to other people," said our newest hero's wife. Russ Stewart is a Maintenance and Environmental Services Supervisor at St. Marys Manor, a retirement home in St. Marys, Kansas. Russ requested $25,000 to provide the seniors with a home theatre, consisting of a Bose surround system, high definition flat screen, and special lighting and curtains, complete with a popcorn machine. The nursing home also serves as a gathering place for this entire small town. The home theatre will bring fun to the Manor's residents who are unable to leave the property, their family members, and other elders in the rural community of 2,200.
Russ quit his job as a meat packer to work in the nursing home at a job he loves. He cares for the daily needs of the residents doing everything from changing light bulbs, painting, or taking residents to the doctor, to repairing wheelchairs and high tech medical equipment. After ten years on the job, Russ says the elderly residents are like family to him. He even contributed funds from his own vacation account to help build a waterfall they can see from their wheelchairs.
"Margaret simply wished to go to a movie," he wrote in his application, "however, her physical condition prevented this simple request. In my dream, on one special morning, a squadron of friends, volunteers and contractors arrive at the nursing home to create a unique home theater consisting of a Bose surround system, high definition flat screen, and special theater lighting, complete with a curtain and hot buttered popcorn."
Russ wants to renovate an existing chapel to become both a chapel and a theater for the residents whose poor health keeps them from going out to the movies. "It really all started a few years ago when we received 41 tickets to attend a concert in Topeka, and yet, due to poor physical health, only one resident could go. We started brainstorming then, ways to bring the concert to the residents and came up with the theater idea. A local interior designer, Leslie Gideon, was excited about the project and donated her time to select paint themes, carpet, curtains, lighting, seating, etc… to really replicate a theater, complete with a movie curtain, high quality visual & sound, even the aroma of hot buttered popcorn."
Russ's wife, Terri, is a registered nurse and she told me that she and Russ met when they were 15, married at 17, and have been married for 32 years. They have 2 children, Bradley (in Nebraska) and Kelli, a nurse's aide who also works at St. Marys Manor. They have five grandchildren:
Courtney, 19
Brandon, 15
Kierra, 8
Cole, 7
Jocelyn, 4
We look forward to featuring some of St. Marys' residents and volunteers in the future, one of whom is 100 years old and comes by to entertain everyone on the piano.
Diary Starts Here
March 24th, 2009
Below is a link to a video from KSNT Channel 27 News which covered the grand opening event.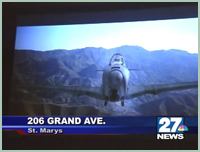 Click the image to watch the video
February 28, 2009
"The stretch hummer was an unexpected surprise," said Russ, " and sharing the ride with my wife and granddaughter Jocelyn was amazing." His favorite part of the event was watching the residents' faces light up as he told them that this room was for them as they cut the ribbon to signify the grand opening of the media room. Russ said the residents, their family members, guests and the staff all enjoyed the catering and every detail of the event was "executed so perfectly that it was spectacular in its entirety."

February 18, 2009
The Academy Awards may be this weekend, but St. Marys Manor might have put them to shame with a spectacular event of their own today. It was the grand opening of the new chapel-theater and what a day it was. Imagine our hero, Russ, arriving in a Hummer stretch limousine. It may the longest limousine I have ever seen! Russ's granddaughter blindfolded him for his surprise trip in the Hummer. The event was catered by Brick Oven Courtyard Grille and Tricia Adolphson, their
Director of Catering, was kind enough to donate a $50 gift certificate to Russ and his wife. After the ribbon cutting, when the theater was finally unveiled, everyone was in awe of the beautiful art deco design. Over a hundred guests attended to extend their congratulations and appreciation, even a tearful appreciation from the daughter of a resident who passed away just weeks ago. All in all, it was a great culmination of years of planning and months of hard work with the support of so many. Congratulations to Russ, Michael Bomberger, and everyone at St. Marys Manor! Here are some great photos from today's event...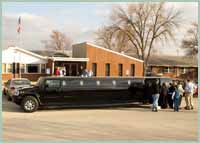 click the image to see a slideshow
February 2, 2009
Well, this room is turning out to be much more than just a movie theater. They're going high-tech! Piping the image & sound to individual rooms will allow residents to enjoy a movie, HDTV, or church service from the comfort of their own rooms, and when the camera is not in use, a menu will fill the void on that channel to provide information as if it were their own cable station… i.e., meals, activities like "wii bowling at 10:00 am, movie at 3:00 pm, time, weather, current events, birthdays, etc…"
They are still perfecting the image and sound using a laptop and some 32 different readings to ensure optimal performance. The residents did enjoy a sneak preview this weekend with their own Super Bowl party, and they are planning trips abroad by combining a themed dinner (Italian, French, etc) and decorations with a Over Italy, France, etc., blu-ray dvd to complete the trip. If all goes well, the grand opening will take place on Feb. 18th.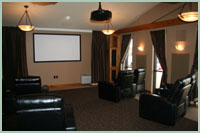 click the image to see a slideshow
January 19, 2009
It's almost ready. We're already talking about the big grand opening which should take place in the next 2-3 weeks. Michael says he expects close to 200 people!
January 9, 2009
Congratulations to Michael, Russ, and the staff at St. Marys for being awarded a Five-Star rating from the Centers for Medicare & Medicaid Services.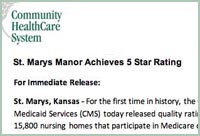 click the image to see larger view
"I won't try to describe how challenging it is to climb this mountain, every day, and stay there," said Michael. Considering how few fives are awarded, this just confirms that I picked the right person and the right place for this grant. Damon and I are proud to be a part of this very exciting project.
January 8, 2009
"We can almost smell the popcorn!" That's what Michael Bomberger says about how close they are to their grand opening. It's probably going to happen in the next couple of weeks. The center beam wrap is up, the cabinetry is done, and the seats have arrived! Michael says It is "take your breath away beautiful." Exciting News – They have raised $10,635.28 including a $5K donation from a locally owned family business to provide a live feed from the Chapel Theater to individual resident rooms! Whether a Mass, Church Service, Movie or Presentation, residents will be able to tune in from the comfort of their own rooms.

December 18, 2008
The cabinetry and wood trim have arrived... It will be installed shortly.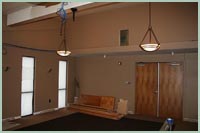 click the image to see a slideshow
December 9, 2008
Here are the most recent construction photos... It's all coming along very nicely.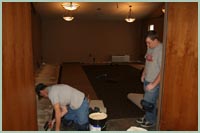 click the image to see a slideshow
December 3, 2008
Michael Bomberger, Director of St. Marys Manor, has been sending us lots of photos documenting the progress of the new theater.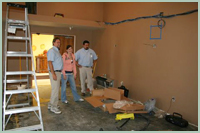 click the image to see a slideshow
December 2, 2008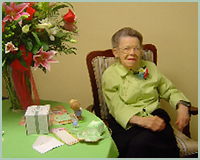 Name: Leona Margaret Wright
Age: 100 years old
Occupation: Entertainer
She's one hundred years old and plays piano every week at the nursing home. Leona Margaret Wright was born on July 11th, 1908 on a farm in Arispie, Kansas. She was the second daughter of Robert Burns Wright and Alma Leona (Flynn) Wright, having two sisters, Rheva and Agnes, and two brothers, Jack and Norman.
Leona's grandfather, John Wright, left Scotland for America in 1870. He was 28 years old when he arrived by ship after the Civil War when the government was giving land in Kansas to build a railroad. John worked for the Union Pacific Railway from Kansas City to Wallace, Kansas, where he quit and traveled to Chicago to help rebuild the city after the great fire of 1871.
After buying land, John returned to Scotland in 1875 to marry Marion Miller and the couple returned to farm and raise a family. Their oldest son Robert Burns married Alma Leona Flynn. They settled in Arispie, Kansas and raised their family of 2 sons and 3 daughters, including Leona.
When Leona was born in 1908, Theodore Roosevelt was in office. So far, she has lived through 17 presidents, WWI, WWII, Korea, Vietnam, Desert Storm and Iraqi Freedom. The U.S. population has grown from approximately 90 million in 1908 to over 300 million today.
Leona attended the Arispie grade school and she recalls her father teaching her fractions by cutting up apples. While attending high school in Onaga, she worked part-time, taught bible study, and she also became proficient on the piano. She eventually taught piano for 50 cents a lesson, often traveling to teach on horse and buggy.
Her grandmother was hard of hearing and they had to talk to her through a megaphone device held to her ear. When Leona would play the piano, grandma would place her teeth against the piano to feel the music as Leona played. She still plays the piano one morning a week at the St. Mary's Manor.
For ten years, Leona was a teacher in a one room school with a wood stove for heat. Then she changed careers by attending beauty school and in 1937, she purchased her own beauty salon in St. Marys, which she operated for over 60 years. An active member of the St. Marys Chamber of Commerce, she served as a chairperson for the American Heart Association, taught Menninger Bible Study to members of her church, and always found time to volunteer. These days, Leona enjoys car trips to new and interesting locations and lunch at the café in Wamego with a slice of lemon pie for dessert. She especially loves to play piano at the Manor every week and entertain all the residents. What in inspiration she is! Wouldn't we all love to follow in Leona's footsteps!
Leona has seen many new inventions in her lifetime. Since 1908, here are just a few…
Cars • Instant coffee • Motion pictures • Life saver candy • Crossword puzzles • Radio • Zippers • Pop up toaster • Bandaid • Brassiere • Hearing aid • Plastic • Insulin • Traffic signal • Television • Self winding watch • Frozen food • Pez dispenser • Aerosol can • Penicillin • Bubble gum • Frisbee • Yo-yo • Scotch tape • Jet engine • Credit card • Parking meter • Monopoly • Beer can • Ballpoint pen • Teflon • Computer • Rubber • Slinky • Silly putty • Polio vaccine • Microwave • Tupperware • Frisbee • Seat belts • Velcro • Cake mix • Credit card • VCR • Mr. Potatohead • Power steering • Pacemaker • Astroturf • Internet • Contact lens • Bar-code scanner • Video game • Post-it notes • MRI • Cell phones • Hepatitis B vaccine • Doppler radar • Internet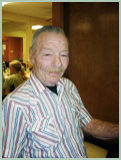 Name: Leo Okerson
Age: 77 years old
Occupation: Project Foreman
The Project Foreman of the new theater is Leo Okerson. He participates in project meetings and offers leadership and insight, but more importantly he is the voice of the residents in whose home the chapel/theater is being developed. Leo was born in Fresno, California and grew up as a grape farmer. At 18, he enlisted in the Navy and served for 4 years. Leo has been around construction all his life and spent 30 years working for the telephone company. He moved to Kansas to be close to friends in St. Marys. He enjoys hunting, fishing, and he used to water ski. He's also a fan of baseball, basketball, football, and auto racing. He has two sons living in California, and six grandchildren.
October 28, 2008
Things are moving along with the chapel theater. Director Michael Bomberger tells me they've been taking time to make sure all the elements are working in concert to create that just right experience. "We want to be wise stewards of the gift...the first coat of paint is planned for this week. The community is really coming together over this... last night we selected lights (hanging and sconces), carpet and carpet design layout, paints, curtains, seating, including a bench seat along the back wall which will
double for activity storage, bean bags, etc." I can hardly wait to see the new theater!
October 16, 2008
We received a note from a woman named Pamela that I'd like to share. It gives great insight about where this grant is going and the kind of people who will benefit...
"What a wonderful and generous gift you have bestowed upon the residence and community of St. Marys, Kansas. You know these people are the back bone of our nation. So many of these people worked the farms and fields in the Rolling Hills of Kansas. The people that reside there are the Meat and Tater kind, the ones that gave food, shelter and often times the last slice of bread to a neighbor or even a stranger.

I don't know Rusty, but this is a testimony to the love that resides within the walls of The Manor. In the event that someday I may need assistance, I pray there is room for me at The Manor."
October 14, 2008
What a huge surprise this was to Russ. My phone call was orchestrated by the Director of St. Marys Manor, Michael Bomberger, who arranged to have Russ's wife, Terri, in the room, along with his daughter, Kelli, and about 35 other people who all applauded when I told Russ on speakerphone that he was getting his grant. Michael even set up a Polycom meeting with the parent company in Omega, to allow some of Russ's fellow workers to share in the fun. The TV news and newspaper reporters were also there. I think Russ was really shocked that I had already spoken to his wife yesterday so it looks like everyone kept the secret.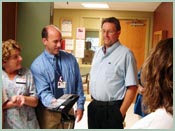 click the image to see a slideshow
I checked in a little later with Michael who told me that Russ and Terri went to personally tell the residents about the good news which was met with great joy and emotion.
10/14/08: Jenny & Damon wrote... "Russ, it takes a kind heart to look after seniors who often get forgotten. Your gift will bring fun and excitement to everyone there."
10/15/08: Chris & Suzanne wrote... "Congratulations Uncle Russ! You are an amazing person who truly gives back 100% to your family, friends and community. This is just one of so many things you do to make people's lives better. We are so proud of you!"
Love,
Chris, Suzanne, Evan & Levi
10/15/08: Linda Pruski wrote... "Congratulations, Russ. You truly have the heart of a servant. Thank you so much for your work on behalf of the residents at St Marys Manor. You do so many nice things for them, above and beyond the call of duty; your proposal to Jenny Jones is just one example of your efforts. I know it will be an exciting time to see this vision become a reality. I am looking forward to the dedication!!"
Linda (one of Shirley's daughters)
10/15/08: Terri O'Brien wrote... "Hi Russ, what a great idea, and you followed through! A theatre is always fun for all ages, no matter what. I love this story. Congratulations!"
Terri
10/16/08: Scott & Cheryl wrote... "Hey Little Brother,
You do great things for the people in your life. You have a big heart and give a lot to your family and friends and I know that the people you take care of are an extended part of your family. As I am glad you are my brother, I am sure they are happy to have you touch thier lives.
Love you,
Cheryl & Scott Dietrich
P.S. You Are a Celebrity!"
10/16/08: Judy Siau-Krentzel wrote... "Hi, Russ! Just wanted to drop in and say congrats and thank you for all you do for the folks at The Manor. I have a special interest in one of them.....my wonderfully goofy, Aunt Shirley Ashby...who I know will enjoy the theater and the chapel to the 'inth degree. Just watch out for that wheelchair she drives everywhere....I hear it can be "interesting". You are living proof that God sends us Angels, Russ. Keep up the good work."
10/19/08: Cathy Weidner wrote... "Congratulations Uncle Russ! You and Aunt Terri have always been special people in my lives. It does not surprise me in the least bit the good work that both of you do everyday."
Love,
Cathy Weidner
10/21/08: Virginia Schmelzle wrote... "Russ, You know you are only one person in the world but you are the world to one person. In this case you are the WORLD to many who you help care for in the manor. My Dad (Frank) always spoke so highly of you while he was on this earth in the manor. I'm thankful that you are there for my Mom. Thanks seems like not enough to say to some one who cared enough to go the extra mile for our chronological gifted people whom you have daily contact with."
A job well done,
Virginia Schmelzle
10/27/08: Tracy Appelhanz wrote... "Congratulations on an outstanding job. I have no idea who you are and you have never met me, but a good friend of mine's mother resides there at the nursing home and she e-mailed me a link about you being one of Jenny's heroes. Thank you for all that you do. I look up to and try to emulate people such as yourself. Take care."
12/13/08: Paul & Susan wrote... "Russ, I have been watching Jenny's site since October with great interest to see the progress being made on the theater at the Manor where my mother, Shirley, resides. Having had experience with other nursing homes in the past, it is a real relief to me, as I'm sure it is to all of Shirley's kids, that our mother is lucky enough to be part of the family and community there. I wanted to thank you for your care and concern not only for her but for all of the residents. Congratulations on being chosen one of Jenny's Heroes. What a treat it must be for you to see your dream coming true, knowing what a blessing it will be for St. Marys."