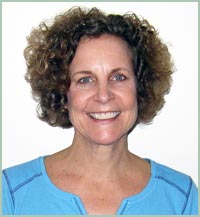 Suzanne's Photos
Click images to see larger view.
Meet Suzanne MacDonald from Topeka, Kansas
Suzanne MacDonald volunteers her time at the Women's Correctional Facility in Topeka, Kansas. Addressing issues like pregnancy, nutrition, reading, fitness, and making healthy choices, Suzanne and a fellow volunteer also started a running club for the inmates because she believes that running is empowering the women to change their lives. Running on donated shoes, the inmates have already held several 5K races and raised over $5,000 to benefit local charities. Suzanne has requested $20,000 to replace the cracked and hazardous running track at the facility.
Suzanne has volunteered at the facility for about three years. She leads a twice-monthly book group, and has also worked with the pregnancy support program as well as bringing in speakers to discuss fitness, nutrition, and healthy living. When she and fellow volunteer, Carol Hill, discovered that they both like to run, they decided to see if they could involve the inmates in participating in a 5K race to benefit the Race Against Breast Cancer. They proposed the idea and received support from the administration and the women themselves. They started a training program and held the race last October with over 30 participants.
The women wanted to continue running so they began the "Running Free" program. Suzanne and Carol run and/or walk with the women on Saturdays and Sundays. Instead of running in facility-issued boots, the women run in used running shoes donated by the community. The inmates have since held three other 5K races to benefit local charities, including the Battered Women's Task Force and the Helping Hands Humane Society. Their last race had 100 participants and so far they have raised over $5,000 for these causes.
"This is astounding because the women are donating their own money to these causes," says Suzanne, "and these women have very limited financial resources. Additionally, they are learning the importance of fitness and healthy lifestyle choices. These are women that, for the most part, have made unhealthy choices in their past, and they want to change the old patterns. Through running, they are learning that they have the power to change their lives in positive ways. These women are so inspiring to us, and we are constantly amazed by their determination and their courage. We know that most of these women will be returning to the community, and we want to provide them with lifelong tools to succeed."
Suzanne is the Director of Social Services for Heart of America Hospice in Topeka and is pursing her Master's degree in Social Work from Washburn University in Topeka.
Before and After
Diary Starts Here
February 7, 2012
Suzanne sent us a huge thank you email...
"Jenny and Damon, Words alone cannot thank you enough for your generous gift to Running Free. Because of you, we have been able to grow and develop a running program that has become a vital part of the Topeka Correctional Facility. We have seen women change their lives in dramatic ways, physically, emotionally and spiritually. We have been able to give back to the community by raising over $50,000 for local charities. I could go on and on about the amazing impact the program has had on the women and on the volunteers. What I really want to say is thank you so much for understanding our vision and believing in us.
With deepest gratitude,
Suzanne MacDonald and the volunteers and inmates of the Topeka Correctional Facility

P.S. Please friend us on Facebook to keep up with amazing things that continue to happen with Running Free "
August 29, 2011
We just heard from one of the women who benefited from Suzanne's gift who tells us what a difference just one pair of shoes has made in her life.
"Jenny - you funded a program "Running Free" at Topeka Correctional Facility that changed my life. I was there for almost 8 months for a very unusual situation. I began running there as an inmate and it gave me such personal strength and hope for my life outside of the facility. I came home to Wichita, Ks and have continued to run. I don't think I would have began the program if you had not donated all you have to provide shoes for me and all the girls there. I cannot begin to describe the freedom you help all these women feel every day. There are a hundred reasons to not put the shoes on, it only takes one reason to tie the laces and start to run. I just wanted to thank you from the bottom of my heart. I will be a runner for life and simply because of a single pair of shoes you provided. Thank you so very much. God speed."
July 29, 2010
Here's a recent update from Suzanne...
"The running club is still going very strong. We have three women that have earned a new pair of shoes as they ran a half marathon in May. Isn't that amazing? They raised over $5,000.00 for public TV. What an inspiring group of women!"
December 4, 2009
It's so nice to get notes like this one from Suzanne...
"Jenny, I can't tell you how much your generous gift has benefited the women at the Topeka Correctional Facility. We have had to expand our running program and are now running on Wednesdays as well as running two hours on Saturdays and Sundays to allow some of the women to run further. Wow! Their dedication is amazing. Thanks so much."
August 18, 2009
Suzanne and her running program are still going strong. Here's the latest from Suzanne...
"We are planning to have another shoe fitting with Great Plains Running Company later this month. We haven't set the exact date yet. We have about ten new runners who have demonstrated a solid commitment to the running program and are eligible to be fitted for shoes. The women have continued to be excited about the program, and we have two runners that are training to run a half-marathon. I am constantly amazed and inspired by their motivation and perseverance. On an interesting note, I was out running a couple of weeks ago and ran into a former member of our running club. She was released from the facility and has continued to run. She said that running has helped her immensely in starting her new life. Her words validated the reason why we continue to do what we do."
April 20, 2009
Suzanne sent us some great pictures of the track...
April 11, 2009
Today was the big day. They held the "5K 4 K9" to benefit KSDS and Suzanne says it was a huge success.
"The race was amazing," she said. "The day was beautiful. Senator Sam Brownback gave the invocation, the chaplain blessed the track, and the race began. The local news channels, KSNT and WIBW, were there, and they aired our story on both the 6:00 and 10:00 news. We were the top story! The Washburn Alumni magazine reporter was there and she is going to do a story on us this summer as both Carol and I graduated from Washburn. We raised $11,000 for KSDS which is amazing. I want to thank you from the bottom of my heart for giving us such a wonderful track to run on.
Love, Suzanne"
Below is a news story that aired on WIBW-TV in Topeka...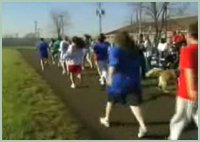 Click the image to watch the video
March 22, 2009
This newspaper article appeared in The Topeka Capital-Journal today...
March 12, 2009
Suzanne has started a blog for their upcoming race on April 11th, the 5K 4 K9: A Race to Benefit KSDS, Inc. Here is the link:
http://runningfree-suzanne.blogspot.com
January 30, 2009
This terrfic article appeared in the Kansas City Star today...
December 11, 2008
Suzanne tells us that the inmates had their shoe fitting last night and it was thrilling! Great Plains Running Company came out and fitted the women for shoes. They analyzed all of the women's feet and then fitted them with the appropriate shoes. "The women were so excited and appreciative." said Suzanne. " It was perfect timing, right at Christmas time! Thank you, thank you, thank you. We are still planning to have a 5K race and track dedication on April 11th."
December 2, 2008
The inmates are planning their first big race in 2009 on April 11. They are hoping to raise over $10,000 for Kansas Specialty Dog Service. This is a program based in Washington, KS that trains therapy and service dogs for people with disabilities. The women inmates actually train some of the dogs right there at the prison so they are pretty passionate about the program. Carol, Norma, and Suzanne are hoping to get the community involved in raising money for this great cause so please visit the KSDS website. http://www.ksds.org
December 1, 2008
The running track is done! The crew showed up at the correctional facility the day before Thanksgiving and it's done!
November 10, 2008
Suzanne says everyone is getting excited as the dream becomes closer to a reality. The running club is having a "race" on Saturday morning. It's called "Run for No Reason." There are no entry fees and they hope that women who have not been able to afford to enter a race will run with them. They'll be giving certificates of completion to all the women and prizes (socks) to the winners in each category.

November 3, 2008
What a whirlwind of press Suzanne received! There's lots of excitement in Topeka! At Saturday's running club, Suzanne said the women were all so excited! Many of them found out about the shoes by watching the news Thursday evening so they were shocked and elated. The next step is developing criteria for who will get the shoes. It will basically be the women who have made some level of commitment to the running group by their attendance to the weekend runs. "And of course," said Suzanne, "the women wanted me to thank you from the bottom of their hearts, and they reiterated how the program has truly changed their lives."

October 31, 2008
Rick Buehler, who works at the correctional facility, was a big help getting everyone together yesterday. He just sent us some great photos of our phone call, the volunteers, and some of the inmates (not everyone's face was allowed to be shown). It was a bit complicated dealing with a prison so our thanks to Rick for all his help... and these photos:
October 30, 2008
What a joy it was to call Suzanne today and congratulate her on this grant. The staff at the prison was really helpful in allowing everyone, including several of the inmates, to join in the celebration. Suzanne was joined by her fellow volunteers, Carol Hill and Norma Weiser, along with Warden Richard Koerner who thanked the volunteers for the good they are doing for the inmates. "When a warden hears about inmates running, the reaction is not always good." Everyone laughed and then he added, "This proves that not all running in prison is bad."
Suzanne made a point to thank the facility for allowing them to establish the running program and one of the runners told me how appreciative all the inmates are for what the volunteers are doing for them. "They are here every weekend for us, they keep us motivated, and have shown us the importance of physical fitness. And we also want to thank the facility for allowing us to do this. They have been behind us all the way and this is something we can take out to the streets with us."
Suzanne and Carol were recently honored as volunteers of the year.
BREAKING NEWS: I was so motivated by what Suzanne and the volunteers are doing for the inmates that I have decided to personally donate $5,000 to buy all the runners proper shoes and socks. As a walker, I know the benefits of good quality shoes.

10/30/08: Jenny wrote... "Suzanne, I love what you're doing for these women and ultimately, for society. I hope that others in the country will follow your lead."
10/30/08: Damon wrote... "Congratulations, Suzanne. You are giving these women a chance at a new and better life. There are so lucky to have you!"
10/30/08: Colene Fischli wrote... "You are awesome and we love you! We are so fortunate that we have you, Carol, and Norma. Thanks for all that you do for the women of TCF!"
Colene Fischli
Facility Services Administrator
Topeka Correctional Facility
10/30/08: Terri wrote... "Great work Suzanne! These women need to know that someone cares. You and Carol have certainly shown them that you do. We are all here to help others. And, kudos to Jenny for throwing in the shoes!"
10/30/08: Sally Dodd wrote... "Suzanne, I am so PROUD of you!!! You are my hero too, not just because you are my big sis but because you are a woman with such a great heart who sees what a person can become with a little bit of encouragement and an opportunity! I love you!!!"
10/31/08: Madelyn Franzke wrote... "Suzanne, I am extremely proud of you. Of course, I am not too surprised at this. You have always been a strong leader and passionate for your causes. Love you, Mom"
11/01/08: Jeff MacDonald wrote... "Wonderful Suzanne. This is fabulous! What an inspired way to give back. Congratulations on the grant."
11/03/08: Carol-Lynn wrote... "Suzanne, Carol, and Norma, you ladies are so special. You provide a bright spot and hope to these women at TCF. Thank you for your time and caring."
11/17/08: Peggy R. wrote... "I was so impressed when you told me about this program and am so thrilled that you all have been honored and received this wonderful grant. Good luck and keep running."