Meet Welton Locklear from Pembroke, North Carolina
He's our 50th hero and an American hero, as well. Disabled veteran, Welton Locklear is a basketball player. In fact, he's the president of his team, the All Heart Tornadoes Wheelchair Basketball Team, which has won their Conference Championship for the last four years. Welton requested $17,000 for five new wheelchairs, a score-clock, and new basketballs. The team members, who have spinal cord injuries, spina bifida, as well as amputees, inspire each other and other disabled citizens in their community. We're proud to include Welton as our newest Jenny's Hero.
The All Heart Tornadoes Wheelchair Basketball Team was established in 2002 and is composed of 12 players. Besides winning their Conference Championships the last four years, they were also the runner up for the 2007 NWBA. "These guys do a great job promoting their disabilities in their communities," says Welton. "They love to work with other people with disabilities." Welton organizes fundraisers for the team and exhibition games for other organizations for the disabled. Welton Locklear is married with two grown sons.
Diary Starts Here
October 27, 2015
Welton and the Tornadoes were in Raleigh, NC this past weekend and won both games against their rival.
May 4, 2015
Welton was recently in Louisville Kentucky with the veterans doing a wheelchair basketball clinic.
September 18, 2013
Welton sent us an update that includes some photos and the All Heart Tornadoes 2013-2014 basketball schedule...
"The 33rd National Veterans Wheelchair Games took place in Tampa, Florida. Had a great time in Tampa, got a Gold medal in Shot Put, Gold in Javelin, Bronze in Discus, Bronze in softball and Bronze in Basketball. Had the bases loaded in the last inning in softball the game was tied up and got the winning RBI to get to the Bronze Medal. Had some close games in softball and basketball but couldn't make it to the championship game. - Welton Locklear."
July 17, 2012
Welton sent us an update...
"The 2012 National Veterans Wheelchair Games were in Richmond VA this year. The games turned out great. I competed in five events this year, Basketball, Softball ,Javelin, Discus and Shot Put. I got a Silver in Basketball, Javelin and Shot Put. Come a little short in getting that Gold Medal in the Basketball game. Got in the Championship and lost by six points, but it was a close game all the way to the end. Had a good time looking forward to next years games in Tampa FL. - Welton Locklear."
December 2, 2011
Here's a recent team photo autographed by some of the All Heart Tornadoes...
October 25, 2011
Welton, and his team, took home another medal at a recent basketball tournament...
July 23, 2010
The annual National Veterans Wheelchair Games took place July 4 - 9 in Denver, CO, this year. Welton had a great time at the games and took home a silver medal in the Discuss, a silver in the Javelin, gold in Shot Put, and silver in Basketball. Congratulations, Welton!
December 28th, 2009
Welton and his All Heart Tornadoes recently won the 1st place trophy and a $500 check at the Charleston Tournament.
November 3, 2009
Here's a photo of The All Heart Tornadoes, Triangle Thunder and Purnell Swett Cheerleaders at the VSA Festival at UNCP. The Tornadoes and Thunder put on a good show of wheelchair basketball at the UNCP Very Special Arts Festival for the kids with disabilities from the Robeson County schools.
October 13, 2009
Welton, and his All Heart Tornadoes, won the Port City Basketball Tournament on September 27th. They beat the Sportable Richmond Rim Riders in the Champtionship game 55-35, and were 3-0 in the tournament.
August 13, 2009
Welton sent us the All Heart Tornadoes' 2009-2010 Wheelchair Basketball Schedule... Have a great season guys!
July 22, 2009
Welton recently competed in the National Veterans Wheelchair Games in Spokane, Washington (July 13-19) and won Gold Medals in Softball, Javelin, and Shot Put, and won a Bronze Medal in Basketball. Over 600 Veterans competed in the games... Congratulations, Welton!
March 27, 2009
Thanks to the help of one of Welton's teammates, Bradley Council, we were able to surprise Welton with a Jenny's Heroes plaque and a congratulatory letter just before the start of one of their national tournament games.
March 26, 2009
It looks like the Tornadoes finished 5th in the National Tournament
in Denver. They haven't come out with the final standings yet. The guys almost made it into the final four, if they had just won their last game against Fort Wayne. They had to play four games in one day and ran out of steam by the last game. On Monday March 29th, Channel 13 WBTW news at 6 o'clock will be doing an interview with Welton as a home town hero, with his twin brother. It will also be in the Florence Morning Newspaper the same day "This year and last year has been a great experience to me," says Welton, "for what you have done
and other people to help me go through the hard times and the good times that I face in everyday life with my disability. I can't forget about how my family has been with me through these years, to encourage me to keep on trying."
March 9, 2009
Below is a news story that aired about the Conference Finals... It has a lot of footage with The All Heart Tornadoes in it.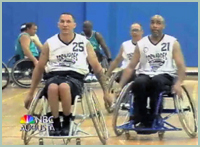 Click the image to watch the video
March 4, 2009
All Heart Tornadoes WIN Carolina Wheelchair
Basketball Conference Tournament in Augusta, GA.
The Tornadoes beat Port City 54-52 to win the championship game. It was a long hard battle for the Tornadoes, who had to play 4 games in one day to get the win in a double elimination tournament. The first game Sunday the 22nd was at 9:30 a.m. against Port City and they beat the Tornadoes. Then Welton's team played Augusta and beat them in overtime by 3 points. Then they had to turn around and play Port City and beat them by 12 points. So that put the Tornadoes and Port City with 1 loss each. It would take one more game to win the championship so the Tornadoes won the CWBC title for the 5th year in a row. Welton said it was the best Conference they have played in, to have to play 4 games in one day. One more big thing to add: Welton was inducted into the CWBC Hall of Fame!
February 16, 2009
Welton just received three of their new wheelchairs! He ordered five chairs total so there are two more coming soon, just in time for their national championship games in March.
February 9, 2009
The team won their January 31st game against the Triangle Thunder, a team out of Raleigh. That has them winning the regular season conference champion. On February 21st and 22nd they will play in the Carolina Wheelchair Basketball Conference Tournament, then finish out the season in Denver from March 17th thru 22nd and compete for the
National Championship. There will be 24 teams from all over the US competing in this Tournament. Welton says the new wheelchairs the players are getting will help their game performance. Good luck, guys!
February 4, 2009
The All Heart Tornadoes baseketball team will be participating in the NWBA Championships March 18th - 21st.
January 10, 2009
The All Heart Tornadoes baseketball team used their new scoreboard and shot clocks today for the first time. They won both games against their conference rival, Port City.
January 6, 2009
Welton received his new basketball scoreboard and time clocks last Friday. They will be trying them out next Saturday at a home game against Port City. The All Heart Tornadoes were also able to purchase a handicapped accessible bus to be used for trips to their away games. "Thanks to the VSA Arts at UNCP Pembroke," wrote Welton, "I want to thank everybody that was responsible for making this happen."
December 9, 2008
We have the final scores from Saturday's games:
Game 1- All Heart Tornadoes 44 Triad Trackers(Winston Salem) 37
Led by #21 Tee Foster with 26 points

Game 2- All Heart Tornadoes 56 Triad Trackers 45
Led by #21 Tee Foster with 24 points
They said I was their good luck charm. I love that! Below are some action shots from the game (Courtesy of Neal Timpe of The Robesonian).
Hey by the way, Welton has already ordered some new basketballs. The new time clock is next.
December 6, 2008
The Tornadoes were about to play Winston-Salem today when Welton was handed a letter from me by his coach, Chris Hill. I was already on Chris' cell phone waiting to congratulate Welton on his grant. I could hear Welton reading the letter in front of his team, friends, and family. He choked up a little but got through reading it out loud, so that everyone could hear about what he was doing for his team. Welton's wife and one son were there and I could hear a whole lot of people applauding in the background. He told me it takes about two months to get the new chairs once they send in all the measurements. (...5 hours later...) I just spoke to Welton and they played two games today and won them both!
12/06/08: Jenny wrote... "Welton, I'm privileged to be able to help your team as you continue to inspire others."
12/06/08: Damon wrote... "Congratulations, Welton. What an inspiration you are to the community and other persons with disabilities. Keep up the great work!"
12/06/08: "PAWS" wrote... "Congratulations!! Everyone on the team has worked so hard & deserves this very much! You all are a true inspiration to me. I look forward to sitting in the bleachers cheering you all on. Say it Loud say it Proud: ALLHEART!!"
12/07/08: Chris Hill wrote... "Congrats Welton. If anyone deserves this it's you, buddy. I know all the things you do for our team and it is very much appreciated. I am honored to be your Coach but most of all, your good friend. I look forward to much more success in the future as a part of the best wheelchair basketball team in the world. The All Heart Tornadoes!!"
12/07/08: Roxanne Rankin wrote... "Hi Welton. I know you and your team mates are an inspiration to others. I commend you for all the efforts you all do. By the way, I am Roxanne Council-Rankin, sister to Bradley Council. Keep up the good work. God Bless all of you!"
12/07/08: Amy wrote... "CONGRATULATIONS TORNADOES!! I'M PROUD OF YOU ALL. EVERYONE OF YOU ARE A INSPIRATION! CONTINUE TO SHOW OTHERS YOU CAN NEVER GIVE UP! SO HOLD THEM HEADS UP HIGH AND BE PROUD BECAUSE I AM PROUD OF YOU ALL. AND THANKS TO ALL FOR MAKING MY BROTHER'S DREAM COME TRUE TO COACH YOU GUYS!"
LOVE, AMY