Meet Dee Wild from Lacombe, Louisiana
We're proud to introduce our first team hero, Dee Wild and her 9-year old Yellow Labrador Retriever, "Sky." Dee is a volunteer with the Louisiana Search and Rescue Dog Team in Slidell, Louisiana whose members locate lost & missing people at no cost to the family or requesting agency. They have 15 volunteer handlers that pay for everything out of their own pocket and she has requested $7,000 to purchase ham radios for all of her fellow volunteers. Ham radios are a more reliable form of communication in emergencies such as Hurricane Katrina where Dee and Sky volunteered in the massive search effort. Dee has been with the team since its inception in 1989 and explains, "I understand not only their commitment, which is actually a calling, but the personal cost in both financial and time away from family and friends that is required to be a volunteer canine search and rescue handler. They are unselfish, always willing to leave work or home to help a family in need. They do it without question."

Her team "LaSAR" has responded to over 650 searches in Louisiana, Texas, Mississippi, Alabama, Georgia, Florida, North Carolina, Oklahoma, Arizona, and Canada. They have responded to small searches where a single person was missing to the Columbia Space Shuttle and Hurricane Katrina where hundreds of people were affected.
Dee works full time for a volunteer agency helping to house the homeless population in the New Orleans area.


About "Sky"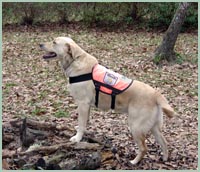 click the image to enlarge
Sky is a nine-year old female Yellow Labrador Retriever. Dee purchased her when she was eight weeks old and she started her search and rescue training at the age of nine weeks. She has been training ever since. Sky is nationally certified in area (locating a live missing person in a wilderness setting) and human remains detection. She has responded to numerous searches in Louisiana, Mississippi, Florida, Texas, and Canada since becoming certified at the age of two years. She has never had the opportunity to locate a live missing person but she recovered several people after Hurricane Katrina and several drownings. "During Hurricane Katrina she worked numerous rubble piles and houses in both Mississippi and Louisiana," said Dee. "She traversed the huge rubble piles with ease, not truly understanding the magnitude of the situation. She worked hard and brought closure to three families as a result of her effort. Often times when Sky works drownings or other missing person cases, the families are very appreciative and find comfort in hugging and petting Sky. She is always willing to serve in her role as comforter. Sky is truly an ambassador for the K9 community."
Diary Starts Here
April 1, 2009

Dee sent us some great photos of LaSAR Dog Team members receiving the radios. The dog in the photos is K-9 Kiva, one of the field certified canines on the team.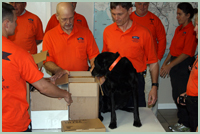 click the image to see a slideshow
March 23, 2009

Dee's radios have arrived, and she emailed us some great pictures of her, and Sky, opening the boxes.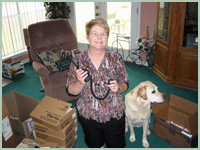 click the image to see a slideshow
January 28, 2009
Dee received a surprise phone call from me today but it didn't happen the way we planned. We had made arrangements for me to call her at work and there were two newspaper reporters coming for the surprise. But when I called, I was told that Dee was out sick. What? No one called to tell us and the press was on the way! So Damon and I went into high gear, trying to catch the reporters in their cars to alert them and luckily, they took it well. I decided to call Dee at home and hoped she was well enough to answer the phone. "Hello?" She could barely talk but I told her this surprise was supposed to be at work, then I gave her the good news about her grant! Sick as she was, she still sounded excited and we chatted briefly. What a trooper Dee was as she agreed to do interviews with the reporters from a sick bed. I asked her if anyone was there taking care of her. Dee said her husband was at work, but she was okay because Sky was there.
01/28/09: Jenny wrote... "Dee, I've always been amazed and how much a dog like Sky can do to help in an emergency. Volunteering takes a special kind of person and I'm honored to be able to help."
01/28/09: Damon wrote... "Congratulations, Dee. Thanks for all the important work you and your dog, sky, do. You both are true heroes."
02/01/09: Terri wrote... "Hi Dee, I so admire the work you do. Most people don't realize, until there is an emergency, that others like you are out there to lend a helping hand without question. A special "woof-out" to Sky also!"
02/02/09: Teddi Shriner wrote... "Dear Dee and Sky: What a truly awsome pair you are! Our community is a better one because of people like you and creatures like Sky. Thank you so much for all you do."
02/07/09: Liz Rankin wrote... "Dear Sky,
You have the most beautiful face I have ever seen. There is so much character and warmth there for someone who has seen and done so much. It's so obvious you love your fellow people and I can see you would do anything to make them happy and safe. Good girl. Sky. I hope you get to do all that great work for a long time to come."