Meet James Backus from Greenwood, Wisconsin
"Protecting our Emergency Responders" is what Jim Backus started his application with and he's about to do that in a big way. Jim, who is the Chief Deputy for the Clark County Sheriff's Department in Clark County, Wisconsin, requested $19,000 for high visibility safety vests and flares for the emergency responders who protect the entire county of 35,000 citizens. His gift of over 400 compliant traffic safety vests will go to help:
• 10 Police Departments
• 16 Fire Departments
• 25 Ambulances
• 35 Sheriff's Department Squad Cars
• 30 Highway Maintenance Vehicles
• 18 Wrecker Services
• Clark County Coroner
A deputy in a neighboring county was recently struck and killed by a passing motorist. Jim hopes to make jobs safer for all responders on the Clark County highways. Along with the new vests, Jim will be providing 28 sets of new battery-operated turbo-flares to replace the traditional flares, which are dangerous during dry summers or if there is fuel spillage at scenes. The turbo flares are safer and much brighter.

Clark County is the 7th largest county in the state, covering over 1,200 square miles. There are over 500 volunteers for Fire/EMS in the county. Jim's gift will benefit every department that provides services in this very rural area with many recreation sites, including parks, hundreds of miles of ATV, snowmobile trails and many lakes for fishing. There are also about 200,000 acres of County owned forestland for hunting. With most responders being volunteer, Jim hopes this new safety equipment will help retain and maybe recruit these much-needed volunteers.
Jim lives in Greenwood, Wisconsin with his wife and three children.
Diary Starts Here
May 6th, 2009
Jim has been busy distributing the vests and turbo flares to various Clark County emergency agencies...
"These are photos of some of the agencies involved that received their vests. I really think this grant brought some "energy" to our county and to our volunteers. I feel this will also bring us closer to work as one unit than what we have been. From all of the Clark County Emergency Services, we thank you for your support."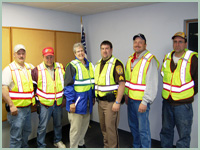 click the image to see a slideshow
April 8th, 2009
This must be an exciting day in Clark County! The new safety vests have arrived and Jim made an awesome display of the 419 brightly colored vests, separated by department - all ready to be distributed and used by emergency responders to keep them safe on the job. Jim, thanks for the fantastic photos.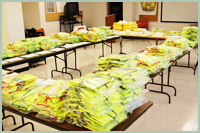 click the image to see a slideshow
April 7th, 2009
I received an email on March 19th from a friend and neighbor of Jim's that says a lot about who Jim is and how well is he is respected in his community...
"Dear Jenny,
Today you made a county of volunteers very proud and happy. Jim Backus is a hometown hero! Jim is my neighbor and one of my most trusted friends Together we are on our local ambulance and fire departments; all volunteer. Our families are very close and I'm sure we will celebrate over dinner tonight with them and our kids. Waiting for your phone call today was great, just watching his face (we can never get him, and Jim is a prankster) was priceless. Our association "Clark County Emergency Services Association" has evovled because of Jim's dedication on bringing all emergency responders
together; we were not very organized and a lot has happened because of Jim's work. As we left today, I took Jim's dad (Walter) home, he kept reading the write-up that was on the web page; he was very proud today remembering how Jim has always been determined to get things done. I just wanted to let you know that Jim is the real thing. If you are ever in Wisconsin or by the Twin-City's, we would be honored if you would like to meet Jim, and our families and see what your gift has provided. Again, my humble thank you for recognizing our hero - Jim.
Sincerely,
John Knox"

March 30th, 2009
Well, the vests and turbo flares have been ordered and will be arriving soon. Due to the quantity of items purchased, Jim was able to add a few more vests for each department. He was also able to purchase a better grade turbo flare than originally planned, and also purchase a few extra for the police departments. Nothing saves like buying in bulk!
March 21st, 2009
Today, the Wisconsin Radio Network reported the news about Jim's grant...



Click the image to hear the audio
March 19th, 2009
I called Jim with the good news about this grant and what a huge group of people were there to share in the surprise! This was all thanks to firefighter and EMT Dave Esselman, who arranged to have Jim's wife Jodi, his 3 children, Emily who's 14, Kailyn who's 12 and 10-year old Ben. Jodi's parents were there as well as Jim's dad. Also in the room were Loyal Police & Fire Chiefs, Spencer Fire Chief, Greenwood Fire Chief, many officers including Sheriff, Sergeants, Office of Emergency Government, County Board President, even Dave's sister Margie was there. It all took place at the Loyal Fire Station. I was on the speakerphone and could hear huge rounds of applause.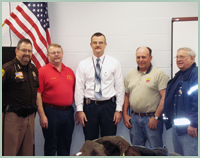 click the image to see a slideshow
Jim told me he had a gut feeling last night around midnight that something might be up. Dave told him that Congressman Ron Kind would be calling today about some possible stimulus money but it turned out to be me. This was really a fun call to make. I learned that all of the emergency services work closely together in Clark County and they get tremendous support from countless volunteers. Jim explained to me how much better and safer the new battery-operated turbo flares are and they are re-usable while the old ones are not. And I can see that the new vests will be a tremendous gift of safety from Jim to all who protect the county and its citizens.
03/19/09: Jenny wrote... "Jim, this gift of safety you are providing will mean so much to the entire county. Congratulations, and I'm proud to help."
03/19/09: Damon wrote... "Congrats, Jim. Thanks for everything you do to help your community. Clark County is very lucky to have you!"
03/19/09: Jim's Wife & Kids wrote... "We are so proud of all the hard work you do to make everyone safer! You are our hero!"
Love, Jodi, Emily, Kailyn and Ben
03/19/09: Dave Esselman & Family wrote... "Jim, I wish there was a way to bottle the deep sense of pride and happiness people are experiencing because of YOU today! Your dedication to our county shines. A heartfelt thank you for all your accomplished deeds and being the upstanding citizen you are - you set the standard high!"
03/19/09: Scott Gress wrote... "Congrats Jim, maybe you should ask LR for a raise!!! LOL"
03/19/09: Bob and Melanie Mitchell wrote... "Jim, Congratulations!! We are so proud of you!!! You go out of your way to help everyone in your community. We are very grateful to have you as a friend and colleague!! Thank you for ALL you do!!!!"
Bob, Mel and Family and
Humbird Volunteer Fire Dept.
03/20/09: Robert Powell wrote... "Congrats Jim! I applaud your continued dedication to the citizens of Clark County and the public servants who keep them safe. You are a wonderful representative of a great agency. Keep up the good work!"
Robert C. Powell-Special Agent
WI Department of Justice
Division of Criminal Investigations
03/20/09: Jay Shambeau wrote... "Congratulations Jim!
As a former Neillsville firefighter and Clark County employee I can personally attest to the hard work and dedication you provide to Clark County and the City of Greenwood. You serve as a role model for public servants and deserve the recognition of "hero".
Clark County will continue to benefit from your service!"
Jay Shambeau
Calumet County Administrator
03/21/09: Ms. Jerilyn St. Amand wrote... "Congrats! Living next to two Neillsville EMT's, I know how very dedicated these people are and how prompt any and everyone in Clark County Emergency Services, the Police and Sheriff's Departments respond when needed at a moment's notice and how very important and tough their jobs can be. It is so important to protect all of those who selflessly help us. Thanks for all you do and thanks so much Jenny for helping Clark County, WI."
03/23/09: Bob Moseley wrote... "Hi Jim.
What an accomplishment this is! Congrats on securing a grant of $19,000.00 for Clark County EMS. Having worked closely with you in years past, I know how dedicated you are in helping the EMS personnel of Greenwood and Clark County. I witnessed first hand the many hours of hard work you put in to not only make the job of our EMS volunteers safer but also to meet the needs of our citizens who depend on the services you and our many volunteers provide. Thanks again Jim for making Clark County a better place to live."
Bob Moseley
Former Mayor,
Greenwood, WI.