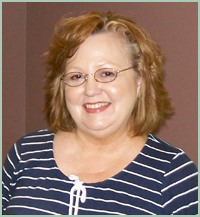 Susan's Videos
Click image to see video


Susan's Photos
Click images to see larger view
Meet Susan Edwards from Texarkana, Arkansas
Susan Edwards is the only employee at the Smith-Keys Computer Learning Center in Texarkana, Arkansas and has been for ten years. It's located in the Smith-Keys Apartments where 350 adults and children are living at or below the poverty level. Susan requested $10,000 to update the computers at the center where for ten years she has offered free basic computer training, job search assistance, and an after-school program to the residents as well as to 5,000 underserved people living in the immediate area. No one is ever turned away.
"Our computer hardware and software are in dire straits," said Susan in her application. "The computer that I use just became corrupted and I am using another old one at this time." Many people in the area do not have computers or access to the internet. The majority of the Smith-Keys residents are African-American female heads of household with 1 to 6 children.
Susan wears many hats at the center, including Director, Services Coordinator, Webmaster, Monthly and Annual Event Coordinator, Teacher of Basic Computer Skills, Conductor of Adult Programs and After-School Youth Programs, Record Keeper, Job Search Assistant, Public Relations, Annual Christmas and Back to School Party Coordinator, Seminar Manager, and Hardware & Software Troubleshooter. Whew!
Here is Susan's wish list:
• 8 new computers
• 9 teaching software programs
• a digital laser copier/printer/scanner
• wireless networking equipment

It's a pleasure to turn this wish list into a shopping list.
Diary Starts Here
June 10th, 2009
Here are some photos that Susan took on the day that the Texarkana Gazette reporter and photographer were there to do a follow up story on the new computers.
May 11th, 2009
Here are some pictures of students using the new computers.
April 27th, 2009
Susan sent us a report on the installation of the new computer equipment... "Here are pictures I took Thursday and Friday during the set-up process. The man with the blonde hair is Ric Seale. The man with the brown hair is Chris O'Rourke. These 2 men volunteered their time and skills to do the set-up for us. They were very professional and generous and we owe them a lot. Ric has been volunteering his IT services for a few months and he brought his colleague Chris to help (Chris worked all day Thursday).

The 2 ladies are (l) Kris Collier, Office Assistant and (r) Gail Henderson, Assistant Manager of Smith-Keys Village. They were in on the surprise that week that Jenny called me with the good news. The one in black is me.

I am using my new computer right now and I LOVE it. This is like Christmas morning (when I was a kid)."

Thanks,
Susan
April 23rd, 2009
The computers have started arriving and may be installed in the next few days. There's lots of excitement at the Center. And next week, Susan will be attending their national Neighborhood Networks annual workshop in Dallas. She will be receiving recognition at a ceremony for her 10 years of service and for getting her Jenny's Heroes grant.
April 14th, 2009
Susan has been ordering her new equipment - some has already arrived with more coming soon. Once the new computers arrive, she has a good idea on what to do with the 8 old ones. They will be awarded to adults and children who are Smith-Keys residents. The adults will be required to complete a 40-hour computer course in order to qualify for the drawing. The kids will be required to complete a Grammar/Math/Spanish course in order to qualify for the drawing. This will occur during the summer months and sounds like a great way to "recycle" the equipment.
April 2nd, 2009
I was able to surprise Susan today with the help of On-site Property Manager, Hershel Robinson. He took Susan out to lunch so a newspaper reporter was able to sneak in and be there when Susan came back. Office Clerk, Chris (who was a big fan of my show), stood watch at the window on the lookout for Susan and Hershel. I was already on the phone when Susan walked in and she sounded so happy about the new computers, saying some of them were beyond repair. She said an average of 25 people a day come through the center, some as young as 6 years old. Here are some photos of the surprise phone call.
"This is the most exciting day of my ten years here," she said. "The best part of my job is teaching things to people they can use in their daily lives, especially when I help someone get a job." It seems to me that more computers could mean more jobs, thanks to Susan.
04/02/09: Jenny wrote... "Computer skills are vital in today's world. Thank you for providing your service to so many people."
04/02/09: Damon wrote... "Congratulations, Susan. Now you can continue your good work with newer/faster computers and a wireless network... Best of luck to you."
04/02/09: Terri wrote... "Hi Susan, you're literally a one-man band! This is not only about the future, but changing lives right now. You provide great services. Continued success!"
04/08/09: Linda Hardway wrote... "Congratulations Susan! You GO Girl! Your commitment to HUD programs in Texarkana, Arkansas is greatly appreciated. As we navigate the 21st century computer environment, we are glad that you have been there to assist residents of HUD projects and the City of Texarkana in keeping current. You have truly made a positive impact on developing the skills of many people who have limited opportunity. Thank YOU!"
Linda Hardway, Director
HUD Little Rock Multifamily Program Center
04/13/09: Michael Backman wrote... "The U.S. Dept. of Housing & Urban Development is proud to acknowledge the accomplishments of Susan Edwards, Manager, Smith-Keys Village Apartments, Texarkana, AR. Her dedication to the Neighborhood Networks computer learning center has brought the benefits of information technology to the residents of Smith-Keys and the entire community. She has set a standard in Arkansas and all of Region 6 that is a fine example to follow. Congratulations Susan!"
Michael B. Backman
Multifamily Hub Director - Ft. Worth
U.S. Department of Housing and Urban Development
05/22/09: Thaddeus Miles wrote... "Congratulations Susan, You're an inspiration!!!!!!!"
Thaddeus Miles
Founder/President MassIMPACT
05/26/09: Delores A. Pruden wrote... "Congratulations, Susan, for successfully tapping into the generosity of Jenny's Heroes and securing much-needed computing resources for the Smith-Keys Computer Learning Center. The endless hours you spend ensuring that the residents of the Smith-Keys Apartments have the resources they need to succeed in today's technology-driven world is inspirational. We appreciate your efforts and are proud of your achievements. Thank you for your loyal support of the Neighborhood Networks Initiative, and keep up the good work."
Delores A. Pruden
Director, Neighborhood Networks
U.S. Department of Housing and Urban Development
06/04/09: Davonte G. wrote... "Thank u for the new computer."
06/10/09: Xzavian S. wrote... "hello mis susan this message is from zay i just wanna say thnx 4 the new computers & software."
06/10/09: Zachary S. wrote... "Ms. Susan is the best teacher you could ever meet. She helps the children in the best way she can. Ms. Susan knows a lot about computers. Other than that she is GREAT teacher."