Meet Richard Robertson from Hinesville, Georgia
"He's the best thing that's ever happened to this city." That's what City Clerk Tara Manning said about Richard Robertson, Chief of Police in Ludowici, Georgia. "He's honest, smart, and fair and has done so much for the city." Richard, who lives in Hinesville just down the road, requested $25,000 for a new police car for his department – a 2009 Dodge Charger to be exact. The only cars they have now have been handed down from other police departments at the end of their useful life. The Ludowici P.D. serves and protects a community of 1,500 people with 6 patrol officers, and 4 dispatchers. "It would be quite a morale booster for my police officers and for the citizens of Ludowici," wrote Richard in his application, "to know that there are people out there that actually care."

click the image to enlarge
Richard has been with this department since he started his law enforcement career in 2001 and he also runs the county jail. He will be purchasing a 2009 fully equipped Dodge Charger patrol car and says, "The citizens would benefit by having a reliable patrol vehicle available and the city would benefit by having a vehicle with a warranty, thus saving the repair cost to keep the old cars on the road."
Richard and his wife of 39 years, Yoko, have a daughter and granddaughter in Murietta.
Diary Starts Here
June 10th, 2009
Richard received his new patrol car and sent us some pictures... He said, "Everyone loves the new patrol car. The Mayor and the Mayor ProTem took rides in it last night before the City Council Meeting and were in awe. Thank you so very much for everything you have done."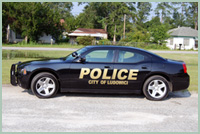 click the image to see a slideshow
April 22nd, 2009
What an awesome job Tara did setting up my surprise call. She got a huge group together including the Mayor, Myrtice Warren, all the City Council members, a Municipal Court Judge, all the police officers and dispatchers, the City Attorney & Partner, and even Richard's wife, Yoko. Tara even ordered a custom sheet cake with a patrol car painted on it for the celebration. By the way, Tara's son, Dustin McGowan, is a pitcher for the Toronto Blue Jays.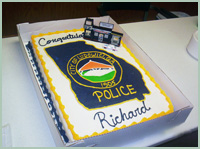 click the image to see a slideshow
Richard walked in to a room full of people and was totally surprised to hear me on the phone. I could hear everyone cheering when I gave him the good news. He's going to order the car today. Richard has a great sense of humor. He told me he was retired from the army and when I asked why he went into police work, he said, "I was too old to go back to the army." He is clearly a soldier at heart, and he's a sweetheart too. When I asked what was the most exciting thing to happen at the Ludowici Police Department, he said, "A phone call from Jenny Jones."
04/22/09: Jenny wrote... "Richard, congratulations on your shiny new patrol car! And thank you for choosing a life of service to others."
04/22/09: Damon wrote... "Richard, this is certainly the biggest single item we have ever purchased and it's great to know you'll be putting it to good use."
04/22/09: Harry Lewis wrote... "Dear Richard, Congratulations!!! I thought my fleet manager was kidding when he told how you were able to order this new Dodge Charger patrol car. I can't imagine how surprised you were when you walked into the room of cheers to find Jenny Jones on the phone for you. I know that everyone in Ludowici is excited as well. All of us at Harry Lewis Dodge look foward to working with you and your department to get you on patrol. Yes, the car has been ordered today as requested. Once again congratulations to you and the citizens of Ludowici."