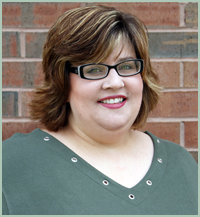 Danielle's Videos
Click image to see video


Danielle's Photos
Click images to see larger view
Meet Danielle Neble from Ringling, Oklahoma
Danielle Neble of Ringling, Oklahoma, is the district library media specialist for Healdton Public Schools and she also teaches 9th grade English. As a mother of two, Danielle wants all the local children to have a fun and safe place to play. The city park in poverty-stricken Ringling is in disrepair, forcing families to drive 35 miles to the closest park with safe activities for their children. Danielle requested $25,000 to fulfill her dream of a new playground in Ringling with safe equipment where kids can play safely for years to come and families can have parties and play all day long.
Her plans for the park include a play center with slides, swings, climbing rails, rings, a spring toy for toddlers, even a new tire swing. Her plans also include a built in grill, park benches and picnic tables. The park also needs a new water fountain since the old one has a tree growing out of it! Volunteers (both parents and inmates from a local facility) will provide labor like painting and mowing and cleaning up the property. The new playground will benefit the entire Ringling population of 1,300… just in time for summer!
Diary Starts Here
May 13th, 2010
Danielle emailed us an update...

"The new park sign is up! The Mr. Teel's ag classes framed it out for us, it looks good!"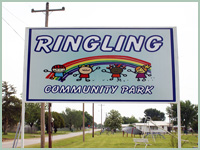 click the image to see a slideshow
December 20th, 2009
Danielle sent us an email about a fundraiser for the park...

"Hello Everyone!

I just wanted to let you all know we are selling engraved bricks for a brick walkway at the Ringling Community Park. We hope to use this fundraiser to build a sidewalk and would love to have enough bricks to go around a splash pad eventually! We are selling the bricks just in time for the holidays, so you can order them as gifts for people. You can order at 1NB in Ringling, City Hall, Moore Drug, or online at our website: www.bricksrus.com/order/ringling . We are excited about the website because you can order your bricks and pay by credit or debit card using PayPal! We also offer logos online such as a cross, flag, steer head, blue devil, football, basketball, bats, boots. Check it out!

Happy Holidays to You and Yours!
Danielle Neble"
October 30th, 2009
Danielle recently sent us an update on the new park. She said she took her kids to the park to play and there were 20 kids playing! There were even 7 adults out enjoying the weather and the park. "Every time I drive by," she said, "kids are playing and it just makes me smile." She now has people continuously asking for her help with other projects in their community. "I was never quite this involved in my city, but now I find myself helping with PTO, Ringling Community Foundation, and even writing grants for my school. This experience as a Jenny's Hero has really changed my life, because I have become much more active and involved in all aspects of my community. And for that I thank you." Danielle, your letter makes my gift that much more rewarding.
September 28th, 2009
Here's the latest from Danielle...

"Just wanted to update you on the Ringling Community Park. It is getting lots of use from families this fall. It was a very busy place during Western Days, with several reunions and parties held there!! We received a $1,500.00 gift from the Chickasaw Nation last week that we were really tickled about. We have ordered 3 memorial benches and 3 memorial picnic tables that should arrive in the next few weeks.

We currently have a new pavilion under construction. We will be doing the concrete work this fall under the pavilion. We are in the process of ordering a large sign to place at the west end of the park. We still have a swingset to build and install with the handicap accessible swing on it. I have spoken with a donor who wants to make a tribute rock with the engraved names of the original JayCees who founded the park. We still plan to pull up the old poles on each end of the park and replace them with new poles for parking. A walking sidewalk around the perimeter of the park is still in the plans as well. One other idea we are tossing around is the idea of a splash pad on the west end of the park.

Our next fundraising project is to be a brick drive, selling engraved bricks for the park. We will be holding a meeting soon to decide where the bricks will be placed. We are open for ideas on what to do with the bricks. Some ideas have included putting them in the walking trail, making a flower planter with them, a water fountain, around the edges of the splash pad, etc. We think we will be able to sell the bricks for a reasonable price so that individuals who wish to donate to the park can."
July 31st, 2009

Here are some pictures from the "Park Work Day" Danielle organized: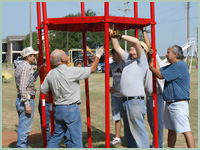 click the image to see a slideshow
July 26th, 2009

Danielle says her "Park Work Day" yesterday was a great success...

"We had a great park work day with approximately 65 volunteers showing up to paint, dig holes, remove old equipment, install new items, etc. It was about 105 degrees Saturday but no one complained, everyone worked for over 8 hours. One crew was even going back today to work some more! The park has already taken on a new look we are so greatful to have this opportunity!"
July 23rd, 2009

Danielle sent us another update...

"Hi everyone! Just wanted to let you know we are having a work day this Sat. to install some of our new equipment! The old merry-go-round and swing set have been removed and the low spots in the park have been levelled with new dirt. We are in the process of getting working lights installed as well. We will be doing some painting this week as well. I hope to get to tear out the old water fountain soon too. I hope we can save the tree for shade!

We have set up an account at our local bank for donations and already have $600 donated for park improvements! I have contacted a local artist and asked him to help us design a nice park sign to install. We are so excited about our park and owe it all to your organization! Thank you Jenny!

I will keep you updated and send along some photos!
Danielle Neble"
July 20th, 2009

Danielle has ordered and received all the new playground equipment. Now, she's organizing the entire community of Ringling to particpate in a "park workday" this Saturday...

"Hey everyone! We are having our park workday Sat, July 25 at the Ringling Park. We have hotdogs for lunch provided by PJ's corner at Pinto Rd. and drinks provided by 1NB Ringling. We plan to start early 8 am and get done before it gets too hot. Looks like we will be painting and assembling some new equipment. If you have any wrenches, screwdrivers, hammers, etc. mark your name on them and bring them with you! Heck just bring the toolbox!

We will have plenty of ice water too! If any of you girls want to donate anything, chips or cookies would be great!

***Note**** The operators of the bobcats have asked me to warn you, we love small children, but we don't want anyone hurt and it is hard to see on them, so try to leave them somewhere for the day!

Please forward this on to all interested Ringling citizens so that work gets out!

Have a great week! See ya Saturday!
Danielle Neble"
June 10th, 2009

What a big gathering there was today at the Ringling City Hall for my surprise phone call to Danielle! It was all set up by Ringling City Deputy Clerk, Cindy Morris, who called a "meeting" about some city business but Danielle turned out to be the star of the meeting. When I gave Danielle the news about her grant, I could hear lots of applause and cheers in the room. Her whole family was there including her husband T.J., their two children (ages 4 and 7), Danielle's dad, stepmom, grandmother, niece, the mayor, al the board members, the police, the press, even the women from the drug store! Cindy even decorated with balloons and provided cookies and punch. During the phone call, Danielle told me that the equipment at the park is about 40 years old (Cindy said her son played on it and he's 35!) so they will put together a committee to determine exactly what will be going into the new park.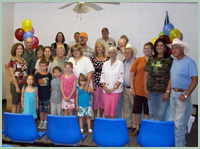 click the image to see a slideshow
06/10/09: Jenny wrote... "Danielle, what a wonderful gift you are giving to your community, and promoting activity and exercise is just another bonus! Congratulations."
06/10/09: Damon wrote... "Congratulations, Danielle! The kids will soon have something fun and safe to play on. Thanks for everything you do on behalf of children."
06/19/09: Penny Gardner wrote... "Danielle, I am with Women's Haven in Duncan, OK. I am so very proud of you for having a dream and seeing it through! Without vision, people perish and your efforts will be seen for many generations to come. I look forward to seeing the park next time I am in your area!"
Regards,
Penny Gardner
Director of Education
Women's Haven
06/23/09: Anthony wrote... "Way to go Danielle! Because of your vision, kids can play safely for years to come and families can have parties and play all day long."