Meet Erik Walsh from Beulah, Colorado
Erik Walsh is an Environmental Earth Studies educator at Mountain Park Environmental Center in Beulah, Colorado. The center offers year-round programs for all ages to experience, learn about, and ultimately protect and preserve the environment. MPEC's specialty is providing outdoor-based educational experiences for students. Their award-winning programs cover a multitude of topics and subjects, and all activities are based on academic standards. The Earth Studies program is available to all 1,300 fifth grade students in the Pueblo school district. Erik requested $2,000 for 2-way radios to be used for safety during their outdoor education. With the expanding program, the educators are unable to communicate needs or emergencies with their current equipment.
Eric's gift of twelve 450mhz, 2-way radios, along with the professional operating license from the FCC, will also benefit the numerous patrons who visit the park. Erik lives at the 611-acre park as caretaker with his wife Elisabeth, son Jack, and daughter Charlie.

Click the image to visit their website
Diary Starts Here
November 17th, 2009
The 2-way radios arrived, and Program Director Jeff Thompson sent us some photos of his excited teaching staff...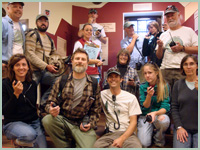 click the image to see a slideshow
October 28th, 2009
It was snowing today in Beulah when I called Erik with the good news about his grant. The park's Program Director, Jeff Thompson, arranged for me to call during a meeting of the park's staff at the Horseshoe Lodge, so everyone got to celebrate the good news together. I asked Erik how much snow was coming and he said eight inches, then I complained because it dropped down to 65 degrees today in California! Erik and Jeff were both very appreciative about the 2-way radios and will send us photos when the new equipment arrives.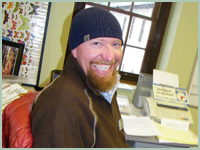 click the image to see a slideshow
10/28/09: Jenny wrote... "Erik, teaching the next generation to be ecologically aware is vital to our planet. I'm happy to help keep everyone safe."
10/28/09: Damon wrote... "Congratulations on receiving the grant to provide 2-way radios for your outdoor education program. Pueblo Mountain Park is such a wonderful place for students to learn about nature."
11/02/09: Lisa wrote... "Erik, Communication and safety go hand in hand and are vital in all out-door based studies and adventures. I can't get past the 1300 fifth graders. What a handful to keep an eye on in all that snow. Good luck and congratulations."