Meet Shelly Bohl from Upham, North Dakota
A Teen Maze is a life-size game where participants examine the consequences of life's choices in a realistic, creative and fun way. Shelly Bohl, who works as an office assistant for the Family Crisis Center in Bottineau, North Dakota, recently started the Teen Maze project at the local schools. Until now, she has had to borrow the pipe and drape system required to divide the stations but they are not always available. Shelly has requested $6,000 for the tools needed to create at least 25 stations of their own, which will allow her to make the maze available to even more students. "While I have been aware of domestic violence all my life," she wrote, "until I was hired for this position, I was not aware of all the dynamics that go with it and all the lives it touches. It is very important to me to bring knowledge and information to the young people to help them to realize there is help and they do not have to accept this as a way of life."
To participate in the maze, each teen is given a scenario that tells them what they are doing at the start of the maze… scenarios like engaging in unprotected sex, using drugs or alcohol or joining a gang. Based on the their choices, the teens then visit various booths staffed by adults which might include a mock jail or a funeral of a friend who overdosed. In one example, a girl learns she is pregnant and then realizes the consequences. Making the wrong choice, a teen might get a 10-month jail sentence (actually 10 minutes) for DUI, including handcuffs. Many teens say that after experiencing the maze, they will make better choices in real life.
Diary Starts Here
August 14th, 2013
Shelly sent us an update...

"Hi, It has been quite some time since I have contacted you with any information. I would like to report that since the inception of Teen Mazes at Family Crisis Center, we have been fortunate enough to bring this info to 1,997 students and have sponsored 17 mazes. They continue to be successful and we enjoy the positive evaluations from students and participating agencies alike. Thank you once again for the assistance with purchasing the pipe/drape system needed to make this a reality. Respectfully, Shelly Bohl"
May 21st, 2010
Shelly emailed us an update...

"We had our first Teen Maze with the new equipment and it was great! No more calling and scheduling when and where to pick up so we might be able to set up..."

"Enclosed you will find pictures of setting up and the actual maze. We had 17 professionals in attendance and in most of these pictures you will be able to read the sign of who the participant was. Once again, the students enjoyed learning what services are out there and what consequences of wrong actions might be. And of course, they enjoyed the 'graduation' cake when they were finished with the maze along with filling out evaluation sheets and signing up for door prizes. The students are very appreciative of this event and as one evaluation stated: 'At first I thought this would be the same old lecture we hear all the time, but it turned out to be fun.'"

"Thank you again, for making our lives so much easier in bringing this helpful learning experience to the students in northern North Dakota."

Shelly Bohl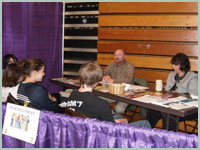 click the image to see a slideshow
January 25th, 2010
Things are moving along. The maze equipment has been ordered and should be arriving soon. It looks like there are no photos from Shelly's surprise call but she did write to say how much she appreciates this. Once the maze is up, we hope to have some pictures for everyone. Stay tuned!
January 7th, 2010
It was 23 below zero with a wind chill of 40 below in Bottineau when I surprised Shelly with a phone call. Dena Filler, the executive director of the crisis center helped set up a "meeting" so that everyone could share in the good news. There were board members and staff there as well as a newspaper reporter. Everyone applauded for Shelly and she went on to explain to me how the maze would work. She said they write up scenarios that the teens will experience and afterwards they do evaluations. I was surprised to know that the stations are manned by real sheriffs, district judges, states attorneys, and homeless coalition. These people all volunteer their time to help. Shelly sounded really excited over the phone and I look forward to hearing about the progress of her teen maze.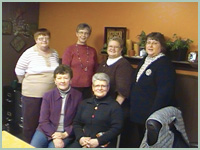 click the image to enlarge
01/07/10: Jenny wrote... "Shelly, this is a great program for all young people and there's no doubt that some young lives will be going in a better direction thanks to you."
01/07/10: Damon wrote... "Congratulations, Shelly! Your community is very lucky to have you working on their behalf."
01/08/10: Teresa wrote... "Hi Shelly, what a concept! This is really a great idea. It should be mandatory for all at-risk kids. To be able to participate in these real-life situations before they actually happen, is invaluable.
You go girl!"
01/08/10: Barb wrote... "Hi, Just read the article. We need more people like you. Proud to know you!!!"