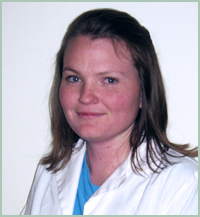 Alisha's Videos
Click image to see video

Alisha's Photos
Click images to see larger view
Meet Alisha Obando from American Falls, Idaho
We've all seen news stories of a high school student who suddenly collapses and dies with no warning. In many cases, an automated external defibrillator (AED) could have saved that life. Alisha Obando is a school nurse in American Falls, Idaho, who hopes to prevent such a tragedy in her school district. Alisha requested $6,000 to purchase three AED units as well as the necessary cabinets, alarms, and hands-on instruction needed to train school staff members. "We currently have a few students with known heart conditions," wrote Alisha in her application, "also many children who suffer a cardiac arrest have undiagnosed heart troubles. The American Heart Association has said that the number of deaths from cardiac arrest could be decreased by as much as 40% if early defibrillation was available." Her gift will bring peace of mind to the entire community of 4,500 people.
Besides her duties as a school nurse covering five schools, Alisha also teaches a variety of classes including lab for the CNA (certified nursing assistant) students. Alisha says, "We hope to never have to use the AED but want to be prepared and able to save the life of a child in case of an emergency."

Diary Starts Here
September 8th, 2011
WONDERFUL NEWS!! We just learned that A LIFE WAS SAVED thanks to Alisha's gift of AEDs. A 17-year-old student collapsed at a high school football practice on August 30th. He had no pulse. According to EMTs, CPR would not have saved him. The AED machine saved his life. He was later taken to the hospital for surgery. We could not be more proud of Alisha for having the foresight to provide these lifesaving machines. You can read the whole story below...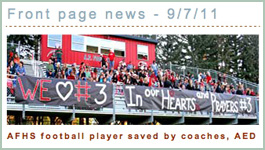 click the image to enlarge
March 26th, 2010
Here are some pictures of the new AED units, in each of the three schools. Alisha hopes to be able to start teaching some CPR classes soon.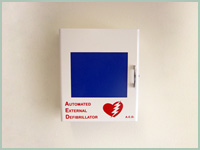 click the image to see a slideshow
February 11th, 2010
Good news - the AEDs have arrived and they are all set to begin the training.
January 20th, 2010
Alisha walked in to the Principal's office for what she thought was a parent meeting today but instead, she saw two newspaper reporters, the principal, school secretary, registrar, resource officer, and counselor... and me on the speaker phone! I gave her the good news and she said of the five schools in her district, two already have AEDs and now all five will have them. I applauded Alisha for bringing peace of mind to the community and when I spoke with the two reporters in the room, it turned out that one of them has two children in the schools, so she thanked us too. School counselor, Chelsea Rauh, arranged for a celebration party with a cake for Alisha following our call. Alisha's husband, Jose, is studying archaeology at Idaho State and they have two children, Jose Teancum, age 2, and 1-year-old Tatianna.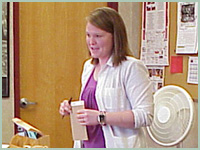 click the image to see a slideshow
01/20/10: Jenny wrote... "Alisha, some day I hope there will be an AED in every school and public building. There's no doubt lives would be saved. Thanks for looking out for your community."
01/20/10: Damon wrote... "Way to go, Alisha! Thanks for everything you do to make your community a better place."
01/23/10: Terri O. wrote... "Hi Alisha, kudos to you for caring enough to go the extra mile for the students! Being prepared is so important. You're a credit to your profession!"
09/08/11: Jenny wrote... "Alisha, what wonderful news! I just heard how one of your AEDs has saved a life. I am so very proud of you!"