Meet Sauuda Y. Eshé from Rocky Mount, North Carolina
Sauuda Y. Eshé works as a case manager at a job training center in Rocky Mount, North Carolina, a city with one of the highest drop-out rates and youth violence rates of any of the surrounding cities. To help bring change to her community, Sauuda founded the Kindezi Rites Of Passage Youth Empowerment, which uses drums and movement as tools to reach troubled youth in the community. Sauuda has requested $5,000 to purchase a "family" of African drums to be used by hundreds of local children. The drums will include djembes, dun-duns, bells, rain sticks, a balaphone and other percussion instruments used in drum circles.
"We have found that the arts, drumming in particular, has been an effective tool in engaging the youth in positive interaction and mentoring," wrote Sauuda in her application. "It's something that they love and will commit themselves to doing. The drum circles are held in schools, community centers, and summer programs. We also visit senior centers to interact with them through song, movement and drumming."
Kindezi is a concept that replicates the African cultural practice of marking a young ndezi's entrance into adulthood by providing them with the skills, knowledge and communal support they need to be successful, empowered, and productive members of society.
Diary Starts Here
August 7th, 2010

Sauuda and her Kindezi Rites of Passage participated in another event today...
"The Eastern Avenue Community in Rocky Mount had their very first community day and they asked Kindezi Rites of Passage to help them kick it off. There were 23 people in this drum circle including some adults. We sang, told stories and drummed. These children decided that they were not ready to leave so they stayed around to play more rhythms."
August 6th, 2010

Here's another upodate from Sauuda...
"These are just a couple of pictures from the City of Rocky Mount Back To School Jump Off for the youth. There was a steady stream of children waiting to take their turn at the drums so I didn' t have a lot of time to take pictures. Kindezi Rites of Passage was one of the organizations invited to participate by giving out school supplies to the children and providing activities. It was lots of work, the sun was HOT, but the children were having fun...and so were we! The Back To School Jump Off is an annual event, but this was our first time participating. We'll be back next year."
June 21st, 2010

Sauuda sent us some pictures from the Juneteenth Celebration in Rocky Mount on June 5th, and the Juneteenth Celebration in Franklinton on June 19th. At both events, Kindezi Rites of Passage engaged local area youth and adults in drum, dance and song (with some history of drums and drumming).
March 24th, 2010

Sauuda sent us some pictures of her first shipment of drums. Nine boxes arrived via UPS with two drums in each box for a total of 18 drums.
March 10th, 2010

Life is full of challenges. This morning, Sauuda called in sick! That can't be! We were all set to do my surprise call at noon. Thanks to the center's CEO, Ruben Blackwell, she was asked to come in for a meeting so we could proceed with the surprise. Sauuda's co-worker, Linda Joyner, was in on the surprise and coordinated everything so when I called, everyone was in Ruben's office. That included some of the faculty, Sauuda's mom, son, sister, and even her niece who has been away in college. Linda was a huge help in getting everyone together. Sauuda had no idea what was up until she walked in and saw everyone, including a newspaper reporter, all there to share in her good news. I heard a huge round of applause and then Sauuda's mom said she was very proud of her daughter.
This was clearly a big surprise because Sauuda was almost speechless when I called. Imagine walking into a room and there is your whole family and a crowd of your peers, a newspaper reporter, and they're taking your picture. So after my surprise call, I phoned back a little later to thank Linda and to speak to Sauuda again. "I was practicing my surprise face in case you called," she joked, but she was not expecting this today. "I can't think of a time I was more elated. This propels us to a whole new level." What a genuine and warm woman she is – and she's beautiful too.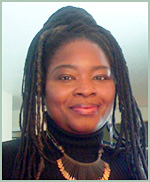 I'm so glad I chose Sauuda and it's clear that her community is better for her being there.
03/10/10: Jenny wrote... "Sauuda, as a former rock 'n' roll drummer myself, I know firsthand the joy of playing any kind of percussion instrument. I know this will engage many children for years to come."
03/10/10: Damon wrote... "Congratulations, Sauuda. Thanks for everything you do to help the youth of Rocky Mount."
03/14/10: Terri wrote... "Hi Saudda, what a great way for the kids to feel music and rhythm, and express themselves! It's good for the soul. Many years ago I played a Cuica on stage and it was the best...Keep up the good work!"
03/16/10: Whitney Deans wrote... "Ms. Eshé, watching you bring your dream to past, goes to show all those how to believe you can achieve. I'm proud to say you are my mom. I love you. Keep P. U. S. H. ING."