Meet Ashley Genovese from Greer, SC
As a stay at home foster mom to a beautiful 3 ½ -month old little boy, Ashley Genovese knows that when children are placed into foster care, a majority of the time they are placed without any clothes or personal belongings. To address this issue, Ashley has started a program called New Beginnings for Greenville County Foster Parent Association (GCFPA).

Ashley requested $2,000 to purchase clothes, diapers, baby soap, shampoo, diaper cream, formula, baby food, socks, underwear, wipes, and other personal hygiene items for these children as well as duffle bags & small suitcases. When a child is placed into foster care, Ashley will now be able to provide a week's worth of necessities so the child can have a fresh start.
New Beginnings will also provide encouragement and support to foster parents whenever a new child is placed in their home. To quote Ashley... "Heartbreak to hope... touching lives forever."
Diary Starts Here
November 1, 2010

Attached are pictures of the underwear and socks, baby bottles, and 13 duffel bags that Ashley brought to the Department of Social Services this morning. Keep up the great work, Ashley!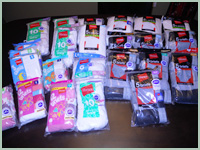 click the image to see a slideshow
October 28, 2010

Ashley has been busy shopping online for the items she needs...
"Thought I'd send you a picture of some of the items coming in. It's been so great to get these diapers, wipes, and baby soap! The duffel bags are already being packed with these items. Thanks so much!! Ashley"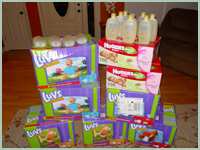 click the image to enlarge
October 21, 2010

My surprise phone call to Ashley took place at the Greenville County Square governmental offices and it was all set up by its president, Lisa Conner. She staged a bit of a farce, telling Ashley the meeting was to look at a storage space for all the stuff she's been keeping at home. It seems Ashley has been collecting baby items and donations and it's getting a bit crowded in her garage. So Ashley is already moving forward with her donations, in fact, one of the people there was Angela Adams, a recipient of one of Ashley's gifts. Also there were Greenville County Department of Social Services, County Director, Deb Bridges; Foster Care Licensing Manager, Melanie Cannon; and a number of foster families.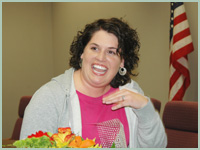 click the image to see a slideshow
When Ashley heard it was me, she started crying but they were happy tears. I told her how much I appreciate her and all foster parents for their service to the community and to the children. There were three foster babies in the room too, a 1-month-old, a 3 ½-month old, and a 2-year-old. There are 145 foster families in Greenville and 400 foster children.
10/21/10: Jenny wrote... "Ashley, where would these children be without the dedication of foster parents? Thank you for helping make these transitions a little bit easier."
10/21/10: Damon wrote... "Congratulations, Ashley. Thanks for everything you do to help foster children."
10/22/10: Lisa Conner wrote... "Congratulations Ashley!! You are doing a wonderful thing for our children in foster care and our foster parents. You're a very special person who deserves this special recognition and grant to support your efforts."
11/25/10: Liz wrote... "Ashley, It's hard to imagine the circumstances around a child being placed in foster care. And also hard to know they arrive with nothing. It's great that kind people like you are filling the void in what must be a daunting and sad task. Good luck."