Meet Trent Roberts from Johnstown, PA
Trent Roberts is a dairy worker and Volunteer Deputy Fire Chief for the Middle Taylor Township Fire Company in Johnstown, Pennsylvania. Having been a firefighter since the age of sixteen, Trent and his crew of volunteer firefighters work very hard training and answering emergency calls, but funds are limited for new equipment that can help them do their job more safely and efficiently.
"We have 25-30 calls a year for trees down across roadways," Trent wrote on his application. "Some of the trees and limbs that we cut are not reachable so we have to stand on the top of our fire engines. This scratches and dents our trucks, and is very unsafe as someone may fall and cause severe injury."
To remedy this problem, Trent requested $1,000 to purchase a telescoping pole trimmer saw, which is a chain saw on a pole that extends up to eleven feet. With the new pole saw, the all volunteer group of 15 firefighters will be able to work more safely, and better serve the area's 750 residents.
Trent has been married 30 years to his high school sweetheart, has two daughters, two grandchildren, and he faithfully attends the Pleasant Hill Church of the Brethren.
Diary Starts Here
December 31st, 2010

Here's an update from Trent...
"We received the pole saws and here are some pictures. The one picture shows the actual size of the saw and the other saw is fully extended. Thank you, Trent Roberts."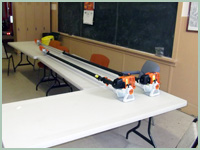 click the image to see a slideshow
November 19, 2010

My surprise phone call to Trent was set up early this week by Fire Chief Francis Morihlatko but he couldn't be there for the call because bear hunting season starts tomorrow and he had to get to camp. So with a little extra help from John Hobar, I was able to surprise Trent today with the good news. Trent said the team really needs this pole saw, which is 6 feet long and extends to 12 feet because by standing on the truck he said, "we do more damage than good." Trent was joined by fellow volunteer firefighters Joe, Rick, Ron jr., and Ron sr., as well as John and his wife, Becky, who was our "event photographer." Trent got a big round of applause from his team and he was kind enough to tell me he appreciates what I do for all of Jenny's Heroes.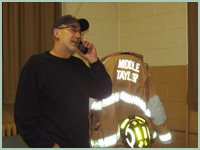 click the image to see a slideshow
Trent works at Galliker Dairy in Johnstown, which delivers to nine states in the area. His wife (and high school sweetheart), Vicki, is a hairdresser.
11/19/10: Jenny wrote... "Trent, I admire anyone who volunteers, especially when it comes to saving lives and property. I'm happy to help make this job safer for all the volunteers."
11/19/10: Damon wrote... "Congratulations, Trent. I really look up to those who serve their community as volunteer firefighters. Thanks for everything you do."
11/25/10: Liz wrote... "Best of luck Trent. I'll bet you'll even be able to save some stranded critters. It's hard to imagine your life without one of these contraptions. Standing on your truck?"