Meet Kyung (Kevin) Chung from Brighton, MI
Bullying in schools has become a national problem. It takes the focus away from education and can escalate into dangerous situations.
Kyung (Kevin) Chung is a school counselor at the Ann Arbor Trail Magnet School, a Pre-K to 8th grade school within the Detroit Public School District. His goal is to create a safe environment so that no student's educational experience is overshadowed by the fear of being bullied. Kevin's dream is to implement an anti-bullying/conflict resolution program at his school that would incorporate weekly classroom lessons, but due to the district's financial situation, the school's budget lacked the funding to initiate it.

Kevin requested $1,000 from Jenny's Heroes to purchase grade-specific teacher manuals, student workbooks, and DVDs that address dealing with anger, taking responsibility, making better choices, solving conflicts, and violence prevention.
"I see students for various reasons throughout the day for personal issues, conflict resolution and disciplinary resolutions," Kevin wrote on his application. "I want my students to feel like they can learn without the obstruction of being bullied."
With their new anti-bullying program in place, Kevin's dream will become a reality and the over 500 students attending Ann Arbor Trail Magnet School will benefit from a safer environment in which to learn.
Diary Starts Here
March 4, 2011

Kevin received all the materials he ordered for his anti-bullying program...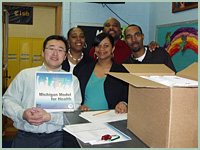 click the image to see a slideshow
February 15, 2011

Kevin placed an order today with the Educational Materials Center at Central Michigan University. All the learning materials for the anti-bullying program should be arriving at Ann Arbor Trail in the next seven to ten business days.
February 10, 2011

I called Kevin today at the school to surprise him with his grant. Assistant principal, Loris Allen, did a great job of gathering some school secretaries and teachers into the room to share in Kevin's good news. They all applauded for him and it sounded like he was very well liked by everyone. I asked Kevin about the program but he said he was a bit in shock but tried to explain how it would work, with weekly individual classes. After our call, I realized I forgot to tell Kevin that he was already on the website, so I called right back thinking they'd still be celebrating, but he was already gone, helping students - back to work! That's dedication.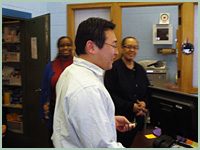 click the image to see a slideshow
02/10/11: Jenny wrote... "Kevin, thank you for tackling this important issue for your school and community. I hope other teachers and counselors will follow your lead."
02/10/11: Damon wrote... "Congratulations, Kevin. Thanks for your efforts to create a safer environment for your students."
02/12/11: Patrick Johnson wrote... "Congratulations, Kevin. It's great to see your hard work and dedication to the kids be recognized and rewarded!!"
02/13/11: Scott Liles wrote... "As an inner city denizen, I applaud your dream of anti-bullying and peaceful conflict resolution among our youth. It is refreshing to know that someone is trying to make a difference. From our people to yours, thank you so much, Mr. Chung."
02/13/11: Janette wrote... "Great work Kevin! It is so very much appreciated!"
02/13/11: Marc Hoerauf wrote... "Great Job Kevin! You have always cared about what's best for the kids and this is just more proof. Keep up the excellent work, and continue putting your students' interest first, just as you always have!"
02/15/11: Gary Tanigawa wrote... "Thank you Kevin for working to improve the students' learning environment and to help them make positive contributions to the community. The sad events at the beginning of the school year are warnings that lack of action have consequences. Hopefully, your program's effects on their social and educational growth will meet everyone's expectations."
02/16/11: Roggie wrote... "Congratulations, Kevin for your recognition with this issue in our schools and communities. Keep sending out your message and it will be heard around the world."
02/17/11: Mike Plozai wrote... "Great Job Kevin!! Bullying is an issue that needs to come out the shadows and into the light. Bullying not only impacts a students educational achievement but it can go even deeper. Good Luck with the program!!"
02/18/11: Cecilia Robb wrote... "Kevin!!!!!!!!! Congratulations!!!!!!!!!!!!!!!! Your dedication is amazing! You are truly an inspiration and an asset to your school community! We all have something to learn from you! Congratulations again!"
02/20/11: Jeanetta wrote... "Congratulations Kevin!! What a wonderful program, and very much needed in all schools. I hope it's very successful and can serve as an example to others who would like to implement an anti-bullying program in their schools."