Meet Christine Schroeder from Burlington, NJ
We are always happy to help those who help others, as with our newest hero, Christine Schroeder, an EMT with Endeavor Emergency Squad in Burlington, New Jersey. Christine requested $3,000 to purchase matching uniforms for the squad of close to 40 dedicated volunteers and professionals who serve the community. "With times being tough," she wrote, "we are looking for assistance with purchasing uniforms so we can look as professional to our community as we are. We all are a family here, a team, and we all share one common goal-- to serve and provide care to the community in which we live."


Click the image to visit their website
Christine began as a volunteer EMT with Endeavor Emergency Squad in 2000 and was hired five years later as a full time EMT. She has worked her way through the ranks and now holds the title of Senior Captain within the organization. Besides handling emergency calls, Christine also schedules the staff, arranges presentations for community special events, and supervises a staff of 4 on-duty members every day along with the Chief of Operations.
The squad answers approximately 4,400 calls every year.
Diary Starts Here
June 7, 2011
The uniforms have been ordered and are set to arrive in the beginning of July. Christine promises to send us lots of photos, including pictures of the Endeavor staff modeling their slick new uniforms.
May 26, 2011
I made a surprise phone call to Christine today with the help of Chief David Ekelburg who arranged a "meeting" at the station where they were supposed to meet with the bank regarding some property. He said Christine was starting to get suspicious, wondering why she would be at this meeting, especially since there was a reporter with a photographer there from the Burlington County Times but as soon as everyone gathered, the chief got me on the phone. Christine's good news was shared by a group of squad employees, volunteers, and board members.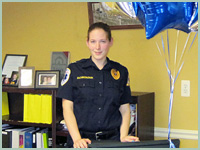 click the image to see a slideshow
I could hear the clicking of a news camera as I spoke to Christine who was very appreciative and told me the squad serves two communities and assists in the surrounding areas for a total of 50,000 people who benefit from their life-saving services. The squad's president, Joe Conrey, was kind enough to come on the phone and thank me personally for the gift.
Christine's mother was a nurse and her father was a long-time volunteer with the squad. Her husband, Dustin, works as a 9-1-1 dispatcher and part time police officer and they just celebrated their first anniversary last week.
05/26/11: Jenny wrote... "Christine, there's nothing like a new uniform to reflect a team's pride. I'm happy to help provide them as you all continue to serve your community"
05/26/11: Damon wrote... "Congratulations! You're all going to look and feel great wearing your new uniforms. Be sure to send us lots of pictures."
05/27/11: Kim H. wrote... "Good job Christine and Burlington, New Jersey."
06/21/11: Jacob "Mac" Qualls wrote... "Way to go! I too work on an all volunteer EMS squad in New Meadows, Idaho. Way to go!"