Meet Buckey Walters from Gillette, WY
Norman (Buckey) Walters is a Professor of Political Science and Criminal Justice at Gillette College in Gillette, Wyoming. He has recently taken on the added responsibility of Director of Security of their newly established Campus Police Department. The population of Gillette has doubled in the past ten years. In his application, Buckey wrote, "It has taken me time, patience, and perseverance to convince my administration that security at our college was not only essential because of our growth, but absolutely necessary in providing and maintaining a safe environment for students, employees and visitors to our college community."

Click the image to visit their website
Buckey requested $25,000 to help purchase a fully equipped vehicle for the Gillette College Security program. The weather in Gillette (Buckey describes it as nine months of winter and three months of spring & summer) dictates that a 4-wheel drive is needed. The vehicle will be equipped with a console, light bar, control box, speaker, radio, cage, and gunlock.
Buckey's gift will benefit 950 people.
Diary Starts Here
September 21, 2011
Buckey emailed us some "Before" photos of the 2011 Ford Escape so we could see how the vehicle looked before all the security patrol features have been added. Buckey hopes the security features will be done soon, and he'll send along the "After" photos as soon as it's completed.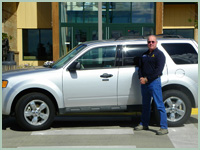 click the image to see a slideshow
August 12, 2011
Buckey found the vehicle today, a 2011 Ford Escape, and we've already mailed off a check to pay for it. With any luck, Buckey and his new campus police department will get their patrol vehicle by the end of next week.
August 3, 2011
I was able to surprise Buckey today with a phone call during a meeting that was called by assistant to the school V.P., Brittany Peterson. She went out of her way to call together the senior council to discuss the new police department so Buckey didn't seem too suspicious that this was really about him. V.P. Dr. Mark Englert started the meeting off and quickly included me on the speaker phone. When I told Buckey we would be buying the patrol car his response was, "I had a dream about you last night." We all laughed about it and I said, "Does your wife know about that?" Buckey is married with five children from 36 to 9 years old, plus they have two grandchildren.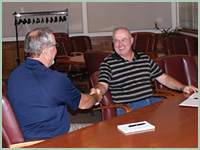 click the image to see a slideshow
Buckey has been at Gillette College for 4 ½ years and has been teaching for seven years. He is a retired detective sergeant from the Nevada Department of Public Safety, having lived in Las Vegas, Carson City, Reno, and Fallon.
08/03/11: Jenny wrote... "I admire your perseverance, Buckey, for getting the new department established. I'm happy to help."
08/03/11: Damon wrote... "Congratulations, Buckey! Thanks for everything you do to help make Gillette College safer for students."