Meet Julie Gillett from Hartford, CT
Julie Gillett is a mother of three and a kindergarten teacher at Vance Village Elementary School in New Britain, Connecticut. "Our district is one of the most impoverished in the state of Connecticut," Julie wrote in her application. She says the disparity of materials and resources between her school and the neighboring suburban towns is astounding. "I have observed how much more the children could learn if they had the resources available to them that are commonly available to our neighboring suburban towns. Vance Village teachers and students do not have enough technology equipment to live up to our motto: 'Real World Learning for the 21st Century.'"

Vance Elementary, which has 600 students, has only one Smartboard, one laptop and one projector. Julie requested $10,000 to purchase ten laptops, ten projectors, and ten digital cameras. She estimates that with proper maintenance and upkeep over a 5-year time span, over 6,000 lives would be touched by this gift.
Diary Starts Here
November 18th, 2011
Julie sent us an update...
"Attached please find the photos of the laptops and the installation of the Promethean board. I still need to take a photo of the Promethean board on the wall. Our custodian is putting together all the audio-visual carts after Thanksgiving. By then we should have the projectors to go with the laptops. The installation of the projector for the Promethean board is also scheduled for after Thanksgiving. The teachers and students are getting excited as we are almost there... in getting everything up and running. JG"
click the image to see a slideshow
October 19th, 2011
All the orders for the new technology equipment have been placed and, thus far, Vance Village Elementary School has received seven adjustable AV carts, a Promethean white board, and two Canon A800 digital cameras (see slideshow below for photos). The other items ordered but not yet received include eight Infocus classroom projectors and eight Dell Inspiron laptop computers.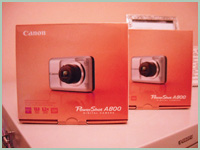 click the image to see a slideshow
September 7th, 2011
Today's surprise phone call may have had the largest audience ever thanks to Principal, Sarah Harris. She arranged for Julie to attend a "beginning of school" assembly where about 200 students from kindergarten through fifth grade attended as well as ten teachers and two people from their local press. Students from every grade in the school were there. When I gave Julie the good news, I heard the biggest round of applause! They said they were all hugging each other and jumping up and down. (I wish I could have been there in person!)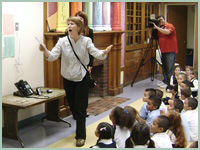 click the image to see a slideshow
Sarah had told me that Julie is a phenomenal person and dedicated teacher who goes above and beyond the classroom and her students clearly agreed. When I asked if that was true, I heard another huge round of applause. The students were also clearly excited about the new technology coming to their school. Julie has three children, ages 11, 13, and 15.
09/07/11: Jenny wrote... "Julie, I can't get through the day without my computer so I know what a valuable resource technology is. This will truly be 'Real World Learning for the 21st Century.' Congratulations!"
09/07/11: Damon wrote... "Way to go, Julie! Congratulations, and thanks for everything you do for the kids at Vance Village Elementary School."
09/19/11: Liz wrote... "Julie Congratulations. I'm sure the kids will have a much greater chance of success in their future endeavours, no matter what they are, with this boost into the age of technology. It must be so exciting for them and for you. What a great learning experience!"