January 1, 2010
Happy New Year, everyone! I can't believe it's already been two years since I started Jenny's Heroes. As the new year begins I am excited to continue this grant program with even more Heroes who want to help those in need, one community at a time. I can't wait to see what 2010 will bring!
January 7, 2010
A Teen Maze is a life-size game where participants examine the consequences of life's choices in a realistic, creative and fun way. Our newest hero, Shelly Bohl, who works as an office assistant for the Family Crisis Center in Bottineau, North Dakota, recently started the Teen Maze project at the local schools. Until now, she has had to borrow the pipe and drape system required to divide the stations but they are not always available. Shelly requested $6,000 for the tools needed to create at least 25 stations of their own, which will allow her to make the maze available to even more students.
Click here for the full story
January 12, 2010
Here's proof that a little can really go a long way. Assistant Warden of the C. Paul Phelps Correctional Center for Men in DeQuincy, Louisana, Jolene Constance, received $7,000 for books for their literacy program. So far, she has purchased over 12,000 books and she's only spent about half of the money. Jolene is the bargain shopper of the year!
January 20, 2010
We've all seen news stories of a high school student who suddenly collapses and dies with no warning. In many cases, an automated external defibrillator (AED) could have saved that life. Our newest hero, Alisha Obando, is a school nurse in American Falls, Idaho, who hopes to prevent such a tragedy in her school district. Alisha requested $6,000 to purchase three AED units as well as the necessary cabinets, alarms, and hands-on instruction needed to train school staff members.

Click here for the full story
January 26, 2010
With the current crisis in Haiti, we're proud to see that our Miami hero, Laura Kallus, who has been helping Haitian gang members turn their lives around by job training, is using their new silk screening equipment to raise money for Haiti's earthquake victims. The kids in the PanZOu project worked overtime to get T-shirts printed and to make a great poster. Kudos to Laura and everyone involved!
click the image to enlarge
February 11, 2010
Applications continue to come in every day and in greater numbers than ever. To date there have been around 15,000 and it's harder than ever to narrow them down. I'm also seeing more smaller requests for two or three thousand dollars, in fact most requests this year have been for under $10,000. We are planning another surprise call next week. And here are a couple of hero updates: School nurse Alisha Obando's AED units have arrived at the school in American Falls, Idaho and they are all set to start training. And we just bought more running shoes for the inmates at the Topeka Women's Correctional Facility in Kansas thanks to our 2008 hero, Suzanne MacDonald.
February 20, 2010
Our newest hero, Kimm Cooney, is a licensed child and family therapist in Skowhegan, Maine. Kimm is also a runner and says she "wants to promote community wellness in an impoverished old mill town." She requested $2,000 to start a weekly walk/run race to get her community to either run, walk, or just come out and cheer their neighbors on.

Click here for the full story
March 10, 2010
Sauuda Y. Eshé, our newest hero, works as a case manager at a job training center in Rocky Mount, North Carolina, a city with one of the highest drop-out rates and youth violence rates of any of the surrounding cities. To help bring change to her community, Sauuda founded the Kindezi Rites Of Passage Youth Empowerment, which uses drums and movement as tools to reach troubled youth in the community. Sauuda has requested $5,000 to purchase a "family" of African drums to be used by hundreds of local children. The drums will include djembes, dun-duns, bells, rain sticks, a balaphone and other percussion instruments used in drum circles.

Click here for the full story
April 7, 2010
As the Children's Librarian for the Big Horn County Library in Hardin, Montana, Donelle Boyer plans the library's annual summer reading program which gives many children a safe place to go with activities related to reading to keep their minds active all summer. This year, the summer reading program will involve one of Montana's most beloved outdoor activities, fishing, and Donelle requested $2,000.00 to purchase 150 copies of the "Fishing in a Brook: Angling Activities for Kids" book for each participant, life jackets, fishing hooks, weights and bobbers. With the new books and fishing gear Donelle's summer program is sure to bring lots of free educational fun to local school children.

Click here for the full story
April 28, 2010
As part of his senior capstone class at James Madison University, our newest hero, 21 year-old college student Larry Kim, currently works full time as an intern at the Reading Road Show in Harrisonburg, Virginia. The Reading Road Show is a mobile literacy program that provides an opportunity for children and their families to share story time and participate in a book exchange program. The Gus Bus is the Reading Road Show's mobile literacy vehicle, and one of Larry's many intern duties includes riding on the Gus Bus and managing their outdated book check in/check out process which is in dire need of upgrading. Larry requested $1,000.00 to purchase items to build a fast and efficient electronic library catalogue (a handheld bar code scanner, computer software, bar code labels, etc.) for the Gus Bus which serves over 20,000 low-income children annually.

Click here for the full story
May 12, 2010
Congratulations to our newest hero, Larry Kim, on his recent graduation from James Madison University! Larry graduated on May 8th with a bachelor's degree in Public Health and was recently accepted into the University of Virginia Masters of Public Health program. He will be a graduate student there in the fall. With his desire to make a difference in the world, Larry is destined to do great things with his life. His parents must be very proud.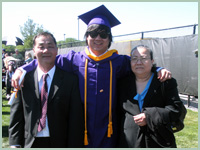 click the image to enlarge
May 27, 2010
We just received a heartwarming letter from a woman who tells us how our hero, Cristan Williams, saved her life. Transgenders face many challenges and having someone like Cristan to turn to can literally save a life, as you will see when you read the thank you letter to Cristan from Breann.

Click here for the full story
June 16, 2010
Our newest hero, John Baer, is a retired airline pilot who flew for United Airlines piloting the 737, 727, DC-8, and 747 to such far away places as Japan, Hong Kong, Singapore, Seoul, and Taiwan. Since his retirement, John has been volunteering with the San Luis Obispo Symphony and its popular Music Van, which brings demonstrations to thousands of children each year, inspiring them to pursue music by allowing them to try out the instruments themselves. John requested $4,000.00 to purchase cellos, brass (trombones, trumpets, and French horn), and hard cases to protect them during the frequent loading and unloading of the Music Van.

Click here for the full story
July 8, 2010
Kathleen Fawcett is a student and law clerk who volunteers her time to help homeless children in Washington, DC. She requested $10,000 to provide homeless children with some fun adventures away from their surroundings including a field trip to Six Flags, a cooking class for teens, and she'll be stocking their new playroom with toys and games, shelving, computers, stereo, tables, chairs, reading nooks, etc. Her gifts will benefit up to 100 homeless children and their families.

Click here for the full story
July 12, 2010
Hi, It's Damon. I'm the administrator here for all things heroes. Yesterday, I was returning from a weekend of golf in Arizona and, by chance, ran into one of our latest heroes, John Baer, at the Phoenix Airport. I first recognized John's face amongst a group of people as I was moving forward in a line to board a Southwest Airlines flight to Los Angeles. As the line moved forward, and I stepped closer to John, I began to doubt if it was really him... I mean, what are the odds? Finally, I passed right in front of John and thought "That's got to be him," so it said, "John?" John was a little startled to say the least and looked at me like, "Who are you? Why would you know my name?" I quickly introduced myself and John was happily relieved. It was such a chance encounter I think we both were a little taken aback by it all. We chatted very briefly and then I had to keep moving to board the plane. As it turned out, both John and I were on the same flight, and when we landed at LAX I was able to catch up with him again and chat a bit more. We talked about the SLO Symphony's Music Van program and all the wonderful things they are doing for the kids in the San Luis Obispo area. I also learned that John is a longtime fly fisherman who ties his own flies (no easy task, and a real artform in itself).
July 28, 2010
Brigette Williams, our newest hero, is a Certified Wildlife Rehabilitator with the Department of Fish and Wildlife and the founder of Second Chances Wildlife Rehabilitation and Education Center in Goshen, Kentucky (a small town fifteen miles outside of Louisville). Whether the animal is orphaned, injured, or displaced, Second Chances gives that animal a "second chance" at life by providing love, food, shelter, and medical care. Brigette would like to take in more animals and develop educational resources for visiting schools, so she requested $12,000 to purchase cages, crates, food, medical supplies and vaccines for the animals, as well as educational supplies for classes and camps which will benefit the entire east end of Louisville and its surrounding areas.

Click here for the full story
August 16, 2010
Our biggest hero ever finished up last Saturday with a festival for the entire neighborhood. Kiki Tucker, our Brooklyn hero who recieved the largest grant in our history ($100,000), provided all the children and families in her housing development with a family day they will never forget. The streets were blocked off and she brought in carnival games, rides, entertainment, food, even a cotton candy machine! I just spoke to Kiki and she said everyone had a great time. The kids' favorites were the climbing wall and the teacups. Kiki even welcomed kids from other communities to join in the fun. She worked very hard on each of her events even though she works full time, and every event was organized and fun for everyone. Kiki was the perfect choice for this grant and I am so very proud of what she has done for her community.
September 2, 2010
Our newest hero, Karen Orton, is the mother of nine children in Cedar City, Utah and for the past 24 years, she has worked as an E-911 Emergency Medical Dispatcher for her local ambulance, police, highway patrol, and fire departments. "It still breaks my heart to have a child die from an undiagnosed heart condition or from commotio cordis (blow to the chest), because no AED was available and EMS personnel do not arrive in time," she wrote in her application. "The technology is there! In this day and age it is incredible that AEDs are not mandatory in all states." Karen requested $10,000 to purchase six AEDs to place in both Cedar City high schools, two middle schools, and two sports venues.

Click here for the full story
September 23, 2010
As a third grade teacher at a low income school in Las Cruces, New Mexico, Joyce Houlihan wants to bring in local scientists from the Asombro Institute for Science Education to provide hands-on learning activities for 75 third graders. The scientists would come into her third grade classroom once a month for inquiry based lessons, all of which are directly aligned with New Mexico's State Standards and Benchmarks. Joyce requested $2,000 for the costs associated with the lessons as well as a follow-up field trip for everyone to the Chihuahua Desert Nature Park.

Click here for the full story
October 14, 2010
Kathy Reynolds is a 5th and 7th grade science teacher at Abraham Joshua Heschel Day School in Northridge, California. The school is built on the foundation of working in the community so the students and their families are involved in many community projects. They have currently adopted a 1.5 mile section of the Los Angeles River for a revitalization project being performed by the students including cleaning up the trash, testing the water, removing invasive weeds, planting native trees & shrubs, and designing & creating a large mosaic mural with interpretive signs. Kathy requested $5,000 to purchase supplies for the 80-foot long mosaic mural, including glass tiles & tile cutters, cement boards, safety glasses, thin set, spreaders, gloves, and sealer. Kathy's project will benefit the entire community including the Jewish Home for the Aging since the river is also their 'backyard.'

Click here for the full story
October 21, 2010
As a stay at home foster mom to a beautiful 3 ½ -month old little boy, Ashley Genovese knows that when children are placed into foster care, a majority of the time they are placed without any clothes or personal belongings. To address this issue, Ashley has started a program called New Beginnings for Greenville County Foster Parent Association. Ashley requested $2,000 to purchase clothes, diapers, baby soap, shampoo, diaper cream, formula, baby food, socks, underwear, wipes, and other personal hygiene items for these children as well as duffle bags & small suitcases. When a child is placed into foster care, Ashley will now be able to provide a week's worth of necessities so the child can have a fresh start.

Click here for the full story
November 19, 2010
Trent Roberts is a dairy worker and Volunteer Deputy Fire Chief for the Middle Taylor Township Fire Company in Johnstown, Pennsylvania. Having been a firefighter since the age of sixteen, Trent and his crew of volunteer firefighters work very hard training and answering emergency calls, but funds are limited for new equipment that can help them do their job more safely and efficiently. Trent requested $1,000 to purchase a telescoping pole trimmer saw, which is a chain saw on a pole that extends up to eleven feet. With the new pole saw, the all volunteer group of 15 firefighters will be able to work more safely, and better serve the area's 750 residents.

Click here for the full story
December 1, 2010
When not working full-time as a Project Manager for a publishing company, Marquita Parker enjoys being a Volunteer Baton Instructor, offering free lessons to middle school girls in her community. Marquita started a baton twirling team called the Twirl Girlz that performs in local parades and competitions and she would like to take in more girls and provide more performance opportunities. Marquita has requested $3,000 to purchase new costumes for the team and the proper equipment needed to perform.

Click here for the full story
December 17, 2010
As another year of Jenny's Heroes comes to a close, I have several updates to share with you...

Marquita Parker in St. Louis says she is amazed at how the publicity about her recent grant has produced such a domino affect. Lots of people are stepping forward, some volunteering to teach the kids, others offering the Twirl Girlz more performance opportunities, and still others have offered donations to help pay for additional expenses.

Trent Roberts in Johnston, Pennsylvania, was able to bargain shop and purchase two pole saws, instead of one, for his Middle Taylor Township Volunteer Fire Company. Now each of their fire trucks will have its own pole saw so they can be even better prepared for emergencies.

Brigette Williams in Goshen, Kentucky, has been busy rehabilitating animals, preparing them for the wild, but some don't want to leave! One opossum that she recently released on her property still returns every night for dinner. "He has his freedom but is taken care of as well," said Brigette. "Kind of like going to college!"

Kathleen Fawcett is now Kathleen Fawcett, Esq. in Washington, DC. She was sworn in to the state bar of Maryland on Tuesday and already has a full time job at the Law Offices of McCarthy Wilson, where they allow her to continue her volunteer work with the Homeless Children's Playtime Project. Congratulations, Kathleen!

Jo Beth Reeves in Kilgore, Texas (who became one of Jenny's Heroes way back in 2008) finally spent all of her remaining funds providing books for low-income kids at Kilgore Heights Elementary School.

Congratulations to Marquita, Trent, Brigette, Kathleen, Jo Beth and all of our other heroes for making a difference in their communities. I look forward to announcing more Jenny's Heroes in the upcoming year. Happy Holidays, everyone!
Christmas Day, 2010
I just want to say Merry Christmas to all the Heroes (90 so far!) who have made me so proud to be part of their giving to their communities. To be honest, I have felt like Santa Claus all year and it's a great feeling. Thank you Heroes, for helping me use my good fortune in so many ways, in so many places, and helping so many people. We have accomplished a lot of good together and I can't wait to see what great things can be done next year. Merry Christmas and all my best for 2011.


Click here to see 2011 OUR STORY
Click here to see 2008 OUR STORY
Click here to see 2009 OUR STORY